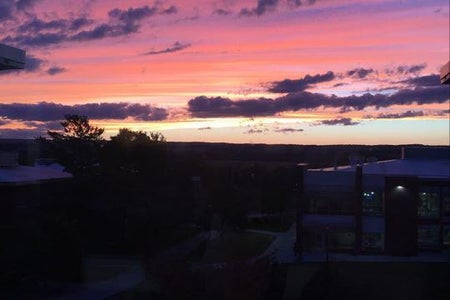 Original photo by Rebecca Williamson
Sister Chapters: Introducing Geneseo, NY
  From blazing reds to cooling purples, nothing compares to a Geneseo sunset. While we love the sunsets, there are many other reasons why Geneseo is a great college town.
1.

Where is your university/college based?

     SUNY Geneseo is based in Geneseo, NY. Geneseo is about an hour and a half to Buffalo and 30 minutes to Rochester. If you're driving from Long Island or New York City, it can take you anywhere from about five-nine hours depending on traffic, especially during Thanksgiving break (pre-COVID).  

      SUNY Geneseo is a relatively small college of about 5,200 students. There are three main campuses—North Side, South Side, and Central Campus—where students can find their residence and dining halls. Our College Union is in the middle of the campus. All the academic buildings surround the College Green. While the campus is covered in hills, they should hopefully prevent you from gaining the mythical freshman 15.

2.

Describe your city/town/environment!

     Geneseo is a college town and a suburban hub for families. The campus is within walking distance of Main Street, home to about a dozen small businesses and restaurants. Right in the middle of Main Street, there's a giant fountain with a statue of a bear named Emmeline. It's sadly been hit by a car at least five times, but she's still standing. There's Walmart, Wegmans, TJ Maxx, hotels, other businesses, and many chain restaurants no more than a 10-minute drive from campus. If you're on the bus, it may take longer than that.

3.

What is your favorite thing about your city?

     Rebecca: My favorite thing about Geneseo, besides the sunsets, is Main Street. I love the options for food, especially the Geneseo Family Restaurant that is better than a diner. Sunset Scoops is a new ice cream place that is delicious, and Crickets is the go-to coffee shop for students to hang or do work.  There's a cute little bookstore called Sundance Books that I can't go in unless I want to spend a ton of money. I also love the Not Dot Shop, which features a variety of fun knick-knacks and useful items from independent artists. There are also many other fantastic local businesses that I encourage people to visit (if they're in the area) or shop online.

     Lily: My favorite thing about Geneseo is that it is the perfect size. Not too big, not too small. Geneseo is home to a close-knit community of residents who are always excited to include students in their activities. Main Street is flooded with tons of adorable local businesses, including cafes like Crickets that are cozy places to spend an afternoon studying.  Even though Geneseo itself is moderately small, it still has bigger grocery stores and chain restaurants a short drive outside the village and is close to Rochester and Buffalo, which make for fun day trips when you need to spend some time somewhere more urban.

4.

Recommendations for things to do when people visit?

     Rebecca: In the fall, there are many outdoor activities around Geneseo that anyone can visit. Letchworth State Park is a favorite of mine, plus it's a short drive away (unless you go further into the park). Buffalo and Rochester are close enough to take a day trip if you're looking for something to do in a city. Aside from that, exploring Main Street is probably the best recommendation I can give.

     Lily: Within the village of Geneseo, there are tons of great local businesses to check out, so window shopping is always a great option. There's also a small movie theater near the big box stores just outside the village. Perched on one of the campus's hills is a little gazebo that provides an amazing sunset view. Whenever I have visitors in the spring or autumn, I always take advantage of the nice weather to take the short drive to Letchworth State Park, spending the day hiking and enjoying the stunning views of the "Grand Canyon of the East."
     Geneseo—both the college and the town—is a great place to spend four years of your young adult life.