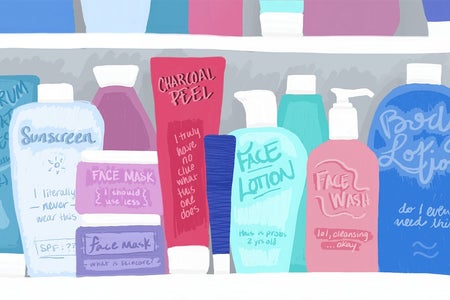 Megan Charles / Her Campus Media
Say Bye to Dry - Hydrating Skincare Favorites
     The change of weather is always an interesting time for skincare fanatics, especially for me. I swap out my lighter, less hydrating favorites for products that are basically Niagara Falls for my pores. From eye creams, to even SPF when it's below freezing and there's no sun in sight, my favorites have always come and gone just like the seasons.
*My skin is fairly normal to dry, some of these products may not work for everyone's skin type*
This is a genuine year-round staple for my vanity. I use this for everything. From chapped lips and hands to putting a little bit on the cheekbones and layering a highlighter on top for that extra pigmented glow, it's amazing!

2.

The True Cream Moisturizing Bomb - Belif ($38)

Long lasting moisture in a thick cream helps to coat and nourish the skin even on the coldest days. I've been using this product for years and it will always be a favorite of mine. During the warmer months I switch to the same brand's The True Cream – Aqua Bomb for a lighter, less dense hydration.

3.

Banana Bright Eye Cream – Olehenriksen ($39)

A brightening eye cream that smells faintly like oranges packed with Vitamin C and collagen to help erase dark circles, it's always part of my before bed skincare routine. I normally buy this in the gift set that's travel sized and it's such a large amount of product for such a better price!

4.

AHA 30% + BHA 2% Peeling Solution – The Ordinary ($7.20)

A chemical exfoliator to really get rid of dry skin. Used once or twice a week this product makes you look radiant and more refreshed. It really helps to decongest my pores.

5.

I'm REAL Sheet Masks – Tony Moly ($3.75)

These super affordable sheet masks come in a huge variety of types such as aloe, honey, tea tree, rose, etc. to help all your skincare needs. My favorite during this time of year has to be the aloe mask as it's great for moisturization.

6.

Advanced Repair Hand Cream – Eucerin ($4.49)

Not everything skincare-wise has to be for the face! This hand cream helps to repair very dry skin caused by the harsh winds, mild eczema, or constantly washing your hands during a global pandemic. With its small container it's easy to pop in your bag for some on-the-go hydration.

7.

Positively Mineral Sensitive Skin Sunscreen SPF 50 - Aveeno ($9.99)

Even though the sun's not shining that doesn't mean its harmful rays can't hurt your skin. This light sunscreen helps protect and is amazing underneath makeup. No sunscreen-y smell or greasy feel, just mix a bit in with your daily moisturizer and you're good to go!