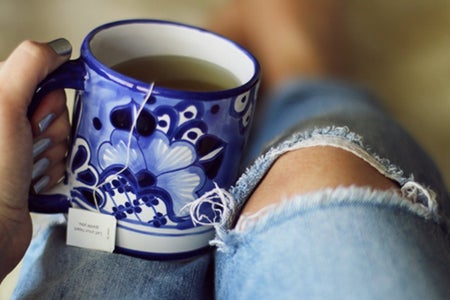 It is the middle of October and the fall weather is finally setting in! Fall is my absolute favorite season because of Halloween movies, baking treats, and my favorite, drinking tea. I have always been a tea connoisseur since I was little and the love has carried into college. The thing I love most about tea is the many flavors available whether you go buy it at a grocery store or tea shop. Over the years, I have accumulated a collection of teas that are my favorite that you have to try!
Tazo describes this tea as "green tea, bright lemongrass & crisp spearmint". This is the tea I drink every morning to start the day. The flavors complement each other well and I typically add a spoon of honey and lemon. 

2.

Trader Joes Harvest Blend Herbal Tea

First, look how cute this packaging is. This tea is only available during the fall at Trader Joes. This has a blend of cinnamon, ginger, chamomile, hibiscus, chicory, orange, and apple. 

Chai originates from India and is typically made by adding spices such as cinnamon, cardamom, cloves, coriander and ginger to black tea. Most do not have all these ingredients on hand, which is why I love this one from Twinings. Typically, I add oat milk to this which makes a great chai latte.

Matcha has become extremely popular over the years. This tea is super high in antioxidants and can help lower the risk of chronic diseases. In Japan, matcha is used in the popular tea ceremony. 

Passion tea is comprised of hibiscus, orange, rose, and passion fruit. This is my favorite drink to get at Starbucks. The tea is fruity, tangy, and sweet. At Starbucks, you can get this with lemonade which makes it so refreshing. 

Chamomile tea is from the flower and is known for its health benefits. This tea can help lower heart disease and aid in digestion. Also, chamomile tea makes you sleepy and is good to drink before going to bed. 
Tea is the one drink that I can have any time of the day. I never get tired of it because of the endless possibilities of flavors. Whether I am doing work or lounging on the couch, I always have a cup of tea with me. I hope you try out one of my favorites and enjoy!