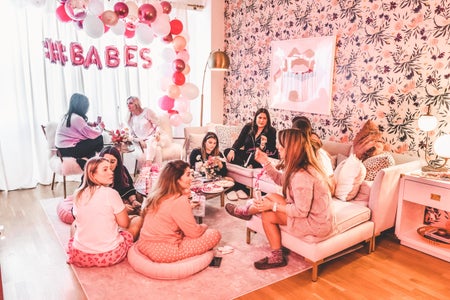 The One & Only, Galentine's Day
Galentine's day is arguably as important as, if not more than, Valentine's day. February 13th represents a day to celebrate your best girlfriends and give them the appreciation they deserve. The origins of Galentine's day are debatable; but if you are a fan like me, it seems the show Parks & Recreation is given the most credit (well-deserved I might add). In season two, episode sixteen, Lesley Knope gathers her best gal-pals and takes them to brunch where they talk about their best memories and exchange gifts. The same idea rings true today, 10 years after the episode aired (the episode actually aired on February 11, 2010).
What you do for Galentine's Day is really up to you and your friends––but here some fun ideas and tips. If you have some extra cash lying around, buy them a gift or go out to eat! It's something that seems small but actually means a lot. It is the perfect excuse to take time away from work, stress, and screens and spend it meaningfully with your best friends. It could be your favorite restaurant or one you have never tried before. 
Gifts also do not have to be super elaborate or expensive––pretty much everyone would appreciate chocolate or a small teddy bear. So many stores around this time have small gift boxes for super cheap, or if you know small-businesses are making them, buy from them! Their chocolate might even be better than the store-bought boxes…anything will make your friend feel special.
That is what Galentine's is really about, making your friends feel special and appreciated. We are very lucky to find people around us who care about us genuinely and stick with us through thick and thin. It can be hard to be someone's friend at times, but when you really care about someone, one bad day does not determine the future of your friendship. Galentine's Day is all about celebrating that special bond and thanking those friends around us for being there no matter what. 
And you do not have to spend money to celebrate that. A simple, meaningful card might even mean more to someone than a physical gift (though I'm sure they would not mind getting both). Honestly, even a purposeful hug and little speech will do the trick if you know your friend does not like receiving gifts. The point is, there are endless ways to appreciate your friends but what matters is that you buy or give them things that you know will be meaningful to them. We often forget to take time out of our day to thank our friends for simply being our friends. Galentine's Day reminds us that to have people to share your life with is so special and unique. So go appreciate your friends in whatever way you can and don't forget to thank Leslie Knope on the way.