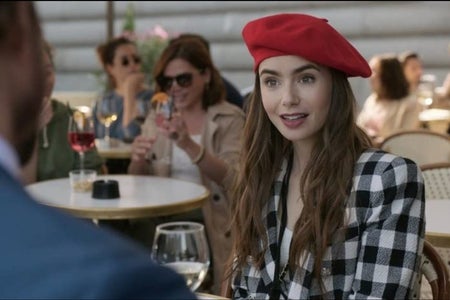 A Guide for Living Out Your Emily in Paris Dreams
Bounjour mes amis! Si tu pas regardé Emily à Paris alors tu devrais. If you didn't understand that …  it's quite alright! Neither did Lily Collins' character Emily Cooper when she first arrived in Paris, but here's the thing: she was living out every girl's dreams! Like so many others who have seen Emily in Paris, my friends and I have been loving all the fashion, romance, and excitement of the show, as well as imagining how we could possibly channel our inner Emily. With that being said, I've created a guide to do just that. So, without further ado, here's your guide to living out your Emily in Paris dreams:
Take Risks:
There is a great big world out there that's much larger than we think. And with that, there is so much to see and do. If the opportunity arises to travel to a different country or state, just go with it. Whether it be studying abroad or landing a job position, taking the risk to go will allow you to open doors to new possibilities. Even if it isn't an adventure to Paris, it's worth the experience.
Work it like the Runway During Paris Fashion Week:
When changing locations it's always good to have a trusty wardrobe at your side. If you're looking to live out your aspirations as Emily did, then you've got to walk with that air of confidence as well as a wardrobe that speaks to your personality. If you're looking for something similar to Lily Collins' character, try rocking a tweed set or mixing fun patterns to make a statement that will make heads turn as you walk down the street.
Stir Up Some Romance:
Let's face it: we all know that traveling can possibly lead to meeting a romantic stranger on the street. So strike up a conversation with the one you find attractive and as I said before, take the risks. You never know what may come of it...
Know Before You Go:
Before you venture to any foreign country it's always good to have some background in the language. Take Emily Cooper, for example, who didn't know any French when she arrived. It is better to learn a bit more about the language, especially the slang terms, then to know nothing about it at all. You could download Duolingo or just pull up Google Translate to help you with all your translation needs. 
Have Fun!:
The last and MOST important part of this guide is to have fun! In any situation whether it be tres bien or tres mal, make the best out of it and still have fun. Go explore and try new things.
I hope this guide will help you to live out your dreams of living it up in Paris or elsewhere. Au Revoir and make sure to watch or rewatch Emily in Paris. It's très magnifique!