Why You Should Watch The Original Buffy The Vampire Slayer Before the Reboot Comes Out
Buffy the Vampire Slayer: a super-powered female lead, iconic 90's fashion, quintessential Joss Whedon quips, fighting, romance, and network TV's first on-screen lesbian kiss. Do we even need to list more reasons as to why you should add Buffy The Vampire Slayer to your list of must-watch TV shows? Especially considering that a reboot of the cult classic is already in works, there's no better time to queue up "Welcome to the Hellmouth" and get to watch the TV show that changed the way Hollywood saw the ditzy blonde Valley girl.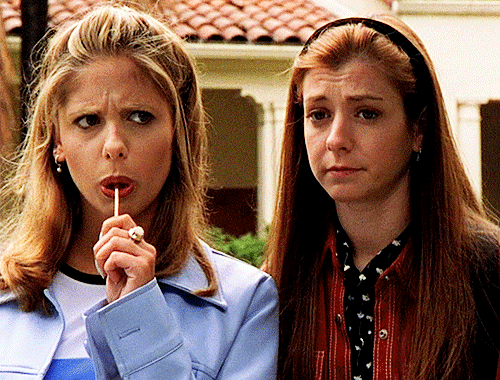 For those who haven't heard about how the show came to be, Joss Whedon, the show's creator who would later go on to write and direct films like The Avengers and The Cabin in the Woods, has said that he was tired of watching pretty blonde girls in horror movies getting eaten by monsters. Whedon thought about what would happen if the girl was being chased by the monster, and actually fought back? And, thus, Buffy was born.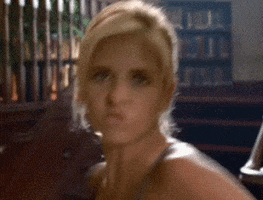 The show ran from 1997 to 2003, so you'll have to forgive some of the cringy special effects and 2018-offensive dialogue. Despite some of the show's quirks, Buffy was a groundbreaking TV show that paved the way for more strong, well-rounded women on screen.
One of the most notable accomplishments about Buffy is its portrayal of a badass woman who isn't afraid to be girly as well.
On more than one occasion, Buffy slays in sparkly pink halter tops and worries about the state of her nails or hair after a life-or-death battle. Her girliness isn't meant to be seen as a weakness, as girly behavior often is in Hollywood.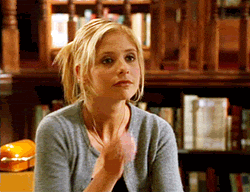 Buffy proves that being feminine and being strong are not mutually exclusive, and an affinity for lipgloss certainly does not equal weakness.
Aside from Buffy herself, the show was forward thinking in a multitude of other ways. Most notably is the relationship between Willow Rosenberg and Tara Maclay, one of the first lesbian relationships to be shown on TV.
While it may not seem too out of the ordinary to have a same-sex couple showing affection towards each other today, in the early 2000's, when Willow and Tara got together, it was a bold move that caused outrage towards the show and the network.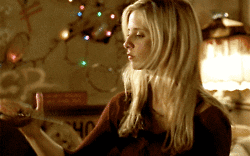 Despite the pushback, Buffy continued to show Willow and Tara's love on-screen, consequently paving the way for more TV shows in the future to do the same.
So if you're looking for a new binge to get you through the fall, be sure to add Buffy the Vampire Slayer to your watch-list. Trust me, you won't regret it.
Want to keep up with HCBU? Make sure to like us on Facebook, follow us on Instagram, check out our Pinterest board, and read our latest Tweets!