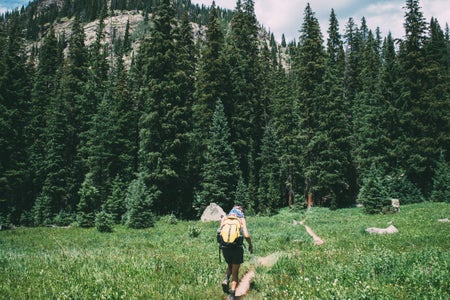 Cameron Smith / Her Campus
What the COVID-19 Pandemic Looks Like in Southern New Hampshire
A snow blanket forms across the unkempt lawn. Signs of spring struggle to stay poignant, yet fall short as the white covering takes precedence. 
The robin retreats, hoping to find shelter before it's too late. The ground hardens. There will be no more worms for her today. 
If you looked out the window, it would appear as if the world was still. A March snowstorm would normally make headlines in rural New Hampshire, but today an entirely different beast was afoot. 
As the snow continues to roll in, a buzzing sound comes from each phone in my house. Yet another headline that reads: COVID-19 cases rise in the U.S.
The 2020 Coronavirus Pandemic has swept the world and created a scene many of us never imagined possible. It's something out of an apocalypse. Schools close, hospitals beg for more protective equipment, supermarkets show barren shelves, and streets are empty. Weekends provide relief from working from home but offer no hope of entertainment. People are urged to stay at least six feet away from each other in a practice known as "social distancing." 
The U.S. now reaches the most confirmed COVID-19 cases in the world, according to an article from The New York Times. 
Most recently in the Granite State, Governor Chris Sununu has issued a stay-at-home order, encouraging citizens to only leave their homes when it is absolutely necessary. Yet, there is a lack of urgency here.  
I live in a small town in the southernmost part of the state, bordering Massachusetts. It's a place called New Ipswich, but there is nothing novel about it. Residents spend their time attending basketball games at the high school and ice cream socials at the library. 
Sundays are for the little church down in the center of town which is surrounded only by a closed-down coffee shop, a small market, and a newly renovated gas station, where it was a fight to get the gas pumps to offer after-hour service because it would require credit card machines to run 24/7. 
During town elections, handmade signs crafted with old paint and plywood line Main Street. They encourage voters to "Vote Yes on Article 10!" or "No on 2." Each year, the high school holds a 5K race during homecoming. The turnout is pretty significant considering most people do not leave New Ipswich after receiving their diplomas. 
For this town, a pandemic seems unalarming. The probability of it reaching the 5,000 people of New Ipswich appears impossible to them. I spent my high school years surrounded by this close-mindedness. 
Today, the town's Facebook group shares questions about what this virus is and what, if any news should be believed. Some spread theories as to why New York is as bad as it is; most residents claim this is due to their accessibility to testing and New Hampshire's lack thereof. Others are outraged at the fact that the nearest hospital is not doing enough to protect the elderly. 
Either way, many feel like this is a joke, conjuring up endless nicknames to classify the virus: Corona, Big 'Rona, Coronatime, just to name a few. 
The first and only grocery store in the town just opened today. While it may come at a time of need, it seems strange to encourage a grand opening and have shoppers flock to the store. New Hampshire may be on the lower end of cases having around 700 right now, but preventative measures are key. 
From inside my house, I sit wondering what my neighbors are thinking. Since it's so rural here, neighbors cannot see each other from their respective houses. It is always quiet here, making it difficult to see any differences in activity between before and now. 
I spend my days in online Zoom classes, trying to keep myself on a schedule. I exercise on the treadmill in the basement, and cook new recipes I find online. I sit on the couch with my cat and watch Netflix in the evenings. 
Usually coming home from Boston University meant a week-long break at the most, typically for winter breaks and holidays. Now, this is my home for the near future. It's hard to adjust back to the life where I lived in this home full-time. Coming back to a place that has evolved to live without me feels strange and distant. 
I hold out hope for the spread of COVID-19 to slow. The scariest part is the unknown. I have to be glad that I am safe and continue to thank employees who still work for us every day, as there is no timeline for when this will end.
Want to keep up with HCBU? Make sure to like us on Facebook, follow us on Instagram, check out our Pinterest board, and read our latest Tweets!