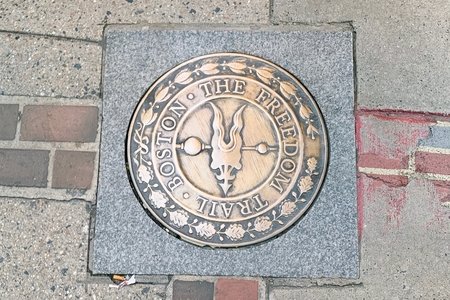 Walking the Freedom Trail—A Boston Classic
After nearly two months apart, I was so excited when Boston University Parents Weekend finally came around on October 18th.  My mom and brother flew up from Nashville to visit, and we got to spend the whole weekend together while I showed them around my new home.  My brother and I both love history, so we knew we wanted to explore as much of this history-rich city as possible in our 48 hours together. Because of that, we decided to spend our Saturday walking the Freedom Trail, a 2.5-mile path through Downtown Boston marked by a red brick line in the pavement that leads tourists to some of the most notable places in American history.
We took the green line from our hotel to Park Street, and we were off! The trail starts in Boston Common, and we marched through the park up to the Massachusetts State House, pausing to take pictures in front of the gilded gold dome.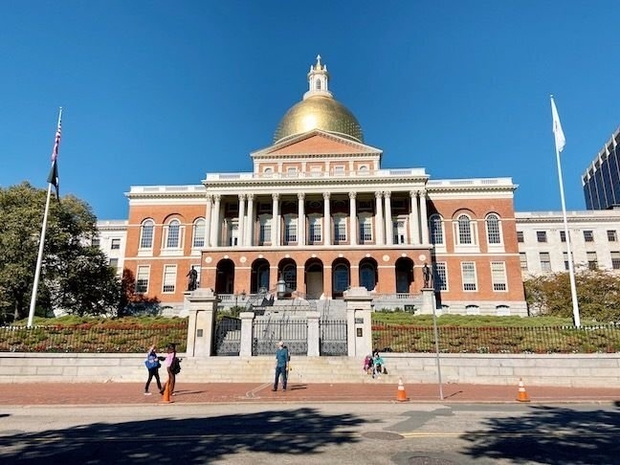 Photo Credit: Grace Sullivan
Next, we headed down the path towards King's Chapel, Granary Burying Grounds, and the old site of the Boston Latin School.  It seemed crazy to me that so many historical figures— Benjamin Franklin, Samuel Adams, and John Hancock, just to name a few— had walked this very path in their day-to-day lives 350 years ago.  
After that, we followed the path to one of the most disappointing stops on the trail: the Old Corner Bookstore, former home to the producer of classic American literature such as Walden and The Scarlet Letter. Instead of the cute store I was expecting, we found a Chipotle. Typical. Luckily, we found a quaint used bookstore just around the corner at Commonwealth Books.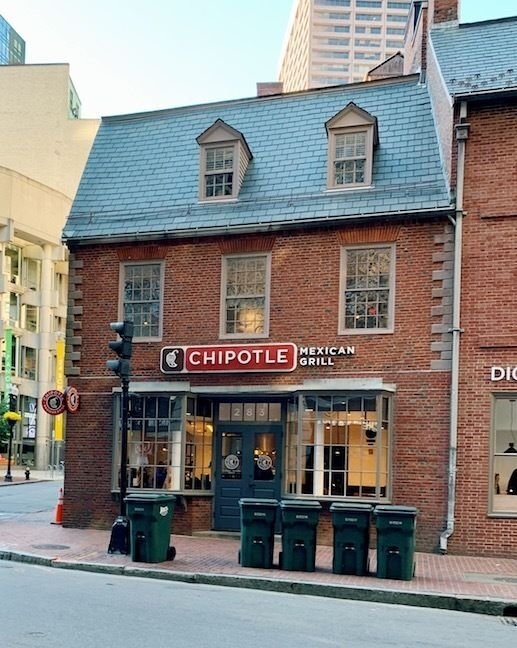 Photo Credit: Grace Sullivan
After a quick respite from the crisp fall weather inside, we continued down Washington Street, stopping at the Old South Meeting House, the starting point of the Boston Tea Party, and the Old State House, site of the Boston Massacre.  Both places seemed like they were pulled straight from the pages of an elementary school history textbook and plopped into the middle of the bustling, modern city of Boston.
Passing by Faneuil Hall and Quincy Market, we resisted the urge to shop as we made our way into the North End.  After grabbing some cannolis from Mike's and snapping some photos of Paul Revere's house, we arrived at the Old North Church, the first stop we actually paid to go inside.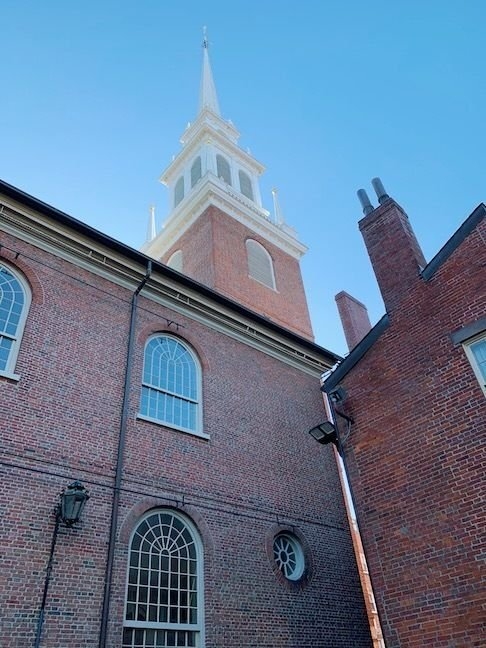 Photo Credit: Grace Sullivan
In addition to still being an active Episcopal church, the Old North Church was where Paul Revere started his famous midnight ride (although he was actually captured and never made it to Lexington and Concord).  Today, the church and the busy buildings around it house a walk-through exhibit on Paul Revere and Henry Wadsworth Longfellow's poem, a dog-tag memorial for the War on Terror, a gift shop, and a small chocolate-making shop (that gave out free samples of hot chocolate!).
After touring the church, we decided to call it a day and head back to our hotel for dinner. Within the afternoon we spent on the trail, we walked over 10,000 steps and learned a whole semester's worth of fun facts about Boston.  
I still have yet to cross the Charles River and visit Charlestown, and we missed out on seeing the USS Constitution and the Battle of Bunker Hill Monument.  Luckily, my family will be back next year for Parent's Weekend Part 2, so be on the lookout for the follow-up article a year from now!
Want to keep up with HCBU? Make sure to like us on Facebook, follow us on Instagram, check out our Pinterest board, and read our latest Tweets!