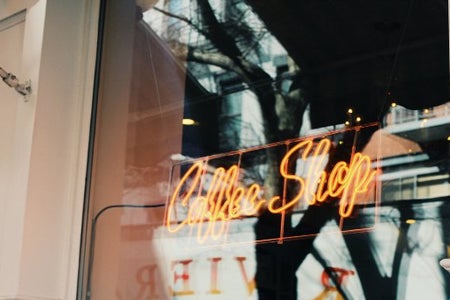 Alanna Martine Kilkeary / Her Campus
These Coffee Shops in NYC Are Totally Instagram-Worthy
While life in NYC isn't as calm nor as cheap as it was portrayed on Friends, there's one thing that the show got 100% right–New Yorkers love their coffee shops. Below is a list of my favorite places that are a must-visit if you're ever in New York and want a good cup of coffee and an aesthetically pleasing picture. 
1.

Felix Roasting Co. located at 450 Park Avenue South

This coffee shop is a perfect combination of a classic café with a hint of quirkiness. Clear pink and blue walls blend perfectly with the wooden bookcases, and museum-like portraits make you feel like you're in the library of a somewhat-eccentric millionaire. Who doesn't love that feeling?

2.

Maman, located at 239 Centre St

Amelia Kramer / Her Campus

This coffee shop has a perfect vintage, "your grandmother's kitchen" type vibe. You will fall in love with its classic blue floral-printed to-go coffee cups and rustic décor.

3.

MATCHAFUL, located at 359 Canal Street/Soho

If green is your favorite color, this place is an absolute must. Spacious, with plants growing out of its walls, you can sip your matcha in this coffee shop and fully be in the moment. 

4.

Milk & Roses, located at 1110 Manhattan Ave, Brooklyn

This is another romantic café that feels like an old library with an outdoor garden perfect for those Instagram shots.
Of course, it's important to remember that in each borough of NYC, there are coffee shop gems. Try to pick whichever ones are most convenient to your route. 
Enjoy the strong, charming NYC now that you have an idea of where to get your caffeine fix while you're there! 
Want to keep up with HCBU? Make sure to like us on Facebook, follow us on Instagram, check out our Pinterest board, and read our latest Tweets!