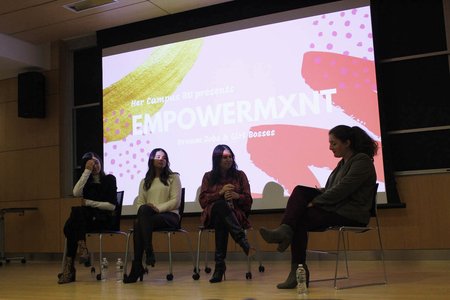 A Recap of Her Campus BU's First Empowermxnt Conference
Her Campus BU collegiates gathered Sunday to get career and networking advice at a talk and panel of young entrepreneurs, influencers, and go-getters at the first Empowermxnt conference.
Co-Senior Editor Maddie Hughes moderated a panel with Intern Queen CEO Lauren Berger, BU alum and influencer Kate Weiser, and Account Director Denise Penagos from MBooth Agency. 
Keynote speaker Berger first told the audience the story of Intern Queen, a platform she created to connect young adults with prominent employers seeking interns and provide the latest career advice. Berger explained that she got her first internships in college through cold calls and perseverance, and encouraged Her Campus members not to take no for an answer.
When looking for internships and jobs, find out not only if you would be a good fit for the company, but if the company would be a good fit for you, Berger said. She assigned the audience "homework," telling them to make a Linkedin account and connect with close friends rather than account executives they have never talked to.
"Don't overlook the relationships that are right next to you," she said.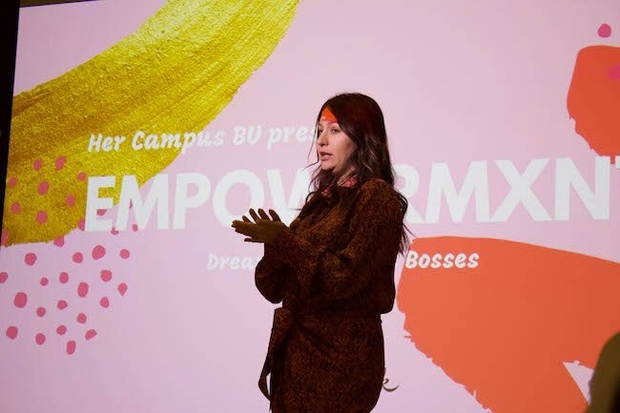 Photo Credit: Ariane Vigna
During the panel, Kate Weiser, the marketing manager of Life Alive Cafes and founder of the notorious lifestyle blog and Instagram account @BucketListBoston, gave graduating seniors advice for the job search process.  
Weiser said she did not see a job posting for the position she wanted to do and decided to create one and pitch it to her potential employer.
"If you see a glimpse of what you may want to do, don't think that because it isn't already a career you can't do it," Weiser said.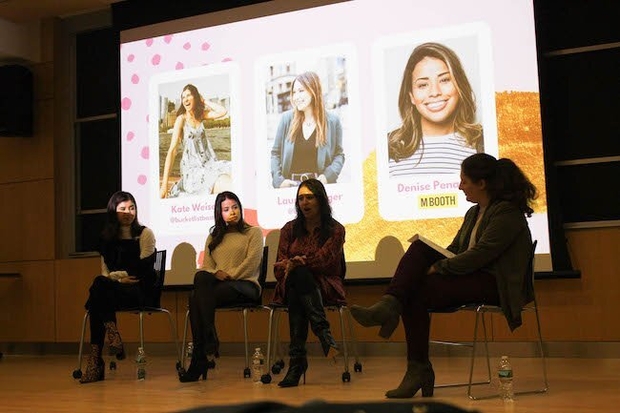 Photo Credit: Ariane Vigna
Denise Penagos, the account director of MBooth Agency, which was named global consumer agency of the year, discussed her journey to where she is today and emphasized the importance of balancing your side hustle and career — and having side passions in the first place. Penagos is a certified and practicing pilates instructor in New York City and is earning a certification in interior design from New York Institute of Art & Design. 
"Your 9 to 5 should help you learn and grow in your career, but it doesn't have to be your passion," Penagos said. "Keep searching for your passions and side hustles and know you'll find it."
Penagos also touched on imposter syndrome, encouraging students to trust that they belong and to "fake it 'till you make it."
"You have the right to have a seat at the table," she said.
Panelists also delved into other topics, stressing the importance of having a supportive work environment and empowering company culture, taking care of mental health in college and beyond, following through with connections, and overcoming the fear of mistakes.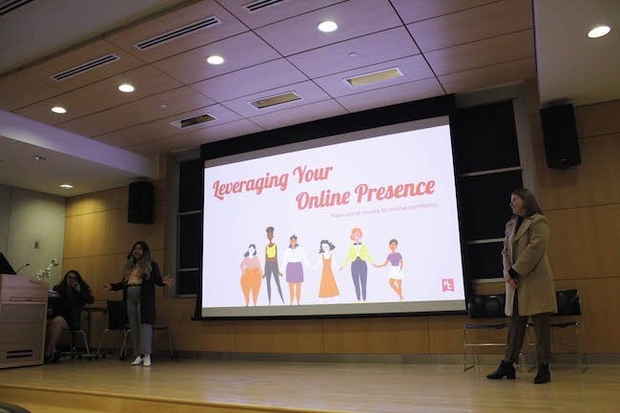 Photo Credit: Ariane Vigna
The national Her Campus team from the Boston headquarters also attended the event. Associate Features Editor, Felicity Warner, and Social Video Editor, Edel Rimando, gave a workshop on how to use online portfolios and social media in the job application process.
Rimando said her online portfolio differentiated her from other applicants and was the one thing employers asked her about during interviews. 
"My online portfolio is the first thing that pops up when you Google my name," Rimando said.
She went over the steps she had taken to build her online portfolio through her college years. Rimando shared her advice for a successful and cohesive website: don't be afraid to start small, create and make your personal brand come alive, and highlight your best work. She said Wix and Wordpress are two hosts to consider when looking for creative freedom and inexpensive services.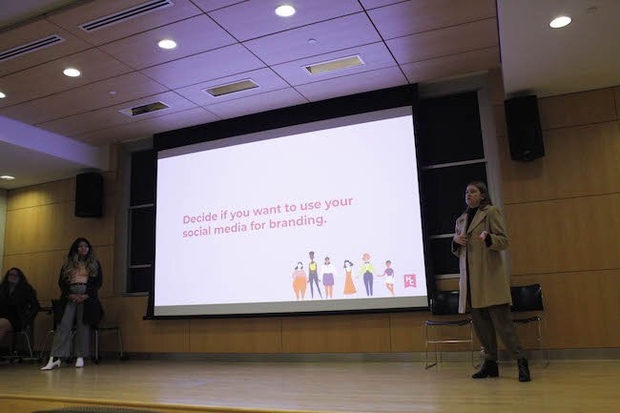 Photo Credit: Ariane Vigna
Warner mentioned the benefits of using Instagram to display your brand and personality. She showed the audience screenshots of recent Her Campus interns, stressing that their content truly represented what the company was looking for in potential hires. 
Warner explained that students and recent graduates should not overlook the importance of networking on Twitter. She said the social media platform is especially helpful for aspiring journalists, as reporters often engage in conversations about the news and share their work with their followers via tweets.
After the talk and workshop ended, students went up to panelists to introduce themselves, ask questions, and get contact information. 
Oh, and don't tell anyone, but I did receive an unusual number of Linkedin invitations from my Her Campus friends tonight, so it looks like these girl bosses left our community more inspired and determined than ever. 
Want to keep up with HCBU? Make sure to like us on Facebook, follow us on Instagram, check out our Pinterest board, and read our latest Tweets!