The One Direction Songs That Will Reignite Your Directioner Heart
In July, the greatest boyband in the world celebrated their tenth anniversary. I spent the day wearing my "Where We Are" tour shirt, re-watching old video diaries, aggressively checking the boys' social media, and crying – a lot.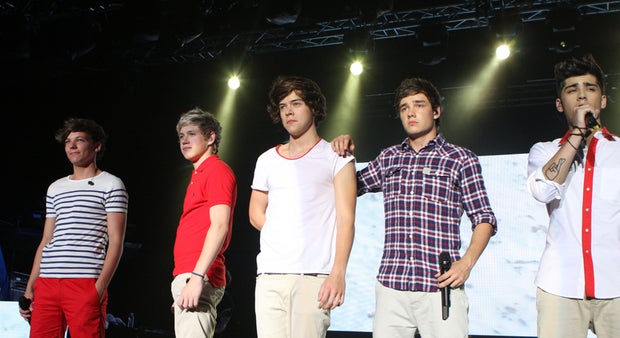 As I was going through my own emotional turmoil, a terrifying realization struck me. There were some people who thought July 23 was just a normal day, and were missing out on the extremely high levels of serotonin that being a Directioner was bringing me.
Giphy But, fear not. The One Direction fandom is here to welcome you, no matter how late you join. And while the boys are on their very long "break," you have the time to catch up on everything you've missed. I've compiled a list of ten of the boys' songs that I think have the most universal appeal (and are just general bops) that I hope you'll take a chance and listen to. This way, if all you've heard is "What Makes You Beautiful" (which is still an incredible jam), you just might be converted into a stan.
Starting off strong with this one! "Stockholm Syndrome" is universally recognized as a favorite among fans, and for good reason. The lyrics are amazing, the beat is a vibe, and the "oh" at the chorus is way too fun to scream.

2.

"Where Do Broken Hearts Go"

Another indisputable bop, I think this song could totally be on everyone's playlist. It has such a good "scream with the besties" vibe, and the boys sound SO good on it.

This is the raunchier side of One Direction, and it is SO fun. I love this one for getting ready with the girls or yelling out the window of a car. It feels super empowering, and I highly recommend it.

Don't ask me why, but this song makes me want to run an entire marathon. Their voices sound incredible, and the way this song builds makes me feel legitimately invincible. A fave.

5.

"They Don't Know About Us"

This song was the perfect soundtrack to unrequited school-girl romance, and it still hits just as hard today. Zayn served such incredible vocals on the earlier albums, and this song showcases them so well. Beautiful, stunning, bittersweet – I think you'll like this one.

Hearing this song in concert at MetLife stadium is a flashbulb memory for me. I don't think I will ever in my life feel that amount of joy again, but I've finally accepted that fact. This song is just pure elation, and it makes me literally cry happy tears when I listen to it.

Four is by far my favorite One Direction album, but I've chosen a few from Made in the A.M. because, as their last album, it's the most mature-sounding of the bunch. "Wolves" sounds grown-up and cool, and definitely has a throwback sound.

Another fan favorite, this song has the same super cool retro vibes as "Wolves" that I think would resonate with a lot of different people. It's super vibey and fun and I LOVE Harry's voice on this one.

Okay, can you tell I'm a Harry girl? But his scream on this song – transformative for my teenage self. This one is fun and bouncey, and is super fun to sing into your hairbrush in the mirror.

"Home" isn't on any of the regularly released albums, so if you know this one you're in. I like listening to this alone in my room whenever I'm feeling angsty and nostalgic (so I listen to it a lot.)
This was a nearly impossible task, because I think every One Direction song is iconic and legendary and perfect, but I hope I chose some crowd-pleasers. 
Hopefully you found at least one song to add to your playlist – or an entire new fandom to join. Either way, remember that you're never too cool or too old to enjoy something! #onebandonedreamonedirection
Want to keep up with HCBU? Make sure to like us on Facebook, follow us on Instagram, check out our Pinterest board, and read our latest Tweets!