On April 18th, I turned 19 years old. My birthday was great. I spent the day relaxing with friends, and my parents sent me a dangerously delicious triple chocolate cake. My roommates even decked out my side of the room with The Office themed decorations. But, my birthday's location on the calendar gives it another, more profound, meaning. The fact that it is in late April means it falls at the end of the academic year. This coincidence has always encouraged me to reflect on how I've have changed over the last year and how the milestones of the past school year have influenced my evolution. 
In my first year of college, more so than years past, I've grown a great deal. Since the last time April 18th rolled around, I've graduated high school, gotten my first job, gotten a second job, moved to a new city, started college, joined five clubs, went on a 10-day service trip, and made about thirty new friends. Just thinking about all of it gives me whiplash. 
As I look back on everything that has happened during my freshman year, four objects have become like symbols for the entire experience. These items have been somewhere in the background of every significant memory that I made this past year. Without these little possessions, my freshman year of college and all the crazy, awesome things that happened during it, would be incomplete.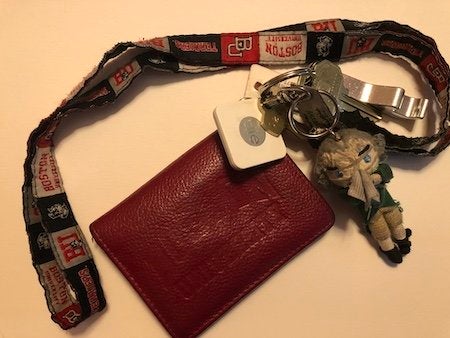 Yes, I do have an Alexander Hamilton Key Chain. 
The first item that defined freshman year was the lanyard that I kept all my keys on. The different keys that have hung on the end of it over the last twelve months represent the two major phases I went through this year. In the fall, I took the semester off of school as part of Boston University's College of General Studies, Boston-London program. For those months, my car keys and the master key for my job were clipped to the end of my lanyard. These keys represent how I spent my time stuck in traffic and working two jobs to save money for college. This time wasn't very glamorous, but the responsibility of working pushed me to become a much more independent person and introduced me to the reality of what being a working adult really is. The Miami traffic may have been unbearable at times, but I also fondly remember the late afternoons that I would get off of work and blast pop songs with all the windows down, as the bright-orange sunset reflected off of my sunglasses. 
In the spring, the keys on my lanyard changed, representing how the move to college changed me. On the day I moved in, I surrendered my old car keys to my dad and clipped my room key onto my lanyard. It was a small moment that didn't mean much in the greater context of that day. But .when I handed the keys to my dad, time slowed down. Somewhere in my subconscious, I knew that this key switch was indicative of the greater change that I was making. I was shedding the part of the identity I had at home and was being given a chance to redefine myself. At that moment, the shiny dorm key on my lanyard represented the limitless potential of my new life at college.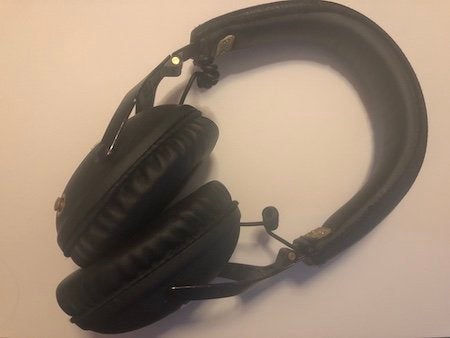 The next object that accompanied me on my freshman year journey was a pair of Bluetooth headphones. These headphones have been attached to the sides of my head ever since the day I unwrapped them (I am actually using them as I am writing this article). Early in my freshman year, I would wear them while I worked the closing shift at the ice cream store I worked at. It was a fun job, but the weekend closing shifts were notoriously hard because we would have a line going out the door for most of the night until we closed at 11:00 pm.
As I scrubbed the inside of a soft serve machine at 1 am, I would listen to hopeful songs about the future and daydream about the marvelous adventures I would have in London. During those long nights, my headphones kept me optimistic about the future and stopped me from quitting the job that funded the next chapter of my freshman year. My headphones also played a prominent role in that next chapter. I thought I could handle the cold weather when I moved to Boston in late January, but snowstorms, cold wind, and general winter fatigue soon made me homesick for my home in Miami, Florida. The constant stimuli that comes with living in a major city center also made it difficult to adjust to life at Boston University. I went from the quiet of the suburbs to being exposed to noise 24 hours a day. But, whenever I would feel cold or overwhelmed, I would just listen to a playlist of songs that reminded me of warm weather. As the music played, my homesickness would melt away.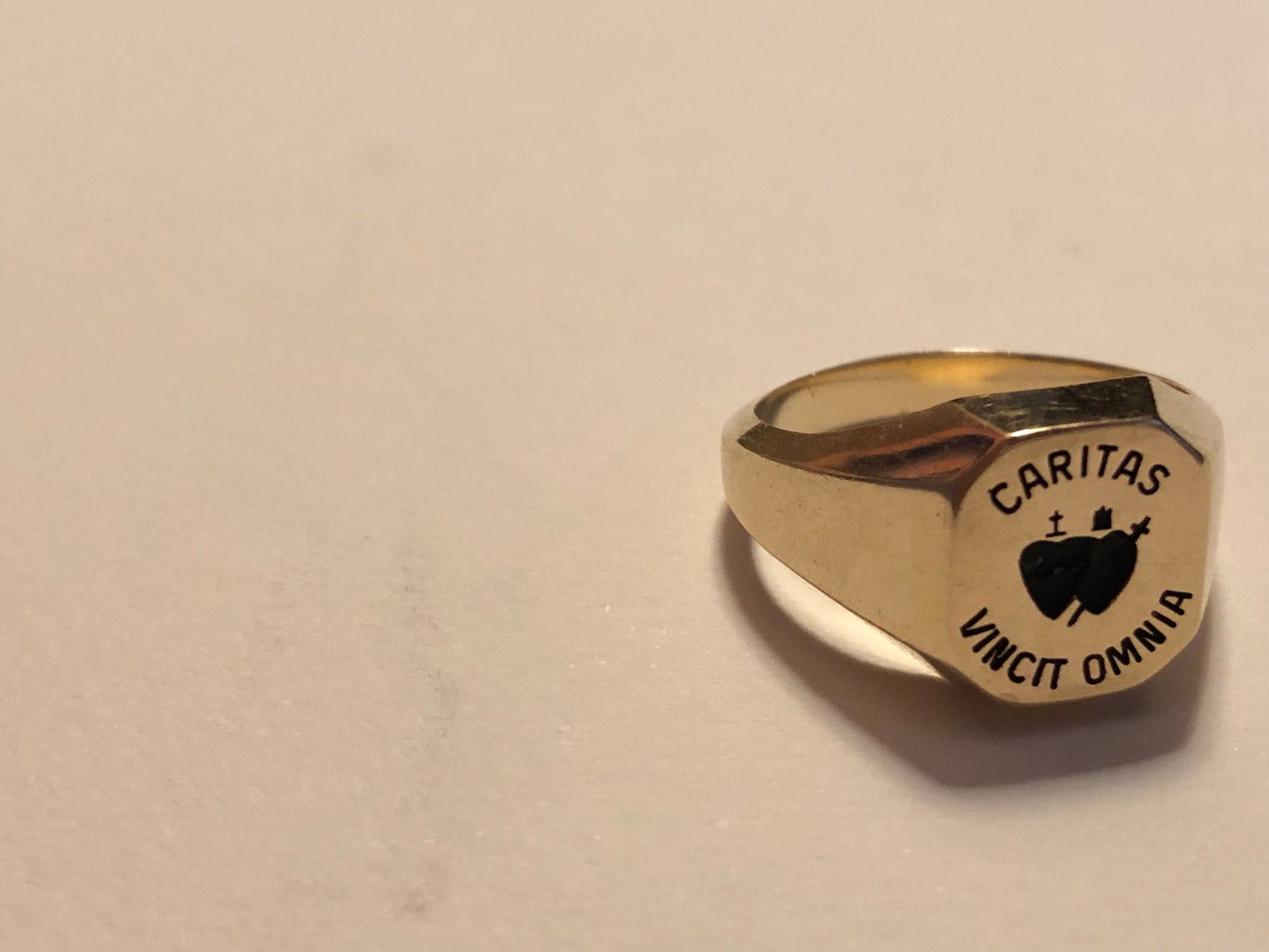 Shout out to any Sacred Heart students reading this article. 
Another object that set the tone for my first year of college was my high school class ring. The ring is an elegant, yet simple, signet ring. It's an antique gold color and has the Latin phrase "Caritas Vincit Omnia" stamped in it, which means "love conquers all." As a quirk, I twist my ring around my finger whenever I feel stressed or nervous. Since freshman year began, my ring has done a lot of twisting. When I was packing for school and feeling stressed about meeting my random roommate, I turned my ring over and over as my anxious thoughts did somersaults in my head. At my first real college frat party, my ring twisted to the beat of "Mr. Brightside" while I nervously hugged the wall.
My ring also kept me company as I anxiously waited for a text back from the boy I had developed a ginormous crush on. It also spun around my finger as I felt my anger spin out of control after he blew me off for the second time in a row. Finally, my ring stopped turning when I met someone with a matching ring that came from a school that belonged to the same catholic order that ran my school. Comparing class rings helped me find common ground with this stranger, and she quickly became a close friend and someone I look up to. 
Amid all these little moments throughout the year one thing that gave me comfort was the phrase "love conquers all." When I felt self-doubt, I looked down at my ring and remembered that I am valued and loved by the people who matter most to me. This reminder gave me the strength to push through the anxiety that was part of my transition to college.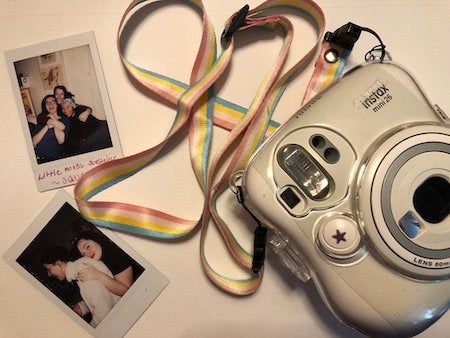 The last item that had a special place in my freshman year was my Polaroid camera. My white Fujifilm Instax camera captured all of my favorite moments within many 2×3 rectangles of film. The first of many movie nights with my best friends is depicted in a snapshot of us all laying in a heap, giggling uncontrollably. Photographs of my roommates braiding each other's hair and gossiping about their love lives cover my bulletin board. My favorite shot involves an April Fool's silly string operation that you just have to see in person to understand its full hilarity. The best part is that my bulletin board still has room for more photos. Next to my camera sits two unopened packages of film waiting for more memories to be flashed onto their frames. 
My birthday may have come and gone, and there may only be three weeks left of my freshman year, but as I look at my lanyard, headphones, ring, and instant camera, I am filled with a sense of satisfaction. My freshman year was great and these items are a tangible reflection of the people and the moments that made it great.
Want to keep up with HCBU? Make sure to like us on Facebook, follow us on Instagram, check out our Pinterest board, and read our latest Tweets!