My First Time EVER at Taco Bell
Up until today, I had not done a lot of things: never been skydiving, never gone to Australia, and also never gone to Taco Bell. I know, crazy, right?! And it's not because I lived in the middle of nowhere with no fast food restaurants around—there were plenty of Taco Bell's where I lived. I just never went, and I don't really know why. Maybe it's because getting burritos and tacos from a drive-thru kind of scared me, or maybe it's because I'm a McDonald's girl. Whatever the reason may be, I decided that having lived in America my whole life and having not gone to Taco Bell seemed completely blasphemous and I had to resolve it.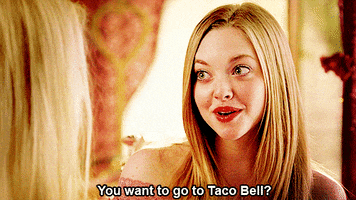 The first thing I noticed when walking into Taco Bell was that it was crazy busy. This was probably due to the fact it was 12:30 and everyone was on their lunch break but it also was a good sign that people enjoyed their food and I would too! 
What I also noticed at Taco Bell was that a lot of their menu items are made with beef (which I don't eat), so my choices were limited—which was okay and good for my wallet! I decided on trying the chicken quesadilla and the black bean Crunchwrap Supreme. I was a little disappointed that they weren't offering the cinnamon twists, which I saw online and was super excited about trying, but I was eager to try what I had ordered.
Before trying Taco Bell, I had no idea what to expect. Most people I know like Taco Bell, but it is a fast food chain so you never know what you're going to get. I'm also a pretty picky eater.
First things first, the chicken quesadilla! I enjoyed the quesadilla a lot. The tortilla was really good and not chewy at all. There was quite a bit of chicken in the quesadilla, which I was pleasantly surprised by. I do wish that I could have had sour cream on the side, instead of inside it, because sometimes my bites would only consist of the sour cream. 
Source: The Impulsive Buy
Next up, the Black Bean Crunchwrap Supreme. I didn't really know what this was, except that it was a tortilla shaped almost like a pentagon. Even so, I really liked this! The tostada shell was a nice touch because it gave it a good texture and extra flavor. I also thoroughly appreciated that the tortilla never fell apart, even when I got down to the last few bites. I definitely would get this again! 
Source: The Insider 
Honestly, I can't believe that I hadn't had Taco Bell before because there is so much to choose from on the menu (even if I can't eat beef). I think I assumed I wouldn't like it because I can be picky, but I was completely off! I can't wait to go back and try the quesarito or the soft taco—and the cinnamon twists!
Want to keep up with HCBU? Make sure to like us on Facebook, follow us on Instagram, check out our Pinterest board, and read our latest Tweets!