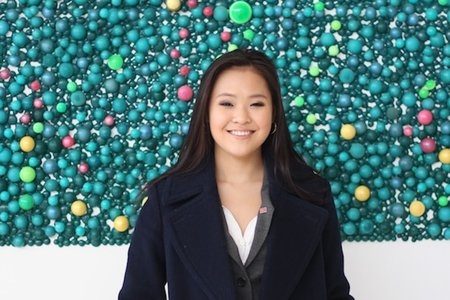 Meet Jessica Zheng (CAS'22), Senator for CAS Student Government and Proud Feminist Fighting for Free Menstrual Products on Campus
Originally from Toronto, Canada, Jessica Zheng is a freshman studying Political Science in the College of Arts and Sciences. Passionate about law and advocacy, she has served as a Senator for BU's student government and is currently running for Vice President of Internal Affairs on the slate Empower BU. Aside from her involvement with Student Government, Zheng is an ambassador for Admissions and a sister of Alpha Delta Pi. She also plays intramural volleyball in her free time. I had the privilege to have a conversation with this wonderful woman and ask her about female empowerment at BU and her work in Student Government.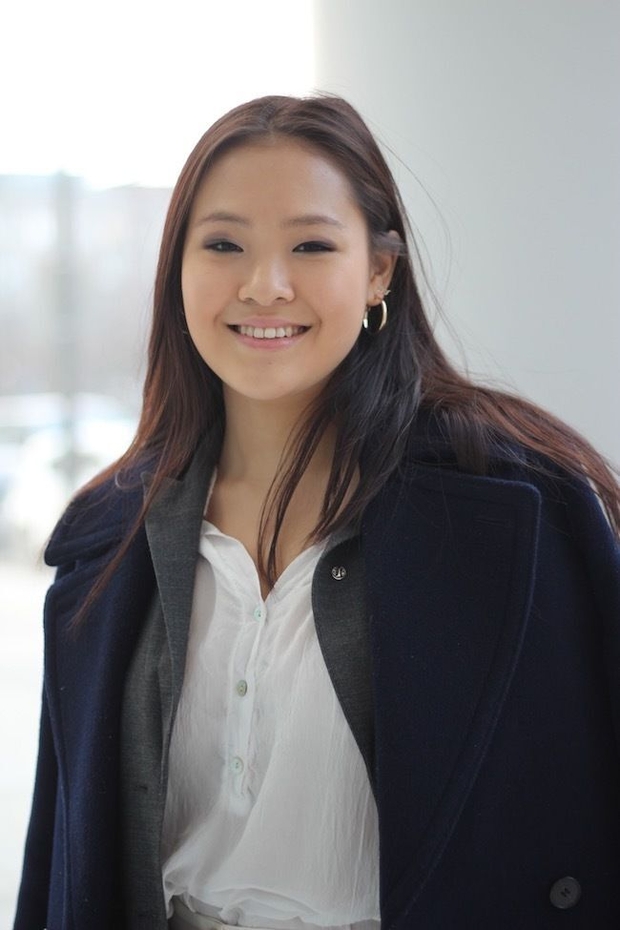 When talking about the purpose of the first Women's Week organized by the CAS Student Government, Zheng says, "we wanted to celebrate women at BU and recognize the progress that we've made, and at the same time acknowledge the progress that we still have to do."
Trivia Night consisted of questions asked to reproductive health and policy advocates and was held on Monday, while Coffee and Conversation with Dean Elmore was held Friday, on International Women's Day, at the Howard Thurman Center.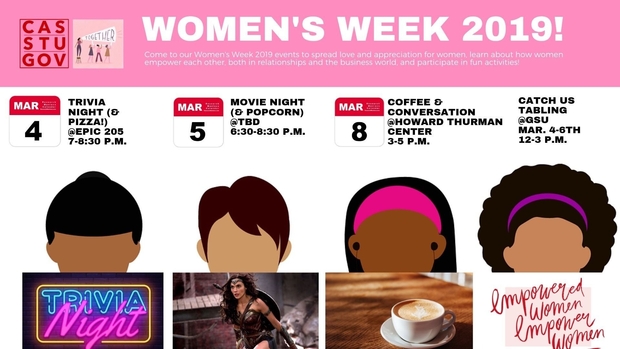 Women's Week was also an opportunity for CAS Student Government to advocate for the distribution of free menstrual products to students through the project Products for Menstrual Security. From Monday to Wednesday, the CAS Student Government tabled in the George Sherman Union and handed out free pads and tampons to students.
Zheng was responsible for promoting Women's Week by reaching out to female empowerment groups on campus, including Her Campus at BU! She also made this cardboard Instagram frame for students to take pictures with.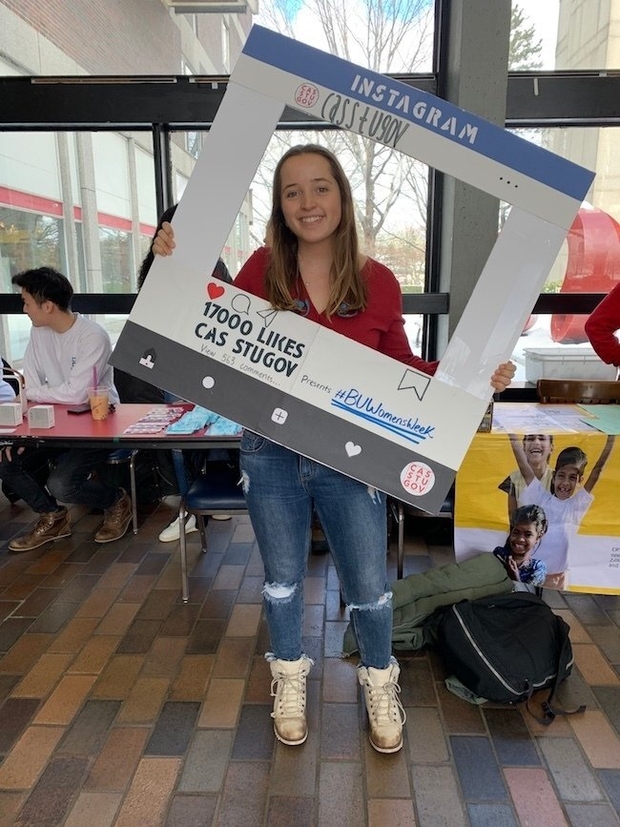 Zheng's advice for women who want to go into politics? Don't be afraid of making mistakes and take the opportunities available to you! "If there's a project that you're interested in, go for it," said Zheng. She continues, "Sometimes I stop myself from taking opportunities to avoid making mistakes because I don't want people to think that I'm not capable and competent."
Zheng feels that you can also learn from failure. "Women's Week wasn't exactly what I wanted it to be," says Zheng. "I was hoping to have someone come up and teach a self-defense course. Although this week wasn't as impactful as I wanted and not exactly as I envisioned it at first, I learned a lot in the process."
Zheng also stresses the importance of having a role model, "someone who inspires you and embodies who you want to be." She says she has found "powerful women who do amazing things in Student Government."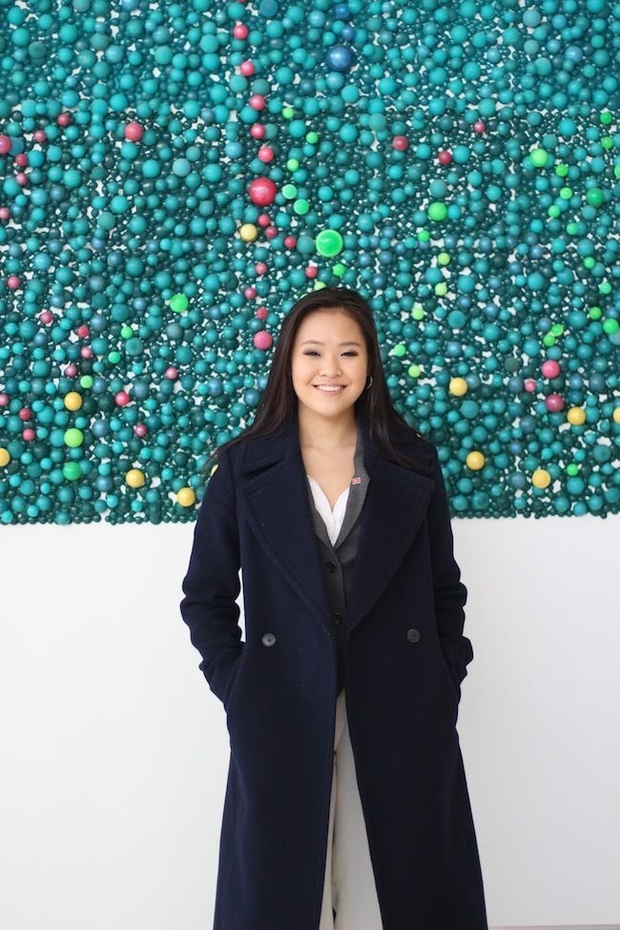 As student head for the project, Zheng is very involved in Products for Menstruating Security (PMS). Who else loves the allusion to the nightmare that is premenstrual syndrome?
While this project by the CAS Student Government is in the works, the BU Student Government has set aside 7,000 dollars for the spring semester to place baskets of pads and tampons for students' use in bathrooms in 15 different locations on campus.
The "basket project" also allows the Student Government to collect data to know how many times baskets need to be restocked. "We want to give the school the information they need to start," said Zheng. The information will be used to plan the installation of dispensers. This alternative is backed by all senators representing BU's colleges. "We have their support," said Zheng.
Nevertheless, this solution is only meant to be temporary. "It's better than nothing, but we know this project can't last forever," said Zheng. "This is not sustainable. Not only are we asking students to volunteer their time during the day, but the Student Government is using its budget to pay for supplies instead of financing events and allocating grants."
The CAS Student Government has been working on this project for three years. "In these three years, the school has directed us to different departments and used bureaucracy in order to slow us down," said Zheng.
The CAS Student Government met with Dean Elmore on January 30th and presented him with comparative information with other colleges and universities. "We have to get Operations and Facilities on board, but the Head of Operations didn't show up at the meeting," said Zheng. "However, we want people to know the school gave us its approval, and we plan on keeping them accountable to that approval."
Zheng explains Dean Elmore has directed her team to [email protected]. "The students at [email protected] gave us so many resources and they helped us come up with ideas to market and present our project to the administration," she said.
When asked about a woman that inspires her at Boston University, Zheng enthusiastically cites Hafzat Akanni, a CAS junior, running for Student Body President on the Empower BU slate. "She's the most dedicated and resilient person I've ever met," said Zheng. "She breathes life into everything that she does." Zheng describes Akanni as "very empathetic" and says that "she talks to people instead of assuming what they need."
To those who wish to be part of Student Government, Zheng says "understanding intersectionality" is essential to represent such a diverse student body at Boston University and to "provide people with actual, tangible ways to succeed."
After graduation, Zheng hopes to serve on the Supreme Court. We wish Zheng the best in all that she does and thank her for empowering the women of Boston University!
Want to keep up with HCBU? Make sure to like us on Facebook, follow us on Instagram, check out our Pinterest board, and read our latest Tweets!