Jessica Senquiz sat in her first business lecture and looked at her new classmates all dressed in button-down shirts, beige pants, and leather shoes. The professor introduced herself before asking students about their parents' occupations.
"The responses were absolutely absurd," Senquiz said. "A kid raised his hand and said his dad owned 20% of the real estate in India. I actually had nothing to contribute."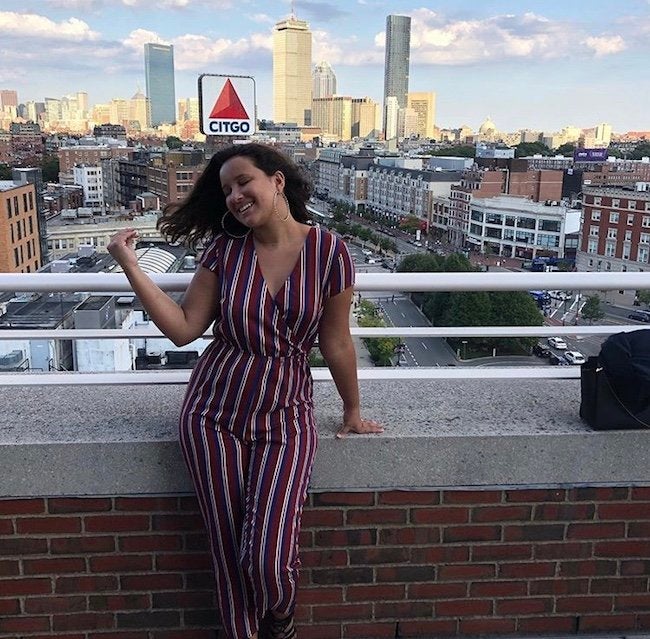 Senquiz on the rooftop of the Questrom School of Business at Boston University.
After struggling to apply to college and to make it through her freshman year, Senquiz, a Latinx first-generation student from Northern Georgia, started using her Instagram platform to draw attention to and advocate for the breakdown of financial and cultural barriers at Boston University.
First-generation students are among the first in their families to attend college and make up 16% of the BU student body, according to BU admissions. 
Senquiz remembers the day when her BU notification was due to arrive and she opened her acceptance letter.
"It was kind of surreal because that's not a reality that I ever pictured for myself," Senquiz said. "To process that I'm going to go to an entirely different city and have a whole fresh start financially, I couldn't grasp it all in the moment." 
Senquiz at her on-campus home.
But once Senquiz arrived on campus, another battle started—finding a sense of belonging while dealing with financial hardships.
Senquiz, who received a full scholarship, says she thought she would "run away from poverty" in college, but faced new difficulties when she had to pay $2,000 for medical expenses from her own pocket after her parents pulled insurance from her. 
"Four percent of the students are in my income bracket [a median family income of $25,000 compared to $141,000 for a typical BU student, according to The New York Times]," Senquiz said. "It's enough people that should be talked about more."
Senquiz's health and financial issues "snowballed" as she didn't ask for help. 
According to the Hechinger Report, first-generation students, who didn't hear stories about their parents going to office hours, may not realize that seeking one-on-one relationships is encouraged and beneficial. 
Senquiz avoided talking to the leaders of Questrom Ascend, a program designed for first-gen and minority students. 
"They kept me pleading with me to tell them if I was struggling," Senquiz said. "I didn't for the longest time, because I just didn't know that they were sincere about it. But when I did, it was the first group I felt legitimately supported by."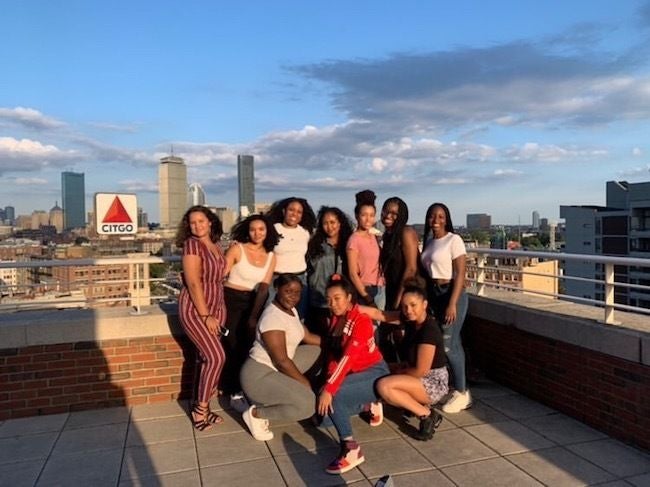 Opening up to her parents was not an option either, she said.
"I don't reach out and tell them my struggles or ask them questions because I don't think they would understand," she said.
Senquiz remains close to her 17-year-old brother Damian, who was "really upset" when she left for college. 
"He kind of uses me as a maternal figure," she said. 
Senquiz says that her brother has not taken his SATs yet, and is struggling to graduate high school. 
"He just gets swept under the rug, because (…) college wasn't made for him," Senquiz said. "I'm trying to be hard on him. I told him, 'I'm not coming back home until you graduate.'" 
Today, Senquiz uses the help she is given and asks for more support to navigate academic and campus life throughout the university, which could include courses on higher-education jargon and tools such as Blackboard. 
"Resources that are specific to us aren't brought up because most people don't need them," Senquiz said. "We get marginalized and pushed to the side. BU puts us here, but I feel like they don't have space for [this] community, and they should."
She recalled a recent business networking event where her low-income friends were turned away at the door because they were not wearing professional outfits. 
"I think that's ridiculous and systematically wrong," Senquiz said. "They have minds; they can still talk." 
Senquiz has thought of quitting "a thousand times" and is still considering transferring. But no matter where she ends up, she wants to remain in higher education. 
"[Quitting would] be so dishonoring to the work that I've put in," she said.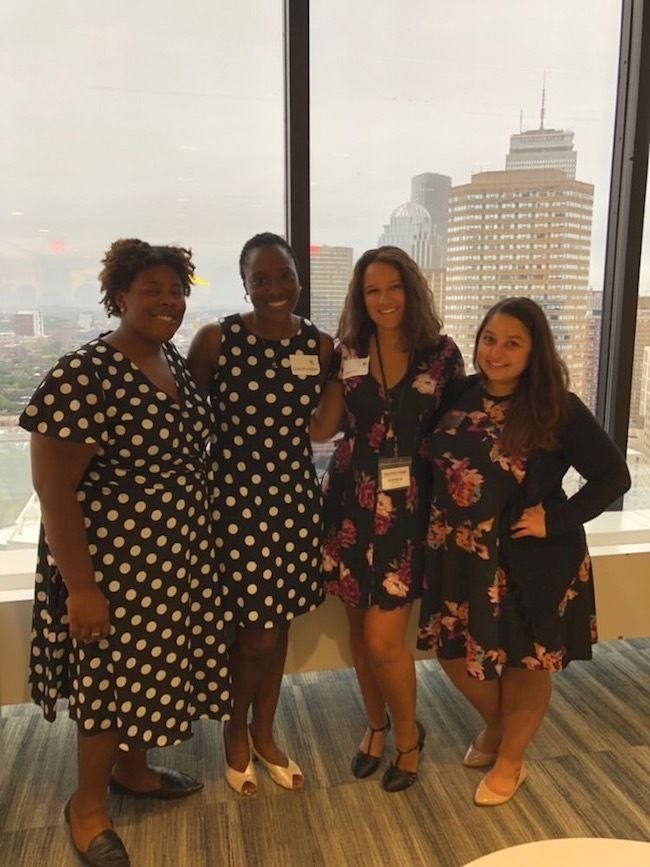 If she stays at BU, Senquiz wants to transfer to the College of Communication, where she hopes to develop the skills to reach more people online and make pressing issues accessible to understand for those who need the information the most.
Senquiz's online activism first started when she shared her input on political articles. 
"I wanted to explain why it resonated with me so much," Senquiz said. "I started sharing more and more of my identity with people and getting feedback and DMs. People said that they understood what I was going through too." 
Senquiz seeks "restitution" by spreading her knowledge with people struggling with similar hardships. Opening up her challenges makes them "all worth it and justified." 
"I'm always like, 'God, why would you put me through this if I'm not going to help anybody else? That's kind of rude!'," Senquiz said. "It would be a dishonor to my whole entire childhood and struggles to not share that with other people and be able to help." 
To counter social media's artificiality, Senquiz places importance on vulnerability and consistency in order to build trust with followers. 
"The people that reach out to me say that they've been following me for a year and a half or two years," Senquiz said. 
Additionally, she creates interactive content to encourage her followers to be apart of her community. "I don't just post things: I also interact with people." She asks questions, starts polls, does Instagram live streams and storytimes, instead of "just sharing articles and doing commentary." 
On campus, followers often recognize and come up to Senquiz. "It's a reality shock that the things I say make a difference to people," Senquiz said.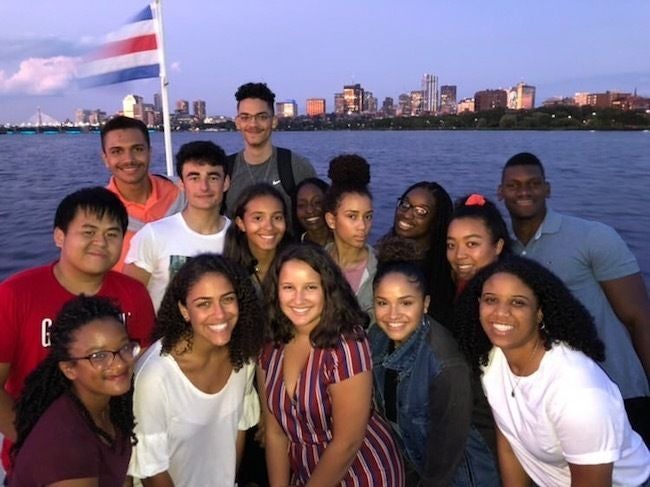 To Senquiz, the hardest part of educating people online is the lack of diverse experiences among her followers. Because she comes from a "very homogenous" town, many of Senquiz's followers have not interacted with people of color in the past.
"When I talk about things like police brutality and issues that affect people of color, their responses are very ignorant," Senquiz said. "I can't blame them because they've never interacted with people like that. The ignorance is real," Senquiz said. 
"BU is such an intellectual bubble that we don't understand that there are people who are ignorant and not by choice. They don't have the resources to know these things, so it's frustrating."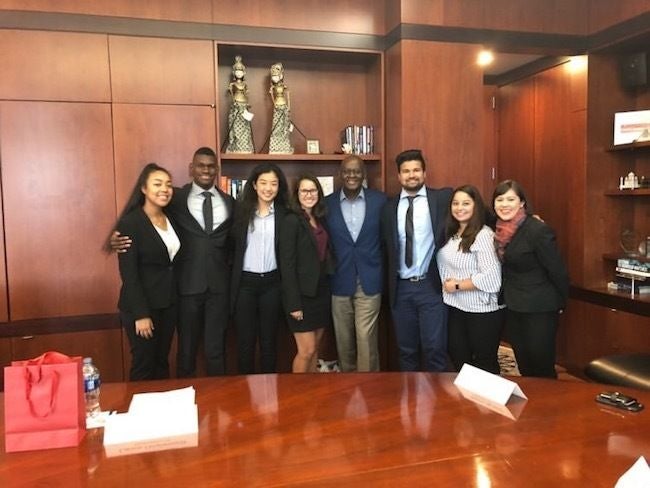 Senquiz enjoys educating people about "ways that they're unknowingly taken advantage of" and "institutional problems that are getting in the way of them being equal," such as the recent voter purge in Georgia.
Accessibility is part of Senquiz's brand on social media. She avoids political jargon and academic vocabulary, because "that's not how you're going to reach people that need the information the most." 
"I think it's stupid that we're supposed to use fancy words and do things that are inaccessible. The whole point of my platform is to be accessible to people who never understand politics."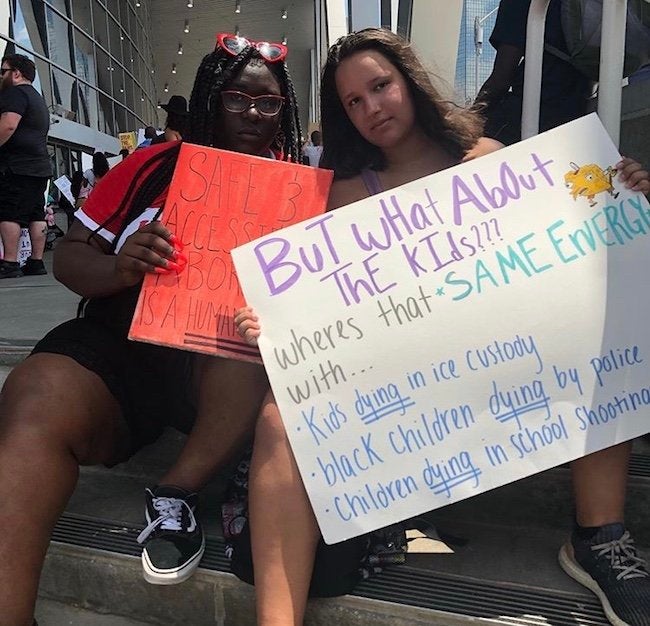 Senquiz with BU student and friend Kahjirah Harris at a march to defend reproductive rights this summer in Atlanta, Georgia.
After graduation, Senquiz plans to open a nonprofit dedicated to mentoring underprivileged students. 
"So many kids with talent are in a public system that doesn't care about them—including me," Senquiz said. "I was part of the small percentage of people that broke out of that." 
According to the American Psychological Association, 61% of first-gen students say they would like to give back to their communities after they graduate, compared with 43% of their peers.
"I want my encouragement to be me giving back, which I thought everyone was like, but a lot of people aren't like that," Senquiz said. "They want a house and a 401K and stability. I kind of just want to give back."
Want to keep up with HCBU? Make sure to like us on Facebook, follow us on Instagram, check out our Pinterest board, and read our latest Tweets