Thrifting has become popularized by YouTubers like Emma Chamberlain and Conan Gray. There are so many reasons why thrifting is great. You can find a lot of unique and stylish pieces for a low price, and thrifting is good for the environment. Buying secondhand reduces the waste and pollution from throwing away old clothes. Although there are all these great reasons to thrift, not everyone finds it the easiest thing to get into. Below are some tips on how to thrift like a pro.
1. Pick the Right Thrift Store for You
There are different types of thrift stores that you can choose to shop at. Each has its pros and cons.
If you are looking for nice vintage items or nicer quality items then a consignment/resell shop or vintage shop would be the best option for you. These shops – like the Garment District – are good for beginners because you are very likely to find nice pieces without much digging. However, these shops tend to be on the pricier side, some articles can go for hundreds of dollars.
If you are looking for low prices and unique items, then a chain thrift store like Goodwill or Savers is the best option for you. These are the more popular places for people to thrift. The chain stores are good for finding some nice pieces and sometimes name brand items at low prices. The con of these stores is that, since they are so popular, there is more competition to find the limited number of nice items and it takes a lot of time and digging to find good pieces.
The last kind of thrift store is the by the pound. These types of shops take the most time and effort. While you can find a lot of pieces for a very low price, you need to dig through piles of clothes for hours.
2. Pick the Right Time to Thrift
Most thrift stores have a calendar that shows the sales they have during a given time. It's not vital that you go during a sale. However, you may have better luck finding items and walk out with more items when you shop during a sale.
3. Wear the Right Outfit
When you go thrifting it's important that you wear the right outfit. You'll most likely be spending a few hours thrifting, so you should wear something comfortable. I suggest a comfy pair of leggings and sneakers. Also, you'll want to wear something that you can easily change in and out of since you'll be trying everything on. This leads me to my next tip.
4. Try Everything On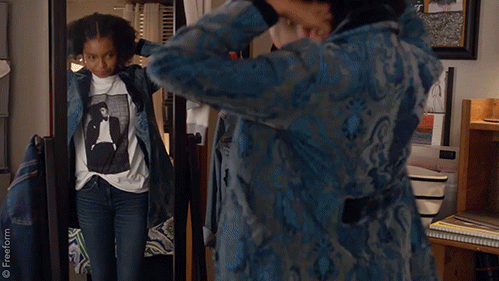 You need to try everything on. Thrift stores have clothing items from so many different brands and so many different decades. So, even if you find something that is labeled to be your size, it could have a drastically different fit. For many people, trying on thrifted clothing seems a little gross. If you are one of these people, a good tip is to wear a cami and leggings when you thrift so you can try on everything over your clothes. Or, you could find out your measurements and measure the items that you find. But, I really stress that you should try things on to get the best understanding of how they fit.
5. Go Into Every Section
While it may seem weird at first, shopping in every section of the store is so important. Personally, I find that the men's section has the best t-shirt and jeans with my preferred fit. You increase your chances of finding really good pieces when you look in every section of the store. You'll be amazed by the great pieces you can find in different sections of the store. You just need to be open-minded.
6. Have an Open Mind
Many people try thrifting after watching thrift hauls on YouTube. To their dismay, they don't end up finding all these amazing name brand items that the YouTubers do. Finding brands like Tommy Hilfiger or Levi takes a lot of time and digging through stores to find. It takes a lot of time and effort in general to find good pieces. On some thrift trips you may walk out with nothing. When thrifting you need to be open to pieces from all types of brands, whether they are famous or not.
Also, when thrifting you're probably going to stumble on some pieces that you really like, but aren't perfect. When you find pieces with missing buttons or holes, you can always alter them after buying them.
7. Be Realistic
Thrifting may seem easy, but is actually a lot of work. There are going to be times when you don't find anything. Also, if you want to buy an article of clothing thinking you're going to alter it in some way, you need to be realistic about it. Don't buy something thinking that you are going to make all these changes. When you find a piece that you want to alter, ask yourself, will I actually make the alteration? If the answer is no, then don't buy it. Also, you might start shopping and be surprised by all the low prices. Don't buy something just because it's cheap. Only buy it if you really think you're going to wear it.
Now that you know the ins and outs of thrifting, head to your local thrift store to get some nice pieces to spruce up your wardrobe.
Want to keep up with HCBU? Make sure to like us on Facebook, follow us on Instagram, check out our Pinterest board, and read our latest Tweets!