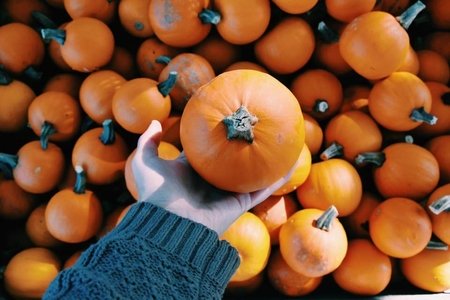 Anna Thetard / Her Campus
Getting Into the Fall Spirit—Social Distancing Edition
If you were in Boston this past weekend, then you already know that the weather went below 60 degrees, which in my mind means it is finally fall. This fall is a little different though—the normal activities you would do with your friends and family have shifted because of social distancing. Despite this, my love of fall will push through, so here are some ways to get into the fall spirit while being safe!
1.

Head to Salem, MA for a spooky day in a Halloween town!

On the first weekend of October, my roommate and I are driving up to Salem to finally experience all the spookiness it has to offer. If you don't have a car, there are trains and buses for cheap transportation to get you right into a real-life Halloweentown!

2.

Go apple or pumpkin picking!

This past weekend, I saw so many people going apple picking on social media. It is such a good way to be able to hang out with your friends in an outside space while still being able to get into the fall spirit!

3.

Decorate your room and make it festive!

This one is essential for me! I bought pumpkin Febreze so my room would always smell like the perfect hint of cinnamon. I also have an orange pumpkin blanket for that extra fall touch!

This one might be for when the weather is a bit on the warm side, but having a picnic is a great way to be able to get together with more people while social distancing. Make sure to bring along some fall-themed snacks!

5.

Watch Halloween movies!

New functions on streaming platforms like Netflix Party provide a great way to hang out while socially distant. Bring together your friends via Netflix Party or Zoom and pop on your Halloween favorites!
It may be difficult to look for a fun seasonal activity while social distancing, but I hope I helped you find something that you and your friends can enjoy! And don't forget to wear a mask!
Want to keep up with HCBU? Make sure to like us on Facebook, follow us on Instagram, check out our Pinterest board, and read our latest Tweets!