It's 8 p.m. on a Wednesday night in Boston. A herd of spectators make their way in the Tsai Performance Center of Boston University, where the All-Campus Orchestra will be playing Tchaikovsky's Symphony No. 1 in G-minor, also called "Winter Daydreams." After a few minutes spent flipping through the pages of the concert's program, the spectators turn their attention to the stage. The lights soften and the concertmaster comes on stage with her head facing the floor, in a humble fashion, followed by the staccato beat of her low heel shoes echoing in the concert hall. Tonight Erika Lee is wearing a fitting black shirt with embolstered sparkles, with a black cardigan over top and black jeans. Her long straight hair is arranged in a loose ponytail and parted in the middle; she has her glasses pushed up her nose.
The orchestra welcomes the conductor by beating the ground with their feet, all in unison. As the conductor makes his entrance, he shakes the hand of concertmaster Lee and bows to the public. He lifts his arms up and gives the concertmaster a signal to start playing the symphony. Lee lifts her chin up, locks the violin between her hand and her neck, and holds her instrument confidently. Her response sparks a chain reaction that travels from the first stand of violins to the last. Arms rise up in an elegant wave and the magic begins. She presses the bow against the strings with a firm hold and a soft look in her eyes. Constantly adjusting her posture to the melody, she rocks back and forth in her chair, while regularly checking on the other musicians.
As concertmaster and violinist for Boston University's All-Campus Orchestra (ACO), 19-year-old student Lee oversees the string section and plays a complex, varied, and pivotal role within the orchestra. 
According to an article from the Berklee College of Music, in addition to being excellent players with deep knowledge of orchestra repertoire and fantastic abilities as a soloist, concertmasters must also cultivate superb leadership, teaching, and communication skills, as the job involves giving direction, offering guidance, resolving problems, interpreting direction from the conductor for musicians, and vice versa. Lee's task is not simply musical, but also emotional and interpersonal. In order to lead the orchestra, she needs not only technical knowledge but also extraordinary sensitivity and communication skills.
A few days after the concert, Lee agrees to a sit-down interview right after her two-hour rehearsal with ACO. Sitting on a bench in the College of Fine Arts, I listen to the faint sound of music coming from the concert hall. A couple of minutes later, the music stops, and a flow of students rushes out the door. Lee walks towards me, her head down and violin in hand. Physically drained, she breathes heavily. "Give me a second," she says, frowning, arranging the messy, dark hair falling over her head, and scrambling through a pile of sheet music.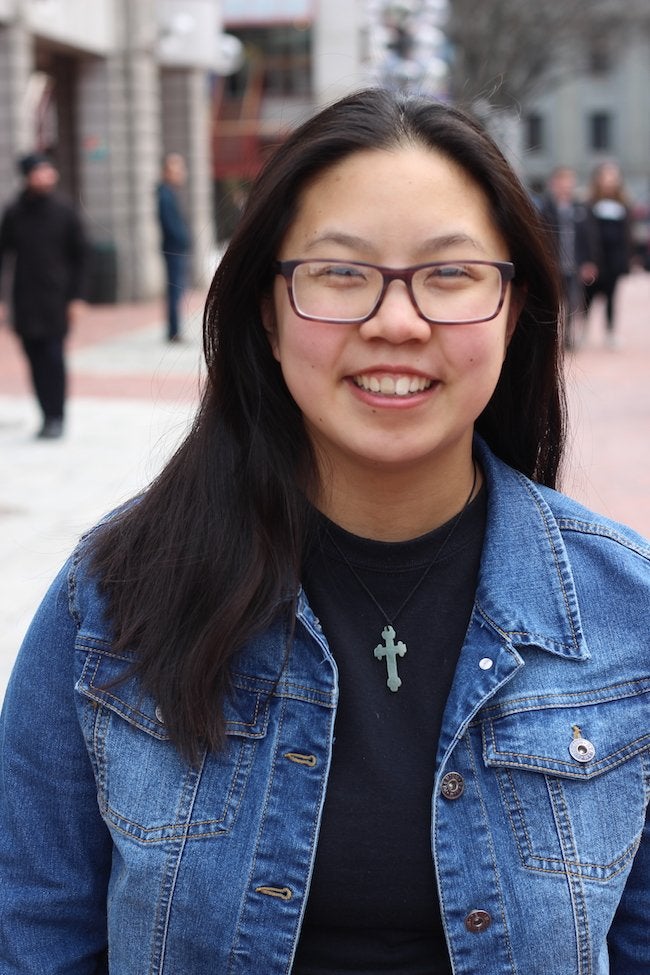 First violinist for Cleveland Orchestra Youth Orchestra (COYO) and concertmaster for her high school's orchestra for three years, Lee was and remains passionate about leadership in music. As concertmaster for ACO, she is the second-most important figure in the orchestra. She takes great pride in being a liaison between the conductor, Mark Miller, and the rest of the orchestra.
When I ask her what the secret to being a great concertmaster is, Lee explains, as if it were evident, that "you cannot make good music with people that you don't know." To her, music is a form of communication that can be compared to a conversation; and "Not being scared of expressing yourself makes all the difference in the quality of the conversation."
Music, which is often called the universal language, can be a vehicle for expressing and engaging the full range of human emotions and aspirations. This is why concertmasters should strive not only to master musical skills, but also to embody many human qualities. According to an article from Connolly Music, contrary to common beliefs, being a great concertmaster is not only about being the most proficient violinist—it is also about being a leader and a mentor.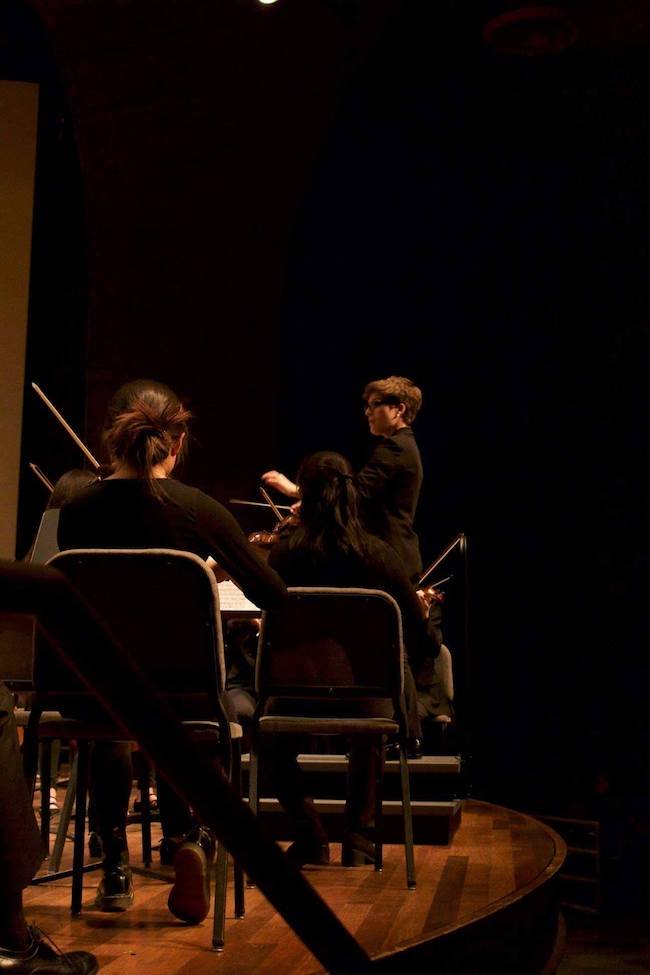 Being concertmaster means being a mediator between the conductor and the orchestra. "You need to connect the two, but you can't be completely with one of the two," Lee says. "You have to guide the orchestra and the conductor towards each other without forcing anyone because that's not going to make good music."
Tamara Dworetz is a 29-year-old student pursuing a Doctorate of Musical Arts in the College of Fine Arts at Boston University and Assistant Conductor for ACO.
To Dworetz, any good concertmaster should be "an amazing violinist" and have "a very high standard for music-making." Concertmasters also have certain personality traits in common, such as being "really enthusiastic and high energy." Dworetz says they have to communicate in a way that is "collegial, kind, and direct."
Erika Minetti is Lee's stand partner in ACO and held Lee's position as concertmaster last year. She claims that "being a good musician is not enough to be a good concertmaster." In her opinion, what matters is to have "a leadership personality" and a good relationship with both the conductor and the strings sections.
The concertmaster must understand, convey, and pass on the conductor's ideas about the music to the orchestra. This can be a difficult task, as conductors might have intense and demanding temperaments. Yet, the concertmaster must be flexible and adapt to the different styles and personalities of conductors to make them feel comfortable and free to let their imagination take flight.
Dworetz says Lee does "a good job of giving information when needed. Everyone knows that she's comfortable and a good leader."
According to Dworetz, in youth orchestras, the conductor mostly teaches the concertmaster. However, in a professional orchestra, the conductor and the concertmaster are on a more equal footing. Dworetz says that the two work together and experiment with music to come up with the best answers.
Although the conductor and the concertmaster work to find the right sound and bowings to get the sound that the conductor wants, the concertmaster is also in a position to make suggestions. Dworetz explains that this is the reason why "every time a conductor works with a different concertmaster, the result of that collaboration will be a totally different piece." She also believes that it is important for the concertmaster and the conductor to get to know each other outside of the orchestra in order for them to build a great work relationship.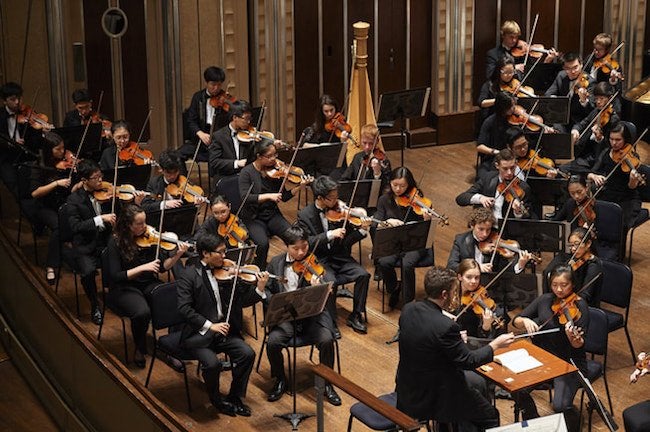 As the concertmaster does with the conductor, the concertmaster should also get to know the musicians personally through casual conversations. This allows the concertmaster to take on the role of mediator by better understanding the needs of the musicians that the concertmaster represents professionally. The players rely on the concertmaster to solve artistic, technical, or personal problems and confer with the conductor about any difficulties they may have in carrying out his wishes. The concertmaster must speak up on behalf of the orchestra if the conductor's instructions don't sit right, or seem inappropriate, for the situation.
"It's the job of the concertmaster to care about the little details that other people may not notice," Lee says. "Usually, these things are not a glaring alarm in how we make music, but working on specifics is what makes the piece better in the end."
Lee's advice for fellow musicians playing in orchestras is to be emotionally close to your colleagues.
"Spend time with your partners inside and outside of rehearsal because you cannot make good music with people that you don't know," she says. Lee feels that music is a form of communication and can be compared to a conversation.
"It feels easier to talk to your best friend than to talk with a stranger. Not being scared of expressing yourself makes all the difference in the quality of the conversation," she says. "The same goes for music."
While "not everybody becomes friends," knowing someone and understanding their intentions makes it easier to forgive them when frustrations or issues arise.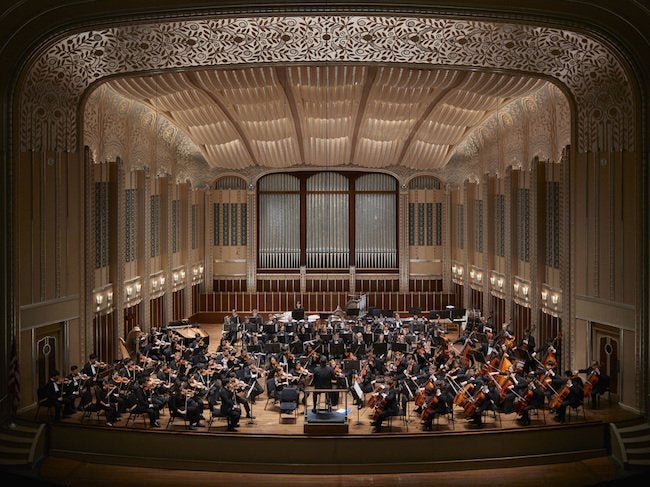 Lee takes this piece of advice from one of her role models: Brett Mitchell, director for COYO, who Lee says is "one of the most influential people" that made her "open (her) eyes to music."
Before every concert, Mitchell gave a five minute inspirational speech to remind the orchestra of what their attitude toward music should be. One of the biggest lessons Mitchell taught her? To play not with each other for the audience, but for each other.
Dworetz agrees with Lee, stressing that, "Showing that you care about human beings first and foremost is very important." She says the orchestra is comprised of two elements, the music and the people. "You can't set the people apart from the music."
Therefore, it is crucial to show interest towards other orchestra members. Dworetz says this can be just as simple as knowing people's names, asking how they are, and making eye contact.
"You have to know what you want and have the confidence to communicate it well," Dworetz says. "But even if you're great at that, no one is going to listen if you're obnoxious."
Knowing the people in the orchestra is not only vital to the concertmaster, but also to the conductor.
"If you don't know the person individually, you can't give tailored powerful advice," Lee says. "The conductor should appeal to the personality of the player and not simply how they play the instrument."
Lee believes that it's crucial to know whether the player needs encouragement and motivational words or technical advice.
When it comes to building close relationships within the orchestra, Minetti takes a slightly different approach than Lee and Dworetz.
"Musical trust is something you can build even without knowing the person. You don't need to be close to everyone," says Minetti. "As long as the concertmaster is able to trust orchestra members as musicians, then the orchestra stands together."
To build this trust, she believes that musicians only need to play together.
"When you play with someone, you understand who they are as a musician," says Minetti. Nevertheless, she agrees that "it's a two-hour rehearsal a week, so it's nice to have friends."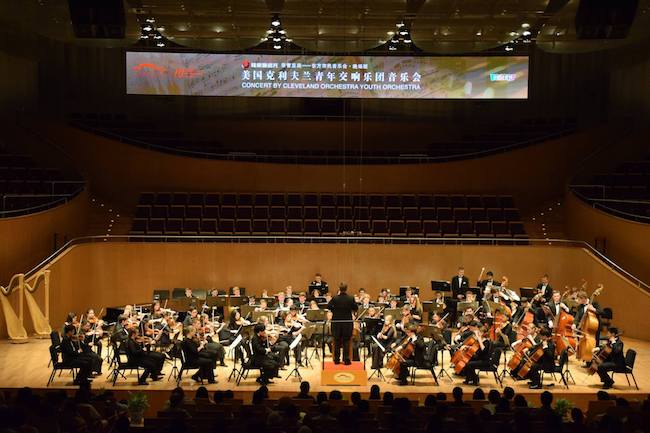 Concertmasters also need a sense of balance when leading the orchestra. Lee points out that handling things in a very polarized way is dangerous for leaders.
"Some care too much and some do not care at all," she says.
Concertmasters have to care without micromanaging the group. Being a good concertmaster is all about finding that balance and not shying away from disciplining peers.
"You can't correct every single bowing that is wrong, but you also need to know when to be assertive," Lee says.
When musicians' desire to socialize and neglect practice takes over, the concertmaster has to set the tone for behavioral, as well as performance, excellence—and take action when needed.
Taking on the position of concertmaster is no easy task. On top of the responsibilities of any other orchestra member, Lee has the additional duties of resolving interpersonal problems and setting an example for the rest of the orchestra. "It's not just about sharing the music, it's about being responsible for the orchestra," Minetti says. Lee explains that she feels a lot of add pressure, which sometimes comes from herself, to "care more than the people around (her) are comfortable caring about." Dworetz agrees, saying that "the concertmaster has to show they're invested—it has to emanate from them." This is especially important as the qualities of the concertmaster resonate with the orchestra. "If a concertmaster is nonchalant or lazy, the orchestra will be too," Dworetz says. Although this commitment can be overwhelming, Lee feels that the role of concertmaster is "incredibly rewarding" in the end. "I think after the concert I feel that feeling of accomplishment more strongly than anyone else," Lee says.
Being concertmaster requires the rare ability to balance great talent and confidence with humility and the spirit of collaboration. Concertmasters must be as comfortable playing solos as they are supporting the group and blending in to create a unified sound. One should not seek to be "the spotlight," but to support and grow with their friends.
"It's easy to want to be the diva, but if you want to make good music, you need to be selfless and collaborate," Lee says.
This paradox makes the position of a concertmaster challenging.
In an interview for The Strad, former concertmaster of the Nice opera, Pieter Schoeman, now co-leader of the London Philharmonic Orchestra (LPO), explains that good concertmasters must have a strong musical mind, but contain it to fit into the orchestra and be with the conductor.
"In a solo, you have to have a beautiful sound that carries and shines, but when you play with the section you must not stick out," Schoeman says.
ACO Assistant Conductor Dworetz says that the concertmaster also has to know how to unify the string sound by being in the same place in their bow because "if everyone is in the same place, the sound will be more beautiful."
According to an article from Connolly Music, like the conductor, the concertmaster have their feelers attuned to the orchestra at large. Beyond the violin section, they hold awareness of each string section and then the orchestra as a whole.
This is why Dworetz says that concertmasters should have "a really good ear" and know scores—written documents with notations of a musical work—very well.
Minetti says Lee masters this art and "always comes very prepared," before adding, "The entire strings section relies on her—she can't make mistakes."
While performing, the string musicians generally watch the concertmaster nearly as closely as they do the conductor. Additionally, the concertmaster has a powerful tool that gives them an advantage over the conductor.
"While the conductor cannot make any sound and only waves their hands, the concertmaster guides the orchestra when playing," Lee says.
However, visual cues remain important. The players rely on subtle conspicuous motions from the concertmaster such as raising the violin, placing the bow on the string at a precise moment, or even leaning forward.
For instance, the concertmaster may communicate with the winds section and the principal oboist by "sitting in a open way to face the rest of the orchestra rather the conductor," Dworetz says. "Because of the huge physical distance between them, players need to be able to see the concertmaster."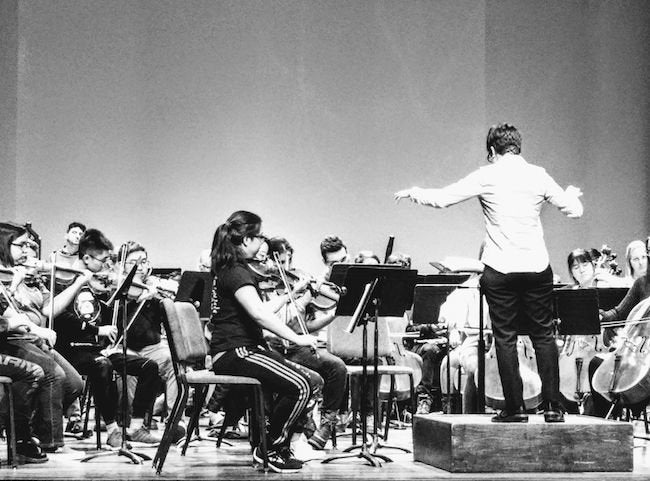 Lee is professional and cares about technical details, but she makes it a point to be close to her colleagues and experience music in an intimate way. Dworetz thinks Lee is "precautious" as well as "very real and authentic." Dworetz says Lee is "understanding of people and of her own feelings," which is "inspiring." Dworetz was surprised when she first found out Lee was a freshman because Lee was "so emotionally mature and in touch with herself." In fact, Dworetz says Lee has reminded her not to be dismissive of people based on age difference.
Minetti describes Lee as "a very serious, solid, and trustworthy leader" as well as a "funny, friendly, and smart" person.
On school nights, Lee invites her stand partner to practice together in her room. Wearing athletics clothes and a gentle smile on her face, Lee laughs with her friend, before going back to her sharp and focused attitude to rehearse part of this week's recital.
"She always has a serious tone, but we do crack some jokes sometimes in rehearsal," Minetti says.
Minetti says she and Lee work well together and are also friends. The two share the same name and a tradition. After every concert with ACO, they take a picture together, with Dworetz in the middle.
"It's an Erika sandwich," Dworetz explains, amused.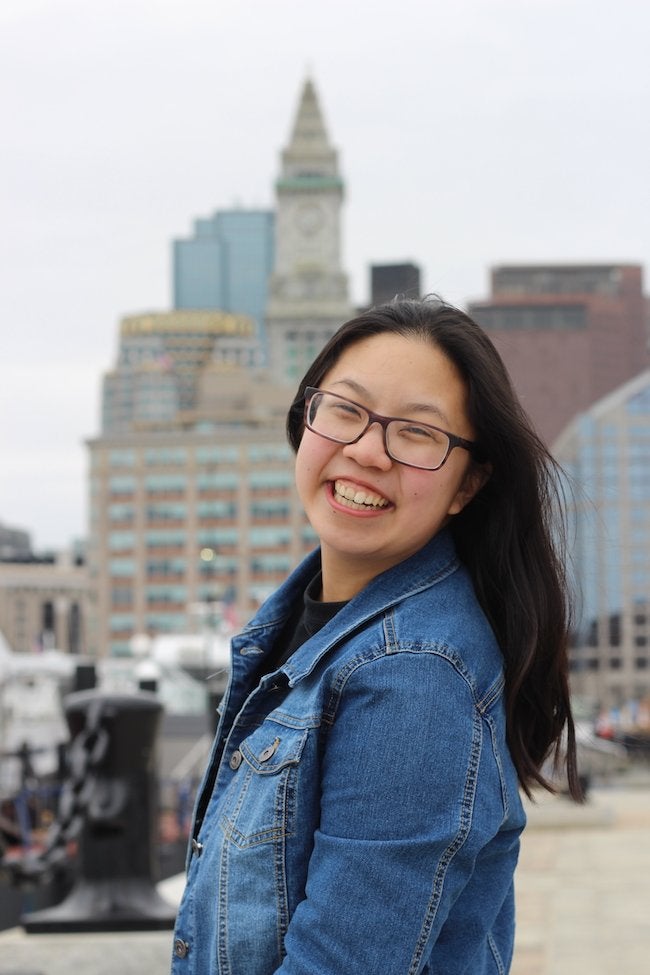 Lee does not shy away from her passion for music. In fact, she quite literally embraces the bruises left by her instrument on her body.
"That's my violin hickey," she says light-heartedly, pointing to a red area on her neck. "I make love to my violin twice a week."
Lee realized the importance of emotion and a strong, affectionate support base in playing music during her early teens when she first learned how to play violin—and when she quit.
Lee's mother played a big role in her music education. Lee recalls moving memories of violin lessons as a child. Her mother sat by her side and took notes of the music professor's advice, even though she had no prior music background. Once it was time to practice, Lee's mother would read the notes she had taken to her daughter.
"It's very inspiring to look back at that," Lee says. "She did not know what this information meant but she committed herself to make sure that she did as much as she could."
The relentless and sensitive guidance that Lee received at an early age is what leads her to pay attention to lead in a caring, almost motherly way today.
At the end of middle school, Lee quit violin. The pressure to be the best at her instrument and to master every technical detail kept her from enjoying playing.
"I forgot the relationship that I had with violin and what it had given me," Lee says.
She decided she wanted violin to be a part of her life again, even if that meant falling short of some high expectations she had set for herself.
"Quitting is an extreme way to take the pressure off, but it helped me rediscover my connection to violin and I came back healthier," Lee says.
With the mindset that she had "nothing to lose," Lee decided to audition for the renowned Cleveland Orchestra Youth Orchestra (COYO). She got in.
"Not feeling the pressure to be good enough when I auditioned made all the difference," Lee says. "I came in with an open mind and performed better."
She explains that COYO gave her a new community and networking opportunities with older musicians "immensely committed to their instrument."
She says, "I was able to let go of all the expectations that I had for my instrument and that people had for myself."
Around Freshman year, Lee acquired more tangible leadership in music through teaching private violin lessons and serving as a residential counselor at the Baldwin Wallace String Orchestra Summer Camp. Lee loves telling her story to children that are unsure if they should stick to music or not. Mentoring younger musicians helps her remind herself of how much she loves her instrument.
"It's hard to convince these kids why they should play the instrument if you don't believe in your art yourself," Lee says.
Lee says her favorite piece that she played with the orchestra is Tchaikovsky's first symphony. "It required a lot of maturity and endurance," Lee says. She explains that the orchestra didn't tackle this piece in "the most conventional way" as it took time to "accept the piece and make it our own."
Before exploring "all the wonderful things that aren't written on the page," the orchestra had to learn all the notes and become comfortable with the music first, which she believes only happened in the last rehearsal.
"That exponential growth is dangerous but also exciting," Lee says.
After we're done with the interview, she pulls up her computer. "I want to show you something," she says, rolling up her sleeves. She starts playing "La Mer" by Claude Debussy and stares at the screen in a tender way.
I ask her who her favorite composer is; she confesses, "I'm such a romantic, so I would have to say Tchaikovsky."
Tchaikovsky's fourth symphony was the first symphony that she played with COYO. The orchestra took the piece all over China the summer after Lee's freshman year, playing in 4 concert halls in 10 days. Although Lee loved playing abroad, Severance Hall, Cleveland's concert hall, remains close to her heart. "It is sensitive and allows for great acoustics and a lot of detailed expressions that other concert halls can't pick up on," Lee says.
After spending four years in COYO and her school orchestra, Lee felt unsettled saying goodbye to her music community at home.
"My entire support base was pulled out under from me like a rug," she says. "I can't think of a lot of friends I haven't met through the orchestra program."
"In the end, all the technical details are driven by the bigger picture—that is, the people that are with you during the journey," Lee says.
We wish Lee the best of luck in her future endeavors and can't wait to see her play at the next All-Campus Orchestra concert on April 30th!
Want to keep up with HCBU? Make sure to like us on Facebook, follow us on Instagram, check out our Pinterestboard, and read our latest Tweets!​