Emma Off The Record: Take a Walk
When I wake up every morning, the first thing I do is pull back my curtains. I look out my window and watch the sunlight peak through the leaves of the big tree that takes up most of my view. Occasionally, I see a couple of birds chasing each other in the branches. This is pretty much the extent of my get-in-touch-with-nature time these days. 
The unfortunate truth is that I am glued to my computer for about eight hours a day everyday. That's a scary amount of screen time, but that's just the way it is now in the age of online learning. I am rushing between Zoom links instead of classroom buildings. Most of my textbooks are digital and all of my assignments have to be turned in online. Even though I have pretty much adjusted to this new normal, I still feel weird not leaving my room to attend in-person classes. I made the decision to not go hybrid mostly because three out of four of my classes were all online anyways, but sometimes I wish I could sit in an actual classroom again. It took a global pandemic for me to realize that walking to my classes and sitting in front of my professor in real-time are luxuries.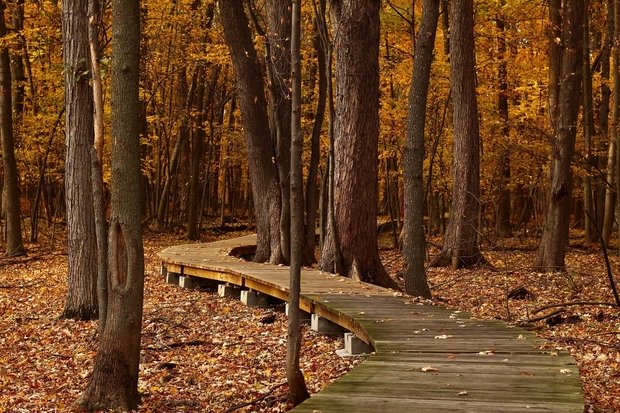 Photo by PGloutnay from Pixabay
Since I haven't been able to do either of those things, I have been taking a lot more walks just so I can incorporate some movement into my day. It always feels so good to stretch my legs and breathe in some fresh air (through a mask, of course)! I've also been getting to know my neighborhood better, which makes me feel a little more like a real Boston resident rather than a temporary guest. There's the little park with the walking paths diagonal from my building. There's the cute, quintessential New England thatch roof house with the red door and hydrangea bushes. There's the public rose garden next to the playground where all the local parents take their kids to let out some energy. There's the winding side street where I always see a man walking his spotted French bulldog. 
I try to use Google Maps as little as possible and mostly rely on my instincts and the visual landmarks I've etched into my memory to guide me home. Sometimes it works, sometimes I give in––it really depends on how quickly I need to get back to my apartment. Most of the time when I go on walks it's to run an errand, so I usually know the way home, but sometimes I like to shake things up and attempt to discover new shortcuts. So far, I've found four different ways to get to Coolidge Corner and back.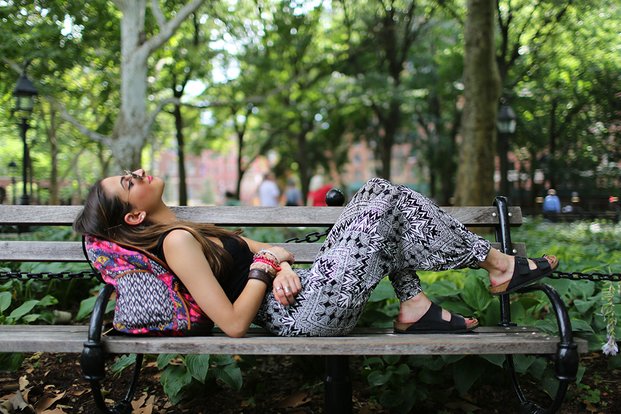 Her Campus Media
On weekends or days that I don't have class, I like to go on longer walks since it's pretty much my main form of exercise at the moment. My boyfriend was in town last week and we spent a whole day walking around the city from Brookline to Beacon Hill to the edge of Back Bay and back. I checked my health app at the end of the day and saw that we had walked 8.6 miles!! And if you're wondering, yes, my legs were very wobbly and worn out. Boston is such a walkable city and it is so nice to explore the parts that I usually pass by on the T or in a car. On foot, you can go down all of Boston's confusing one-way streets that make driving a nightmare, duck into small streets with hidden shops, or make a pit stop at a coffee shop before resting on a park bench. 
It goes without saying that I always wear headphones when I'm on my solo strolls. I mostly listen to music that I can synch up my steps with, but other times it's more about curating a particular mood. Sometimes I go for old school Ella and Billie, other times I want a could-be-in-an-indie-A24-film soundtrack, and yet other times I want a mixed bag of songs that don't really make sense together but somehow work. This week, I've made a playlist that falls into the third category. I have been listening to so many different genres lately, and I wanted this group of songs to reflect that. It's got everything from Passion Pit to Billy Joel to KAYTRANADA. As I said before, it has very random but also sort of coinciding vibes. It's got some hype and upbeat moments for those uphill moments but also some chill, relaxing melodies for those parts of my walk when I take a sip of water and absorb the breeze (walking is deceptively tiring)!
I'm determined to keep up my walking routine until it gets too chilly outside. Even when the temperatures do drop, though, I will still push myself to leave my apartment from time to time. I have that down in writing now, so I guess that means I have to hold myself to it. ;) 
I hope that if you've been cooped up inside for the past few weeks, you find some time to go outside for a bit––even if it's just a short trip around the block! 
xoxo,
Emma
Want to keep up with HCBU? Make sure to like us on Facebook, follow us on Instagram, check out our Pinterest board, and read our latest Tweets!