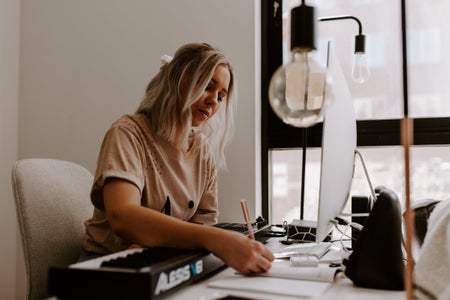 "Directionally Challenged"—An Introduction to My Favorite Podcast
Within the past three years, it seems like podcasts have transformed from something only for adults with long commutes and a love for NPR and into the biggest trend for people of all ages and interests. I originally resisted the trend, assuming I would quickly get bored from the purely-audio content, but when two of my favorite actresses from The Vampire Diaries—Candice King and Kayla Ewell—who played Caroline Forbes and Vicki Donovan, respectively, started a podcast last year, I knew I had to give their show, Directionally Challenged, a chance.
In the first episode of the podcast, they explained that they would be primarily talking about their lives as 30-year-old women. I, obviously, am not a 30-year-old woman, so I was a little sad that I probably wouldn't relate to their episodes.
Nevertheless, I still followed the show on Spotify to keep up with their topics of the week. I was pleasantly surprised that as more and more episodes came out, I loved and related to many of their discussions. In addition to episodes about motherhood and marriage—which are cute, but I obviously cannot relate to right now—they have had episodes interviewing other castmates from The Vampire Diaries and showrunners and directors from The CW and many episodes about friendship, volunteering, and stress management that have been both fun and relatable.
After originally listening only to the episodes that related to their celebrity friends and their work in the television industry, I have recently branched out and started to listen to more of their life advice episodes where they interview experts in mental health fields. (Side note: their Comic-Con episode remains my favorite ever, and it makes me want to quit college and become an actress every time I re-listen.)
I took a 200-mile road trip from Nashville to Knoxville by myself this spring break, and Directionally Challenged helped the time fly by as I drove across the state, learning tips and tricks that I cannot wait to apply to my own life in the future.
Candice and Kayla do an amazing job with Directionally Challenged, perfectly balancing their fun personalities and stories from their own lives with advice from their friends and experts in various fields that they find interesting. Check out Directionally Challenged here and fall in love with this adorable podcast just like I did.
Want to keep up with HCBU? Make sure to like us on Facebook, follow us on Instagram, check out our Pinterest board, and read our latest Tweets!