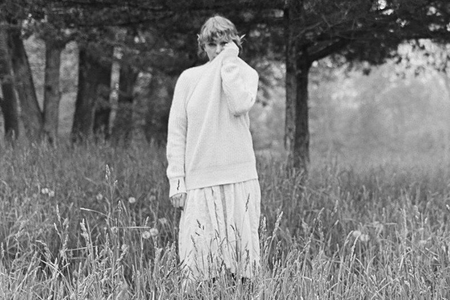 A Definitive Ranking of Taylor Swift's "Folklore" Songs
Taylor Swift surprised us all when she released her eighth album, Folklore, this summer. Like many Taylor Swift fans, I've pretty much been listening to the album non-stop since it was released. Every time I listen, I find new things to love about each song. So, even though my ranking changes all the time, here's a current list of my favorites. (Don't get me wrong—I love every song on this album, even the ones at the bottom of the list.)
This was my favorite song on my first listen of the album, and it is still my favorite to this day. I actually cried (but like, not in a bad way) the first time I heard it. If you know me, you know I don't really ever cry from things like songs, books, or movies. This song is the third piece of the "teenage love triangle," told from the perspective of the unnamed third girl who James has a relationship with over the summer before going back to Betty. Beautifully nostalgic, "august" feels exactly the way a relationship the summer before college feels.

Best lyrics: "Back when we were still changing for the better / Wanting was enough / For me, it was enough / To live for the hope of it all"

This is another one of the most underrated songs on Folklore. There's just something about the nostalgia that this song evokes that makes me want to listen to it over and over (and over) again.

Best lyrics: "And though I can't recall your face / I still got love for you"

3.

"the last great american dynasty"

This song tells the story of Rebekah Harkness, the previous owner of Taylor's Rhode Island home. You can read more about Rebekah's story here. Overall, this song is upbeat, fun, and a wonderful comparison between Taylor and Rebekah.

Best lyrics: "Fifty years is a long time / Holiday House sat quietly on that beach / Free of women with madness, their men and bad habits / And then it was bought by me"

This song is another piece of the "teenage love triangle," sung from the perspective of James about James' relationship with Betty after cheating on her over the summer. This is Taylor's most country-sounding song on Folklore, and she recently performed it at the ACMs, attending the show for the first time in seven years.

Best lyrics: "I was walking home on broken cobblestones / Just thinking of you when she pulled up like / A figment of my worst intentions"

This song has had the biggest jump in the rankings since my original thoughts on the album. There's just something about this song that really makes me feel something (and I know that sounds vague, but if you listen to it while reading the lyrics you'll see what I mean).

Best lyrics: "All these people think love's for show / But I would die for you in secret"

This is an underrated song on Folklore. The music is upbeat, and it's relatable to anyone who's ever known what it feels like when all you want is for others to like you.

Best lyrics: "And they called off the circus, burned the disco down / When they sent home the horses and the rodeo clowns / I'm still on that tightrope / I'm still trying everything to get you laughing at me"

This song is about a secret relationship, narrated by someone who seems to be "the other woman." Even if this is something you haven't experienced, screaming the dramatic lyrics of the bridge is an incredible experience.

Best lyrics: "Look at this godforsaken mess that you made me / You showed me colors you know I can't see with anyone else"

This song is the first on the album, and I love the fact that the first song is called "the 1." Written about a past love, "the 1" is an upbeat song and honestly just an absolute bop.

Best lyrics: "But we were something, don't you think so? / Roaring twenties, tossing pennies in the pool"

The first of the three "teenage love triangle" songs, "cardigan" is written from the perspective of Betty, a girl who was cheated on by her significant other, James, who is the narrator of the song "betty." I absolutely love the lyrics of this song, and the music video is beautifully choreographed.

Best lyrics: "You drew stars around my scars / But now I'm bleeding"

This song is the most reminiscent of her seventh album, Lover. Though many songs on Folklore seem to be about breakups, as they are written from other people's perspectives, "invisible string" reminds us that Taylor is in a very happy relationship.

Best lyrics: "Time, wondrous time / Gave me the blues and then purple-pink skies"

This is the bonus track on the album, but it's a beautiful addition to the story that Folklore tells. Reminiscent of the song "call it what you want" on Reputation, "the lakes" tells the story of Taylor's escape from the media's watchful eye.

Best lyrics: "I want auroras and sad prose / I want to watch wisteria grow right over my bare feet / 'Cause I haven't moved in years"

At first glance, "my tears ricochet" is typical Taylor Swift track five material. (Track five is known among fans to be the most emotionally vulnerable song on the album.). But its true power comes when you learn the meaning behind the song. It's written about the struggle she's had with Scooter Braun buying the rights to her previous albums, and when you listen with this in mind, the lyrics feel even more powerful.

Best lyrics: "And if I'm dead to you, why are you at the wake? / Cursing my name, wishing I stayed"

Technically the last song on the album (excluding the bonus track, "the lakes"), "hoax" somehow sounds like closure. Many songs on Folklore sound like poetry, and "hoax" is another song that's lyrically beautiful, but musically less interesting.

Best lyrics: "Stood on the cliffside screaming, 'Give me a reason' / Your faithless love's the only hoax I believe in"

This song is lyrically beautiful, but musically one of the less interesting songs on the album. It's a good song to listen to when you feel like you're struggling in life and need to know that you're not alone.

Best lyrics: "They told me all of my cages were mental / So I got wasted like all my potential"

Musically, this song is a bop, but I find it to be too similar to songs on Reputation to get a high rank among Folklore songs.

Best lyrics: "And you'll poke that bear 'til her claws come out / And you find something to wrap your noose around"

I know a lot of people who consider this to be their favorite, but besides the part of the song where Taylor Swift and Bon Iver sing together, I find it a little bit boring.

Best lyrics: "I think I've seen this film before / So I'm leaving out the side door"

This is a beautiful song that includes imagery from Taylor's grandfather's experience landing at Guadalcanal in 1942, as well as lyrics that reflect the current pandemic. It's hauntingly beautiful, but it makes me sad, so I usually have to skip it.

Best lyrics: "Someone's daughter, someone's mother / Holds your hand through plastic now"
Overall, there's not a single bad song on Folklore. At least one song on the album is guaranteed to be relatable to the listener. Folklore is a completely new and unique sound for Taylor, and I, for one, am here for it. 
The entire album is absolutely worth a listen (or you can just keep it on constant repeat like I do.)
Want to keep up with HCBU? Make sure to like us on Facebook, follow us on Instagram, check out our Pinterest board, and read our latest Tweets!