Best Kate McKinnon as Hillary Clinton Moments this Election Cycle
No matter what your political views are, we can all agree that this has been a long, stressful, and overall exhausting election cycle. But at least one good thing came out of it – Kate McKinnon's Hillary Clinton impersonation. Saturday Night Live was one of the best outlets to turn to when overwhelmed by the election, and Kate's Hillary is one of my favorite things to come out of the show in general. Here are some of her best moments during the 2016 election cycle:
When Hillary prepared to announce her candidacy via social media
Hillary Clinton: Citizens! You will elect me! I will be your leader!
When Hillary showed Trump it would take more than her husband's mistresses to throw her off
Donald Trump: Four of [Bill Clinton's mistresses] are here tonight, four of them.
Hillary Clinton: Wait, I'm sorry, who's here? Mistresses? Bill, how could you? How will I go on with the debate? No, I'll never be able to remember my facts and figures now, oh, Donald, nooo – get real. I'm made of steel, this is nothing, hi girls!
When she was startled by Trump's Jaws-like appearance
Hillary Clinton: Women can't be charged more than men for health insurance, okay? And number four-
Donald Trump: WRONG.
When Trump underestimated Hillary's resume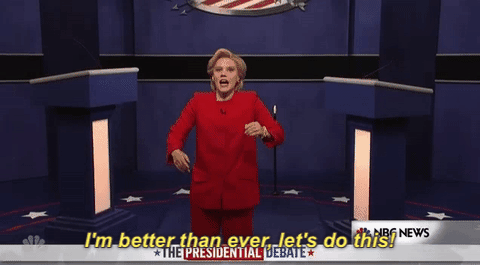 Hillary Clinton: I'd be happy to talk about the last 30 years.
Chris Wallace: Oh no, not again
Hillary Clinton: Back in the 1970s I worked for the children's defense fund. Then I was a senator in New York on 9/11. And then I was Secretary of State and, I don't know if you've heard this before, but I was instrumental in taking down a man by the name of Osama – Bin – Laden!
Chris Wallace: We're all very proud of your accomplishments, Secretary.
When she made it clear that she would not be discussing her emails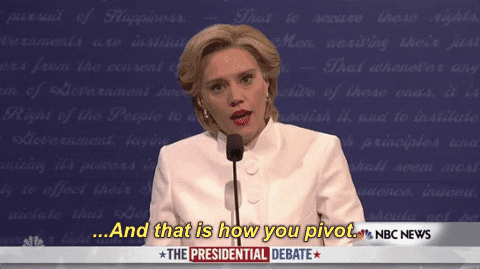 Hillary: Thank you for bringing up my emails, Chris. And I'm very happy to clarify what was in some of them – I'm sorry, what Carol? What? I'm sorry, I thought I heard my friend Carol. Anyway, back to your question about the way that Donald treats women. And that – is how – ya pivot.
Chris Wallace: So you're just never going to answer a question about your emails.
Hillary: No, but it was very cute to watch you try.
When Hillary gave Trump the extra opportunity to dig himself deeper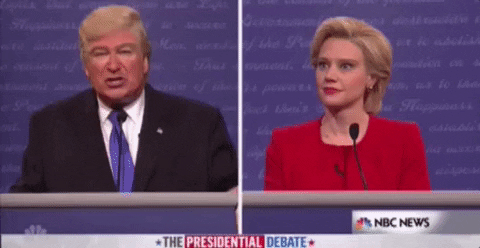 Lester Holt: Secretary Clinton, you have two minutes to respond.
Hillary Clinton: Oh that's okay, he can have my two.
How Kate manages to capture Hillary's mannerisms perfectly
From her shoulder shimmy to her Office-esques looks into the camera, it's really uncanny how well she captures Clinton.
When she described her favorite thing about Trump
Hillary Clinton: Donald Trump and I disagree on almost everything. But I do like how generous he is. Just last Friday, he handed me this election.
When she gave her closing remarks during the first debate
Hillary Clinton: Listen America, I get it. You hate me. You hate my voice, and you hate my face. Well, here's a tip: if you never want to see my face again, elect me president and I swear to God I will lock myself in the Oval Office and not come out for four years. But if you don't elect me, I will continue to run for president until the day I die – and I will never die.
When Hillary proved how good of a role model she is
Hillary: Patrice, I strive to be a positive role model for all children. Children like my daughter, Chelsea, and my granddaughter, Chelsea Jr… I'm assuming.
When she gave us all hope during the post-election depression
Hillary Clinton: I'm not giving up, and neither should you. 
The entirety of A Hillary Christmas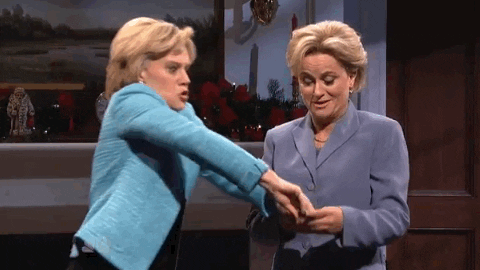 What's better than one Hillary Clinton? Two Hillary Clintons and Sarah Palin! Amy Poehler and Tina Fey joined Kate McKinnon for this sketch, combining two eras of SNL and creating one of the funniest political skits on SNL.
No matter how bad this election has gotten, we can always rely on Kate McKinnon for a much-needed laugh.