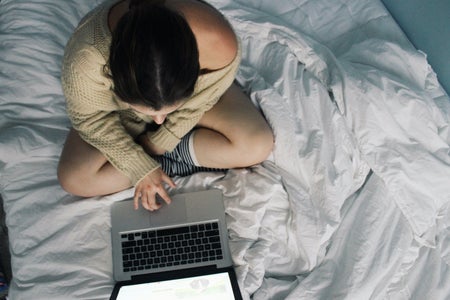 Anna Schultz / Her Campus
The Best K-Dramas to Watch During Quarantine
Unless you've spent the last two years without an internet connection, you probably know that recent interest in K-pop and K-drama has spiked tremendously because of leading global acts like BTS and Blackpink taking center stage. K-pop has become mainstream in America now, with celebrated K-pop artists extending tours and performances to North American audiences, and K-drama has followed closely behind, with Netflix directly working with Korean broadcasting companies to stream dramas on a worldwide scale. As a veteran K-drama consumer, I have taken the initiative of shortlisting the best Korean shows (in no particular order) available on Netflix to get you started on your journey towards K-drama obsession!
1.

Strong Woman Do Bong Soon

This drama follows a tiny woman named Do Bong Soon who uses her uncharacteristic superhuman strength to fight crime across the city while entangled in a fierce love triangle with her CEO and police officer friend. The show is a cult favourite among K-drama regulars for its female-centric focus, gripping thriller side plot, and crackling chemistry between the two lead actors. The drama raked in a viewership high of 9.68% the year it was released (2017) and landed the ninth spot in highest viewed K-dramas of all time.

 

What I personally liked about Strong Woman Do Bong Soon was its ability to smoothly transition from dark crime scenes to shots of adorable, light-hearted banter between the leads. The drama charms viewers with its strategically placed punchlines and vibrant sets. Watch this show if you're into rom-coms and comedies!

Itaewon Class released in January 2020 to overwhelmingly positive reviews. The show revolves around a misunderstood ex-convict and his band of loyal friends as he struggles to fulfill his lifelong dream of opening a pub while battling opposition from the cunning CEO of a leading restaurateur group. The show outshines its competitors by incorporating bold characters from underrepresented communities, such as a determined trans chef and an Asian-African young man in search of his father. This impressively diverse cast is a first for mainstream Korean television and tackles societal weeds such as nepotism and racism while taking us through the lead character's journey of anger, happiness, and pain as he strains against the harsh restraints of classism to make his dreams a reality.

This drama has all the elements of a blockbuster K-drama: revenge, romance, and a killer soundtrack (If you're a fan of BTS, you should check out the song that V recorded exclusively for the drama, called Sweet Night). Itaewon Class is more fast-paced than most Korean shows, and is a good watch if you're only just easing into the world of K-drama.

 

Mr. Sunshine is a period drama set in late 18th century South Korea and follows Choi Yu-jin (Eugene), a poor Korean boy who was born into slavery but escapes to the United States only to return to his homeland to unravel a dark scheme by Japanese forces to colonize the country. The drama includes a kaleidoscopic array of characters, including an iron-willed young daughter of an aristocrat whom Yu-jin eventually falls in love with, a fearsome but snarky samurai warrior, and a wealthy hotel owner who seems to appear just in time to provide a cushion for whenever one of the characters suffers a devastating blow from the enemy.

 

 

Mr. Sunshine stuns with its brilliant cinematography and striking attention to detail. Everything from the costumes to the props showcase extraordinary historical accuracy and steely determination to achieve perfection. The show etches out the slow but devastating invasion of foreign forces into South Korea while masterfully resuscitating the rich hues of 1900s Korean culture. There is much to praise here, including the screenwriter's loyal portrayal of Joseon's freedom fighters as they battle for a land bolting towards a dark destiny and the heart wrenching love triangle that evolves midway (which may or may not have made me burst into tears and raised slight alarm for my well being from my roommates). The show recorded a staggering 18.13% viewership rating at its peak and catapulted into the sixth spot for the highest viewed K-drama on cable television.

Often overlooked for its mellow plotline, Hello, My Twenties narrates the story of five college-aged girls living together in an apartment as their age plunges them headfirst into the baffling world of adulting. The drama is relatable in every sense of the word and does a fabulous job of portraying the thrills and nuances of being a twenty-something young woman. We follow the girls through first kisses, manic job hunts, and identity crises as they struggle to find their places in the world. The drama shows us how the group's friendship evolves along the way and pays homage to the power of strong female ties: a theme that is rarely, if ever, touched upon by mainstream television.

 

 

Hello, My Twenties holds a special place in my heart as I stumbled upon it right around the time that I was heading to college myself. The show was an antidote to the crippling anxiety I felt about leaving home and entering a new, unfamiliar world. Rewatching some of the scenes in this drama is one of my guilty pleasures and reminds me of how transformative college can be for a person.

5.

Weightlifting Fairy Kim Bok-joo

This heartwarming coming-of-age drama traces the story of how a carefree, tomboyish weightlifter and a heartthrob swimmer fall for each other while training to become professional athletes at a sports university. The drama unwittingly evokes memories of first crushes and dream dates as it portrays the euphoric rush of realizing a crush and the mercurial chase that inevitably follows afterwards. Along with intertwining compelling side-plots of parents and friends with the main narrative, the show strikes a perfect balance between portraying the romance between the leads and depicting the characters' struggle of making it big in the cutthroat world of professional sports. 

Weightlifting Fairy Kim Bok-joo can only be described as a butterflies-in-the-stomach, meltingly adorable drama that's best for when you and your girlfriends want to kick back and swoon over the fantasy of a perfect relationship (the fact that the lead actor, Nam Joo-hyuk, is devilishly handsome doesn't hurt either). I remember smiling, cringing, and crying at my screen-- sometimes all within the same episode-- as I watched the show. If you're a fan of romance and don't mind spending a night binge-watching Netflix like a maniac (because, trust me, that's what this show is going to make you do), this drama is for you!

 
Whether you're already familiar with them or are just beginning to discover them, K-dramas provide a refreshing foray into East Asian entertainment and carry a bright, youthful undercurrent that'll leave you craving for more!
Want to keep up with HCBU? Make sure to like us on Facebook, follow us on Instagram, check out our Pinterest board, and read our latest Tweets!