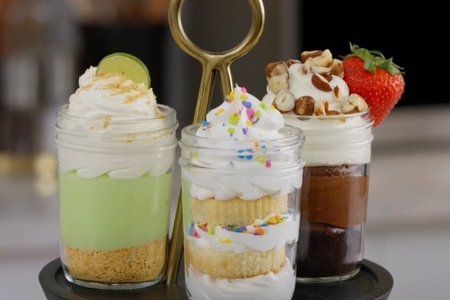 Baking the Day Away: Delicious Desserts of Quarantine
These days, it can be hard to find a reason to get out of bed. With the country essentially on lockdown and people staying at home (hopefully), it seems that one's day can only be filled with an endless stream of Netflix-watching, final exam procrastination, and the eating of whatever is in the pantry. Believe me, I've been there too.
But if there's one productive thing that being at home has made more popular, it's baking! I've been an avid baker for as long as I can remember, and while the sudden increase of beginner bakers has made it more difficult to get certain ingredients (rip to yeast and flour), I am so happy that more people are joining the club! I've tried out a few new bakes while in quarantine, and I don't think you'll be disappointed with the results. Check them out below!
I am a massive fan of Chelsey from Chelsweets! She's a self-taught home baker who has built a steady following on Instagram over the years, and so many of her recipes have become all-time favorites for me. What I really appreciate about her recipes is that she doesn't sacrifice flavor for looks—she almost never uses fondant, but instead crafts with buttercream, which I greatly appreciate. All of her recipes are also aimed at being easy enough for the average home-baker to complete, making them perfect for those trying out baking while in quarantine! 

I made her funfetti cake with her chocolate buttercream to celebrate Easter, and it was delicious. I'm not personally a fan of almond extract, so I left it out and only used vanilla. Chelsea is quick to reply to comments and provide substitutions, so don't hesitate to ask a question if you have one. 

Feeling daring? You can always do what I did and attempt to bake croissants… a feat that is not easy! I really wanted to try out some homemade croissants while in quarantine, so I found this (relatively) easy recipe online. I really enjoy this recipe because it is very detailed in its instructions and has most questions answered in the blog post. Croissants were absolutely the hardest thing for me to bake in this quarantine, and my first attempt was far more successful than my second, but both batches were delicious either way. I highly recommend adding in some Nutella for a sweet bite!

This is by far my favorite bake of quarantine. Maybe it's because I'm a chocolate and peanut butter addict, but I absolutely adore this cake. It was moist, delicious, and lasted so long! The peanut butter frosting was easy to make, and when it tasted a bit too strong, all I had to do was add more powdered sugar to the batch. If you love Reese's, you have to give this combination a try!

Who doesn't love pie? Well, the answer is me… I've never liked the cooked fruit in pie, because the texture is often so strange to me. But because I have a kitchen and a ton of time, I've tried out a few pie recipes here and there. My favorite pie crust is by Ina Garten, because it's suitable for many different types of pie. Find the filling of your choice and bake! Because of my aversion to fruit, my favorite pie is a chocolate meringue dessert that stems from a secret recipe. I haven't found a good version of it online, but I'm sure one exists! There are so many options for fillings, so pie is very adaptable to your family. They're easy to whip up and delicious, plus they can count as a breakfast or dessert food (at least in my house…)

Nothing is better for breakfast than a warm and gooey cinnamon roll. Homemade cinnamon rolls can be tricky, because of the use of yeast and the sugar-butter-dough ratio. I love Ree Drummond's recipe, because she outlines every step of the way and makes it easy. Better yet, you can make a whole batch and freeze the leftovers! Simply take a batch out of the freezer the night before you bake them, let them defrost and rise in the fridge overnight, and enjoy.

6.

A Friendly Tip for Those Lacking Flour

I recently ran out of flour and was disappointed, because the grocery stores around me haven't been able to keep any in stock. Then I remembered a great recipe from an old cookbook that my mom has. It's an easily adaptable recipe for any bundt cake (simply buy whatever flavor of boxed ingredients that you want), doesn't use any flour, and is as follows:

Ingredients: one box of chocolate cake mix, one box of chocolate instant pudding mix, four eggs, one cup of sour cream, ½ cup warm water, ½ cup vegetable oil, and 1.5 cups chocolate chips.

Combine all of the ingredients with a mixer, mixing on low for one minute and then high for two to three minutes. Fold in the chocolate chips, pour into a bundt pan (or a standard cake pan), and bake at 350 degrees Fahrenheit for 45 to 50 minutes (give or take depending on what type of pan you use).