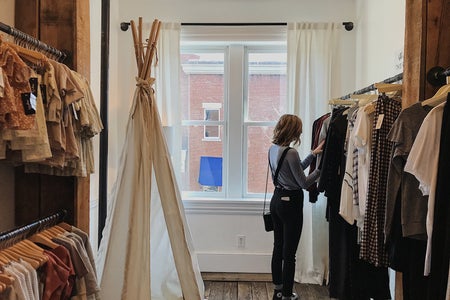 5 Between-Seasons Clothing Pieces For Your Spring Wardrobe
Everyone goes home to a different place for spring break, and those places have completely different weather and temperatures. Right now, my hometown in Connecticut is in the mid-50s, which is perfectly nice weather itself, but some places further south are reaching 70 degrees and upwards. No matter where you are, we're entering into spring and away from the cold winter months. It's time to begin looking at that in-between winter and spring clothing for all of your fashion needs: here are some pieces you can implement into your wardrobe.
Any kind of sweater dress is perfect for this weather: they have long sleeves to keep you warm enough for the mild weather, but also aren't too hot like a sweater and jeans would be. You can style them with a coat or jacket too if the weather suddenly turns colder than expected, or just wear them as-is. Tall boots with warm socks underneath can also keep your legs warm if you're feeling a little cold, but everyday shoes also work well!

2.

Lightweight and Denim Jackets

Arianna Tucker / Her Campus

Lightweight jackets and denim jackets can fall into the same category for springtime clothing. Both pieces keep you warm as an added layer on top, but are still thin enough to not overwhelm your body with heat. If you're outside and it starts to get colder, you can easily put one of these layers on to keep yourself warm. Plus, they're a minimal added hassle to carry around with you during the day.

If your hometown or vacation spot is a little colder than most, you might want to incorporate some thinner pants into your wardrobe. While there's coverage from any wind-chill or just general cold weather on your legs, the material is also perfect for keeping your legs cool enough. Unlike jeans, these pants aren't constricting, so sweating from the mild temperatures is unlikely. With an airy design, you can stay as warm as you need to be!

If cardigans are your style or you're interested in expanding your wardrobe, this is a great item to implement. You can style these cardigans up for a fancy evening or down if you're just hanging out with your friends on a lazy Saturday. They're also extremely versatile: with the buttons on the front, you can choose to keep yourself super warm if you button the cardigan all the way up or leave the buttons undone to stay cool.

You can do a lot with this item of clothing: the patterns vary a lot brand-to-brand so you can really cater to your own style based on what company you buy from. The material of the dresses can also vary, making it easy to pick one for colder or hotter temperatures. Overall, these dresses are a true representation of spring in my opinion, with the light and airy style that is still long enough to not be true summer clothing yet.
Everyone's style is different, so these choices may not work for everyone; however, this is just a selection of items you can choose from if you're on the lookout for more spring-style clothing or interested in adding extra pieces to your wardrobe. Happy spring, and enjoy the weather out there!
Want to keep up with HCBU? Make sure to like us on Facebook, follow us on Instagram, check out our Pinterest board, and read our latest Tweets!