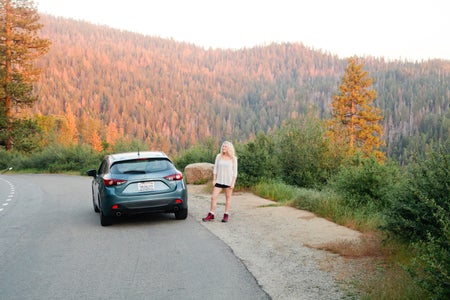 10 Activities That Will Immediately Get You In The Fall Spirit
Fall is officially upon us, and it couldn't be more exciting! The air is getting cooler and crisper, the leaves are starting to change into their vibrant peak foliage colors, and Trader Joes has a seemingly endless amount of pumpkin spice products. Boston, and New England in general, are a perfect place to be during this beautiful season. In order to take full advantage of what fall has to offer, I have created a list of 10 activities that will immediately get you into the fall spirit!
Apple picking is a classic New England fall activity. With a couple of friends, find the nearest apple orchard, and pick as many as you can fit into the bag that the orchard gives you. You can have fun incorporating apples into every meal that you eat in the next week. Don't forget to take pictures with your friends to share on your social media!

2.

Eat an Apple Cider Donut (or Two)

If you do go to an apple orchard, chances are they also sell freshly made apple cider donuts. You can also find them at many bakeries, cafés, or in the bakery section of most local grocery stores. These are an essential part of Fall! With their sweet and sugary outside and doughy inside they make for the perfect treat.

The fall foliage in New England is unlike anywhere else, and we're lucky to be right in the heart of it as Boston students. Take some time to notice the vibrant yellows, oranges, and reds in the deciduous trees around campus. You can make it as simple as walking down Commonwealth Avenue or turn it into a weekend afternoon adventure by taking a drive out of the city.

The best way to experience all fall has to offer is to take a walk or a hike outside! See the leaves and feel the crisp breeze. Whether you take a walk down the esplanade or hike up a mountain, being around the changing scenery is sure to lift your spirits and get you into the fall spirit!

Is there anything that says "fall" more than a Pumpkin Spice Latte? I doubt it. With so many amazing coffee shops near campus and in Boston, you're guaranteed to find an amazing PSL that tastes like Fall with every sip.

6.

Try all of the Trader Joe's Pumpkin Spice Products

If you haven't been to Trader Joe's recently, I definitely recommend stopping by the store, because they have their pumpkin spice products out in full force! From pumpkin bagels to pumpkin empanadas, you can try a whole slew of creative fall flavors! I love that Trader Joe's has something interesting to try every season.

7.

Have a Warm Bowl of Soup

When the weather starts to get chilly, the best cure for the cold air is a warm bowl of soup. Tomato, Pumpkin Bisque, Chicken Noodle, you name it! You have dozens of options to spice up your dinners at home. 

8.

Decorate For Halloween 

Although it doesn't feel like it, it is already October, and that means that Halloween is coming up! Get together with your roommate, and decorate your dorm or apartment with all of the spooky decorations you can!  Cobwebs, pumpkins, and a candy jar are a few suggestions to get you started.

Make sure to carve some pumpkins to complement your Halloween decorations! It's always fun to get together with some close friends and carve out your own jack-o-lantern faces. When you're all done, don't forget to take a picture of your masterpiece!

10.

Dress Up for Halloween

Plan out a costume for yourself, or even do a group costume with friends. It's always fun to get creative, and the best thing is that your costume can be as simple or sophisticated as you want!