Unpopular Opinion: Country Music is Underrated
We know by the looks of it you most likely already disagree with this article. But, please give it a read. It may even change your perspective...
Country music is one of the most controversial genres. From previous years of the genre, it created the stigma that every song is the same: "I love my tractor, my beer, and my dog." As an avid country music listener, it is safe to say that this stereotype is not the reality of true country music.
Below are a few reasons why you should start to listen to country music (or at least give it a chance)!
Every Song Has a Story
Not every person who listens to music examines the words and attempts to find a deeper meaning, but it is evident that country music encourages you to do so.
There is the occasional song about tractors or a dog, but most songs stem from events that have occurred in each of the singer's lives. Take 'You Should Be Here' by Cole Swindell, for instance. What people do not know is that this song is actually about his father suddenly dying. Swindell wrote this song to prove to others that it is hard and, even though your heart is aching, those that you lost will always be there with you. That tells a story to the whole world about his own experience, and that is something to take note of.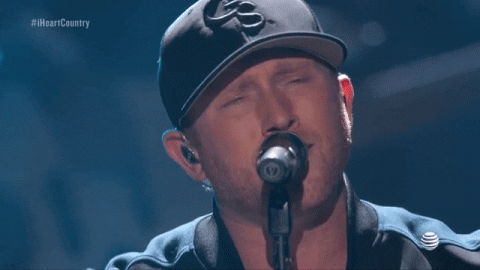 There is a "Type" for Everyone
Country music has so many different types within its own genre. You have pop-country, deep country, and somewhere in the middle. When you first start listening, try to listen to artists like Sam Hunt, Kelsea Ballerini, Thomas Rhett, and Florida Georgia Line. These artists all have a few songs that are classified as pop-country, but also have an immense amount of songs that can be considered 'somewhere in the middle' country.
Start off small, and we are almost certain you will develop some type of infatuation with what country music entails & will eventually dig deeper into the other songs and types that country music offers!
The Concerts Are Incredibly Well Performed
There are not many costume changes or people flying around through the crowd like P!NK does at her concerts, but country music concerts are still so amazing to watch and be a part of.
Coming from a New England perspective, where the New England Patriots are a very important part of our lives, Gillette Stadium is almost like a sacred place. Country Fest, a concert with four big artists, happens every year at Gillette. Almost every year, the person who headlines is Kenny Chesney. Kenny Chesney LOVES New England, and, therefore, he loves Gillette Stadium. When he plays his music and sings his song Boston, magic fills the air. It produces such different energy when the crowd is not there to watch a singer put on a production, but rather to perform to the fans who like the artist for the music they sing and for the person that they truly are. They talk to the crowd, get them excited, but they do not turn a concert into anything more than it is, which is listening to incredible music with incredible people.
One City: Nashville
Nashville, Tennessee has been on the rise popularity-wise for the last couple of years.
When you are a country music fan, this place is magical to you. A large number of big country stars have their own bars (i.e. Jason Aldean, Florida Georgia Line, Luke Bryan, Dierks Bentley). In addition to having a bar with their name on it, they even sometimes visit these bars; after all, it is THEIR bar! These places are not typical. They are restaurants that turn into a bar with every floor you go up, and then most of them have rooftop bars that overlook all of Broadway in Nashville.
If you want to go to Nashville, then you need to listen to country music because we are telling you now, you will straight up have an awful time if you do not like country music. And, trust us, you definitely want to go to Nashville: it is an experience that will make you fall in love with a place more than you ever have before!
Now that you know why country music is underrated and is probably not what you expect it to be...
Give it a chance.
Listen to some songs that you may relate to. Get to know the singer's lives. They may be from the country, but their music comes from their experiences and from the heart. Who knows, maybe you will even relate to their music AND *gasp* you MIGHT even like it!