Makeup application can be tricky: no one wants to be the girl with caked on foundation, horribly blended eyeshadow, and eyebrows that look like they've been applied via Sharpie! But good news collegiettes, Her Campus Bryant is here to help!
Here are 5 of our best tips (and 5 things you should avoid) when it comes to doing your makeup!
DO: Match Your Foundation to Your Neck You've probably heard that you should try to always match your foundation to your face, but this might actually leave you looking like you're wearing a foundation mask! The pigmentation in your face is usually much lighter than your neck, so you'll end up looking washed out if you match your foundation to that shade. However, when you match your foundation to your neck, it will blend out seamlessly and look much more natural!
DON'T: Apply Foundation to Bare Skin Don't skip primer ladies! Whether you get an expensive primer or just a simple moisturizer, it is so important to have a barrier between your skin and whatever makeup you put on top. This not only will protect your skin and help you avoid breakouts, but it will ensure that your makeup lasts all day!
DO: Use a Concealer 1-2 Shades Lighter Than Your Foundation Foundation does a great job of evening out your skin tone, but will often make you look sallow if you don't use a lighter concealer to add some color back to your face. Using a concealer that is slightly lighter than your foundation can help brighten up the center of your face and make you look more awake!
DON'T: Contour with a Warm/Shimmery Bronzer Contouring your face should mimic natural shadows – and while we all want to look like a bronzed goddess, no one naturally has sparkly cheeks. Avoid the shimmery bronzers and opt for a matte, cool toned bronzer to add natural definition to your face!
DO: Set Cream/Liquid Products with a Powder Cream and liquid products tend to slip and slide around your face when you skip powder. They don't wear as well, and tend to crease up mid-day if you don't set them down with a powder product. No need to cake on powder though – a light layer of translucent setting powder should do the trick!
DON'T: Color in Your Eyebrows We're all looking for those defined "Instagram eyebrows," but coloring them in will just make you look like you took a Sharpie to your face! To avoid this outcome, mimic natural eyebrow hairs by using a brow pencil. By lightly drawing small hairs, your brows will look more filled in and defined yet natural!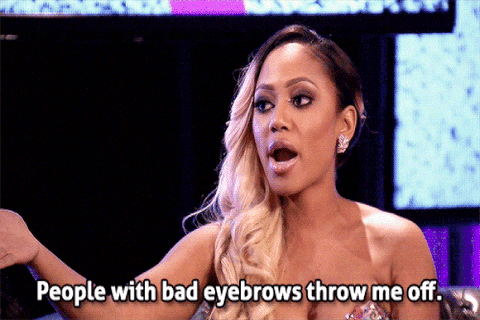 DO: Use a Neutral Transition Shade in Your Crease If you want your eyeshadow to be flawlessly blended out, try using a natural shade in your crease before applying any other shadows! This will define your natural crease, and give the other shadows something to blend into. Matte, light brown shadows just became your new best friend!
DON'T: Curl Your Lashes After Applying Mascara Curling your lashes before mascara application can help give them that extra lift they need, however, curling them after applying mascara can actually damage your lashes. If your lashes need a little extra help keeping a curl, try using a mascara primer or a fiber mascara! These both help to define, lift, and add volume to stubborn lashes!
DO: Wash Your Brushes Often Brushes can get very gross very quickly, but people often neglect cleaning them. Do not skip this step! Brushes will collect bacteria when you let product build up on them over time. Wash your brushes once a week using a gentle soap to keep them fresh and free of germs!
DON'T: Skip Setting Spray Setting spray helps to prolong your makeup and will help it melt into the skin. This is a crucial final step for any makeup wearer – especially us college girls who don't have time for touch ups!
While there truly are no rules when it comes to makeup, these are our favorite tips and tricks to ensure beautiful looking makeup every time!