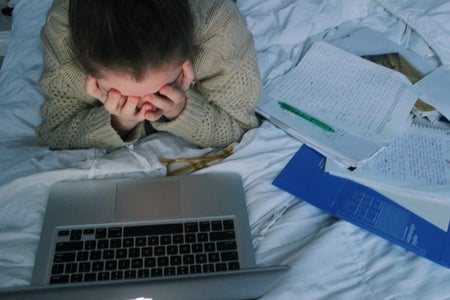 Anna Schultz / Her Campus
Tips for Staying Motivated During Online Finals
With the recent switch to online classes, it seems impossible to reach the same level of motivation, from home, that college campuses provide. As we approach finals period, studying and preparing for exams as usual is a daunting task for all of us. Quarantine is filled with dozens of distractions, from ever present family members, to a lack of quiet study space, to the looming presence of your phone and television just waiting to be used. However, it's important to finish the semester out on a good note. Here are some tips for staying motivated during online finals!
Make a schedule! Writing down a daily to-do list always holds me accountable. Constructing a daily schedule for the next few weeks will help break down the time you allot for studying and will make the laundry list of papers, projects, and exams seem a little less stressful. This strategy also prevents procrastination and ensures that you don't end up cramming in a 20-chapter-review-session the night before a final. Additionally, don't be afraid to schedule in breaks or days off! These short moments will allow you to return to your work feeling rejuvenated and newly motivated. 
Find a comfortable study space. Studies show that studying while lying on your bed is not as effective as other, less tempting areas. Even if you choose a comfortable chair somewhere in your home, having a designated study space will keep you focused and (hopefully) keep others from interrupting. Personally, it always helps me to spread out my notebooks, handouts, and textbooks somewhere, so I have overtaken my dining room table. I plan on using this same space to take my final exams, hoping to bring these productive and studious vibes to the test.
Leave time for fun things. Getting organized means you'll probably spend less time worrying, which means these hours can be devoted to fitting in fun activities. Whether a socially-distanced gathering with friends or even a family walk, an interruption to school work is great for your mind and your spirits. Looking forward to fun things will allow you to prioritize productivity during study time, and destress during these break times. 
Exercise! In addition to scheduling fun things, make sure to fit in a couple of physical activities. Getting outside or breaking a sweat are proven to mitigate stress. While gyms and fitness studios remain closed, many facilities are offering free virtual classes. YouTube also has some great workouts; my personal favorites for destressing are the AloYoga videos that focus on stretching and breathing techniques. Additionally, with April rain finally coming to an end, May seems to be bringing some nicer weather. This is a great time to run or walk outside!
Have plenty of snacks. Quarantine seems to make snacking an essential part of my day. During my study hours, I am always sure to have a few snacks within arm's reach. My personal favorites include Boom Chicka Pop Popcorn and dark chocolate Hershey's Kisses. These act as great rewards when I finish a section of a paper or work out a problem set correctly.
Utilize Facetime and Zoom. While we aren't physically with our friends and classmates, Zoom and Facetime are great tools to make group work possible amidst the pandemic. I find working with others holds me accountable and propels my progress in assignments. Also, comparing notes or answers with friends is a great way to spot areas that need improvement or sections that you have studied enough. The days of group study rooms in the Rock or the SciLi are over, but this should not prevent you from both socializing with peers and getting your work done.