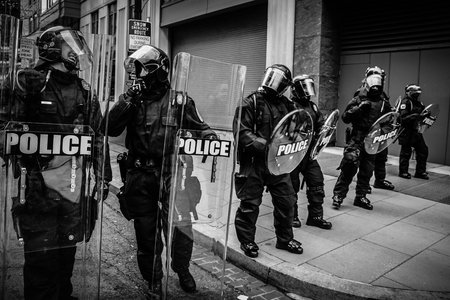 Social distancing measures enacted in the wake of the COVID-19 pandemic have virtually shut down the life we lived just three months ago. The economy has felt the negative impact of these measures due to the rise in unemployment and the closure of nonessential businesses. Although polls indicate that the majority of Americans believe that social distancing is necessary, some have voiced that it is time for self-imposed isolation to end.
These ideas have translated to protests across the country, in states including Florida and California, among others. Citizens of all ages have taken to the streets carrying signs ranging from "This 'Cure' is Deadlier than COVID" to "Social Distancing = Communism." 
Many protests target the state governors who have enforced strict stay-at-home measures. Protesters in Michigan, for example, called out Governor Gretchen Whitmer, carrying signs reading, "Lock Her Up." These protests come after Whitmer gained national attention for her effective policies to combat the crisis and her comments in which she addressed the Trump administration's poor response to the pandemic. President Trump has responded to her criticism by calling her the "woman governor" who was "way in over her head." These comments are just one example of his larger efforts to redirect blame for the crisis on governors and local level officials. 
The politicization of these social distancing measures correlates with the upcoming presidential election. Trump has repeatedly stressed the need for businesses to open up soon, in the hopes that restoring a strong economy by election day will convince voters his response to the crisis was effective. However, if fatality rates remain high, it is likely that Trump will continue to target blame towards governors.
Trump's strategy has been promulgated to conservative groups like Convention of States, a campaign that posts ads on Facebook undermining medical advice. However, a recent article in the Washington Post warns that this policy might in fact work against the Trump administration. It remains to be seen if these conservative groups are helping or harming his reelection chances.
The response to the protests seem mixed. Despite a large outcry from many citizens against these protests, states have begun to lift social distancing restrictions. Some counties in Florida, for example, began reopening their beaches this past week. However, other governors, both Republican and Democrat, have not yielded so easily to the cries for relaxing these policies. Many states still seem committed to strict social distancing measures.
The protests, which have garnered substantial media coverage, do not seem representative of the majority of American opinion. In fact, the protesters only represent a small subset of conservative voters. Although the majority of Americans have felt the economic impact of COVID-19, polls indicate that many still believe that their safety and health come first. It will be interesting to see how these protests will continue to impact the response to the pandemic and if social distancing practices will continue in full force.