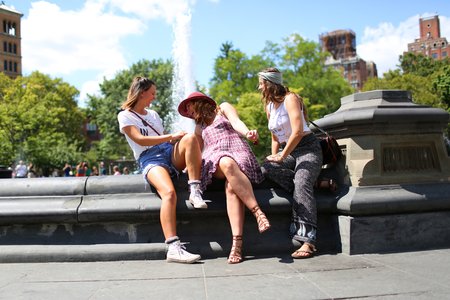 Fun Things To Do in Boston
In the peak of midterm season, it's easy to get bogged down by the monotony of an everyday routine and slip into a mid-semester funk. Luckily, with spring just around the corner, there are many fun and exciting developments up ahead (Better weather! A week-long vacation!) One of my second semester resolutions was to get off campus whenever I had some free time, in order to avoid the boredom of familiar on-campus attractions. Just this weekend, I met two of my friends from high school in Boston and I discovered a great city, filled with day-trip-worthy activities, just an hour train ride from Providence! Here is a list of Boston's attractions that are worth the $10 train ticket: 
Back Bay and Newbury Street: With the train station just around the corner, Back Bay and Newbury Street are walkable neighborhoods that are homes to every retail store you could ever wish for. From high-end designer brands to Urban Outfitters to Muji, Newbury Street offers great shopping and, if nothing else, a good walk. Keep an eye out for Pavement Coffee (the best Vanilla Latte I've ever had) and Tatte Bakery, for a pitstop and some amazing french toast. 
Beacon Hill: One of the most picturesque neighborhoods I have ever seen, the Beacon Hill/Acorn Street area is home to cobblestone streets and beautiful brownstone homes. The section of the city is mainly residential, so there aren't many food or retail options. However, if you packed your camera and are looking for a place to hone your photography skills, this is just the place. The seemingly endless rows of architectural greatness make for a great walk, no matter your intentions.
Boston Commons: Like a smaller version of Central Park in New York City, the Boston Commons offer a break from the busy sidewalks, a bench to relax on, and a central pond complete with ducks to feed in the warmer months. No matter the season, the Commons are  a great green space to stroll through and even stop for some Instagrammable photo ops. If you're lucky, you may even find some street musicians on the bridge and by the various fountains. 
Quincy Market and Faneuil Hall: Situated near the Boston Harbor, this shopping and dining district is usually a crowded destination for tourists. If you're in the market for some "I Love Boston '' merchandise or American Revolution memorabilia, this is just the place. However, this area also offers an ocean view, great restaurants, and lots of live entertainment. Also, Glossier, the skincare/makeup giant, has a pop-up shop close by!  
Museum of Fine Art: If an art museum is your vibe, the Museum of Fine Arts is Boston's best. With reduced prices for student tickets and a collection that includes works by Frida Kahlo, Donatello, and Rembrandt, this experience alone makes a day trip worthwhile. If you've already been to the MFA, try the Isabella Stewart Gardner Museum for impressive pieces and a stunning indoor courtyard. 
Final Tip: If you are planning a trip to Boston on a weekend, purchase the Unlimited Weekend Pass, which permits you to ride any commuter rail or mass transit line for the whole weekend for just $10!