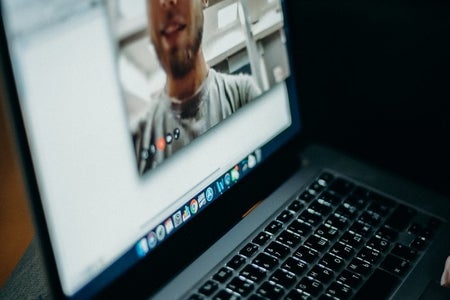 Zoom Fatigue- what it is, and how to combat it
You've Zoomed, Housepartied and Facetimed almost every day of the last three weeks. Whilst you expected your main problem during lockdown to be that of loneliness, instead you are now finding the opposite to be true. That's right, you are experiencing Zoom fatigue.
Connecting with so many people- especially those who you maybe won't have talked to in a while, but have been brought back into contact with due to the current situation- is great, and an excellent way to boost our mental health during these turbulent times. But know that it is also perfectly alright to decline your fifth 'Virtual drinks' invite of the week. Just because it's a virtual meet up doesn't mean that it isn't tiring, both physically and mentally. You may be speaking to lots of people at once (is it just me or do your Houseparties seem to be getting bigger each time?), catching people up on your university life thus far (no, I don't know how we ever lost contact after sixth form, yes we really must meet up when all of this is over, etc, etc) or even finally meeting that friend of a friend who has also been added to the chat (I'm sure I've made many a great first impression on people, but over Zoom in my PJs is a new one even for me). And don't lie, we've all been secretly shocked to discover how we actually look to other people over video calls… the tiny box of Facetime has been kind to us in a way that the larger tile view of Zoom is not. Constantly adjusting how you look, changing the angle of the camera and ensuring that your resting b*tch face doesn't make too much of an appearance is all very tiring! So, make sure you take an evening to yourself, turn your phone off, and let your brain rest from all that social interaction.
Giphy
But what about those close friends, extended family members or boyfriends/ girlfriends? If you're like me, you still want to continue speaking to them often, even if it can only be virtually at the moment. The issue here isn't necessarily Zoom fatigue, but Zoom boredom (other video call services are of course available). It's not like any of us are leading hugely fulfilling and exciting lives right now- a fact we should be grateful for in a world where any news is bad news- so once you've updated each other on the funny thing your dad said earlier, and the joke you made with a neighbour as you both went to cross the road to socially distance at the same time, the conversation can easily dry up. In person, this isn't really an issue, because with your nearest and dearest you are more likely to be comfortable in silence with them anyway. But digitally, this is harder. You end up just kind of, well, creepily staring at each other until one of you breaks the deadlock somehow. I'm starting to lose track of the number of funny faces I've pulled over Skype simply because I don't know what else to say (a rare occurrence for me pre-lockdown, let me tell you). This problem is magnified because chances are you are messaging these same people all day anyway, updating them on your every movement, because you've genuinely not got much better to do. Consequently, when you do come to video call, they already know what you've been up to, and even that question is rendered redundant. So what can help? Well, here are a few ideas of things to do over video call when the conversation peters off:
Watch some theatre- cultured, right? Well, the National Theatre is running a programme called National Theatre at Home, where they place a recording of a different one of their past performances to stream for free on YouTube every fortnight. Whilst you could simply watch the production on your own, and discuss with your friends later, you could also watch it at the same time by Skyping then simply counting down until you click play. This allows you to watch the performance at the same time as having your friend's face in a small tile at the edge of your screen. Perfect to see if their reaction matches your own! Shakespeare's Globe, the Royal Opera House and Andrew Lloyd Webber are all giving similar offerings away for free right now, so there's plenty for you to watch together.
Play a game- there are plenty of apps out there which allow you to play games with friends (such as Uno, Words with Friends or Draw Something), but you can also play games over video call. Charades works well, as does 20 Questions. If you fancy giving your brains a much-needed workout, try doing online quizzes- as a team or competitively- or a game of Countdown. If it's a large group of you, alternate who gets to pick the activity, so that no one gets accused of playing to their strengths!
Cook together- Wagamama and Bread Ahead Bakery are just two examples of online tutorials you could follow whilst on Skype. Granted, this suggestion relies on you both being able to get hold of the necessary ingredients, but why not see what ingredients you already have in common, and find a recipe to match? Or you could split it, with one person cooking and the other reading out the recipe. You could even see how long it takes for the first person to be able to guess what they're making- just make sure that the person doing the reading also has some snacks to hand, else they'll be hungry and left wanting by the end!
At the end of the day, whatever you end up doing, and however much you end up connecting with people virtually during this time, as long as we all help each other and follow the guidance, we will get through this. Just remember that staying at home physically doesn't mean that we can't be together virtually, and there's always more to do together (even virtually) than you think. Stay safe!
This article is part of our second themed week on ways to cope with social distancing and isolation due to the COVID-19 pandemic in the UK. We send our HC love to all of our readers and contributors!