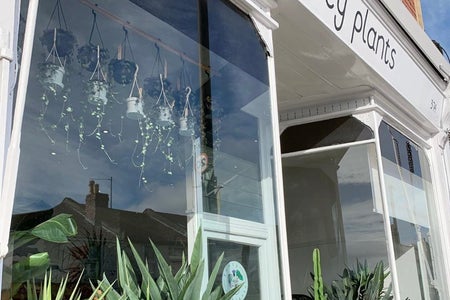 Small Business Spotlight: Fancy Plants and the Flourishing Houseplant Industry
Fancy Plants is a relatively new addition to Bristol, with the first shop being opened in March 2019 on Perry Road. Since then, the business has expanded and they have opened a second shop on Gloucester Road. If you have ever visited Fancy Plants, you'll know that stepping inside is a unique experience. With plants stacked high on shelves up the walls, hanging from the ceiling, and spread across the floor, it is like entering a jungle of potted plants and greenery.
"We really want people to come and choose their plants so we have created environments that our customers love to wander round" Sharon, the owner of Fancy Plants, tells me. After a career in communications and marketing, Sharon decided to set up Fancy Plants, following her love of plants that first flourished at university.  It is a family-led business. Her daughters, Olivia and Scarlett, help manage the shop's social media and customer service, and her husband has even stepped in to help as a delivery driver.
Although plants have been popular in homes for a long time, the houseplant industry has been growing with great speed in recent years. The Garden Centre Association reported in 2019 in its Barometer of Trade report that houseplants had the biggest increase in sales at garden centres. There are a number of possible reasons behind this. Firstly, a greater number of people are living in rented accommodation, especially in the 16-35 age group. According to the Office for National Statistics, there was a 63% increased in private rented accommodation between 2007 and 2017. With rented accommodation commonly lacking gardens, it makes sense that people are seeking to introduce greenery into their spaces through houseplants. Increased urbanisation also means that people are more likely to buy plants, as access to nature becomes limited.
Social media has also contributed to the burgeoning houseplant industry, with plants replacing the infamous 'food pics' on Instagram. Plants are a cheap way to add colour and greenery to any room, and as such, they are increasingly being used as décor.  
In our correspondence, Sharon highlights to me the benefits of having plants. "They have been proven to help with mental health, productivity and they oxygenate our homes and workplaces", she tells me. Whether it is by reminding you of nature or adding colour to your space, it is suggested that plants can create a calm atmosphere and stem anxious thoughts.
Of course, it is never easy to be a small business amid a global pandemic. COVID-19 has proved disruptive for many local businesses, although in our correspondence Sharon expresses gratitude that Fancy Plants has so far been able to cope with the pandemic and access government support, allowing them to protect the jobs of all employees. Luckily, Fancy Plants have been able to deliver plants from online orders, keeping them busy throughout the lockdowns, though Sharon tells me that she is looking forward to being able to open the shop again. If the pandemic continues past Christmas into the New Year, "the government will need to provide more support for businesses" she informs me.
Most of all, Sharon tells me, she is grateful for all the support from local customers and students, who have given consistent support and made the growth of Fancy Plants possible. 
In response to my questions about the future, Sharon tells me that Fancy Plants have exciting plans for 2021 – definitely something to look out for. Until then, perhaps consider getting yourself a sansevieria (commonly known as a snake plant) to oxygenate your room at night, or a succulent, which can handle being left at uni for the Christmas holidays.
This article is part of themed content week collaborating with local businesses to promote shopping small and local during lockdown and beyond.