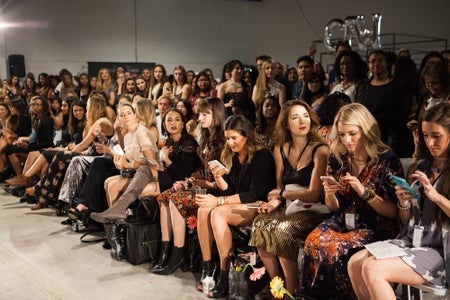 The Rise of the Digital Runway
As news of Europe's first Covid-19 cases began to spread in late-February 2020, the fashion industry became a whirlwind of dramatic headlines along the lines of 'Paris Keeps Calm and Carries On Amidst Anxiety About Covid' and 'The Fashion World, Upended by Coronavirus'. One year on from Giorgio Armani's shock last-minute decision to show his Autumn/Winter 2020 collection from behind closed doors, we look at what has changed while the world has been locked down.
Disruption and Innovation
While some argue that the coronavirus pandemic has stifled creativity, the world of fashion has had little choice but to innovate: over the past year, it has been impossible for runway shows as we knew them to continue. Despite the entire industry - from factories to fashion week - screeching to a halt, many designers have embraced the disruption brought about by the pandemic. 
Not usually known for doing things by halves, designers like Moschino's Jeremy Scott used the opportunity presented by stay-at-home orders to invent totally new ways of showcasing their collections. Scott created a full miniature collection of his Spring/Summer 2021 looks, complete with marionette doll models. Leaving no detail overlooked, there was also a mini front row, populated by the likes of Vogue editors Anna Wintour and Edward Enninful (in puppet form, of course). It certainly proved that social distancing and travel restrictions won't stop fashion from having fun. Hermès, meanwhile, didn't let Covid-19 downsize its production value. Rather, the luxury brand recently livestreamed three synchronised performances from around the globe, featuring models and dancers in New York, Paris and Shanghai.
The move to digital runways has also allowed for a far greater focus on the minutiae of designers' collections, and Prada's hotly anticipated Spring/Summer 2021 collection was no exception. Multiple rotating cameras followed models' every step, meaning viewers could truly appreciate a full outfit before being moved on to the next look. Slow-motion shots captured details that ordinarily might have been overlooked - a suede heel here, a tiny logo there. 
Digital runways: Fashion's great leveller?
It's worth noting that Covid-19 and the rise of the livestreamed runway have helped to make high fashion more accessible. With top editors and ordinary fans alike all confined to their homes, exclusive invitations are out and universal YouTube links are in. Live video of the catwalk allows those who may never get near a real runway to see how garments move (almost) firsthand. No longer do fashion fans have to wait impatiently for photos of collections to arrive online. Instead, we're able to see exactly what the front-row set sees, the way the designer intended for it to be seen, the moment it happens. Traditional post-show interviews were also open to everyone, no longer the privilege of top journalists. At Prada, anyone could submit questions to co-creative directors Miuccia Prada and Raf Simons via the house's website, which were answered at the end of the livestream for all to see. 
The Future of Fashion
Digital runways have been welcomed with open arms during the pandemic, but are they here to stay? While many are surely eager for a return to in-person shows, some disagree. London-based designer Bianca Saunders told GQ: "Digital should be seen as an additional weapon in a designer's artillery. As creatives, we're always looking for new ways to express ourselves. This is just another avenue for us to do so". 
There is also an environmental angle to the digital runway; for years now, it has been clear that the concept of fashion month is incompatible with the industry becoming more environmentally conscious. In a world where our impact on the environment is firmly on the agenda, it no longer seems acceptable for editors, buyers, and models to be jetting off to four different cities in the space of one month. Virtual fashion weeks can be a starting point in addressing fashion's enormous carbon footprint. 
It seems likely that fashion's future will entail a blend of the digital and the physical, with designers continuing to embrace new technologies. We can only hope that the creativity, accessibility, and sustainability brought about by the pandemic will continue into fashion's new normal - whatever that may be.