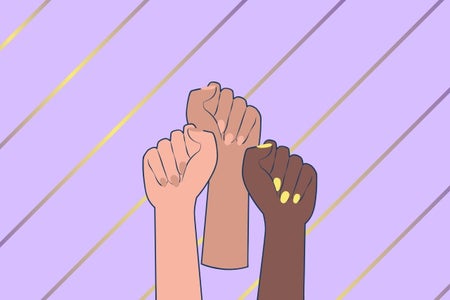 Original Illustration by Gina Escandon for Her Campus Media
Inspirational Women: Part 2
If you need a boost from a feminist icon, I have you covered. I couldn't fit all my favourites into one article, so here are five more incredible women to inspire and empower you!
Tarana Burke- In 2006, Burke started using a phrase to raise awareness about sexual assault and its prevalence in society. In 2017, this phrase became a much broader movement. This phrase was 'Me Too'. An advocate for equality for all, regardless of sex, socio-economic background or race. Whilst not wholly responsible for the 2017 spread of the movement, Burke continues to be an outspoken, powerful woman who works tirelessly to inspire not only women of minority groups and sexual assault victims, but women everywhere, to speak up and not stay silent.  

Amelia Earhart- Earhart set so many records for women it is astonishing! Her most notable achievement was being the first female pilot to fly solo across the Atlantic Ocean in 1932. To put it into perspective, this was the only 5 years after UK women received the same voting rights as men. So she really was a pioneer of her time! Sadly, Earhart went missing in 1937 over the Pacific Ocean, but her legacy to women in stereotypically male jobs everywhere continues to be felt. 

Billie Jean King- Daughter of a firefighter and stay at home mother, King went on to win 39 Grand Slam titles throughout her tennis career. Now that is pretty incredible! In 1973, she played one of the most watched tennis matches in history, one dubbed 'Battle of the Sexes'. Bobby Riggs, an tennis star several decades previous, was outspoken in his distaste for the 'inferior' women's game. After bragging about how he could still beat a female top player aged 55, King knew that if she did not beat him, the feminist cause may be set back decades in the sporting world. But she didn't- she won, and in doing so proved to women everywhere that they were just as strong as their male counterparts. 

Nora Ephron- Dubbed the 'world's funniest feminist' by The Atlantic magazine, her many essays and speeches about the feminist movement are still used today to show exactly why feminism is still needed, why we still have a long way to go. She later moved into writing screen plays, the most famous being 'When Harry met Sally' (1989) and 'Sleepless in Seattle' (1993). So she certainly was a talented lady! 

Laverne Cox- A more modern figure, Cox rose to fame for playing Sophie Burset in 'Orange is the New Black'. She became the first openly transgender person to be nominated for an acting Primetime Emmy Award, making her a sign of the changing times and a step forward in the fight for equality to all. She has since continued to break boundaries, becoming the first transgender person to have a figure in Madame Tussauds, for example, therefore further increasing the exposure of transgender people in the media. 
This article is part of the HC Bristol Inspirational Women week.