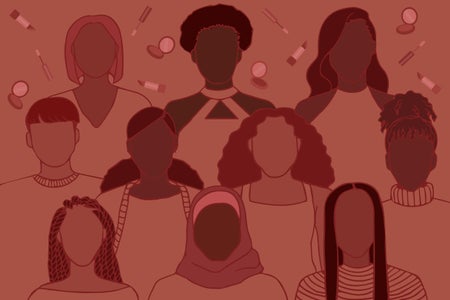 Adebusola Abujade / Her Campus Media
Inspirational Women: Part 1
Nowadays we are blessed to be surrounded by powerful female leaders, icons and role models. Gender quality has come a long way in the last 100 years; but there is just as long a way yet to go. Here are just 5 of my favourite, sometimes lesser known, inspirational women:  
Chimamanda Ngozi Adichie- Being an inspiration to women everywhere clearly runs in the family, as Adichie's mother also made history by becoming the first female registrar of the University of Nigeria. Adichie is one of Nigeria's leading young authors, and it also popular throughout the world for her honest style of writing about race, gender and sexuality (she openly denounced Nigeria's anti-gay laws). Her 2012 TEDx talk entitled 'We should all be feminists' was later featured on Beyoncé's track 'Flawless'.  

J K Rowling- A household name known for weaving tales of magic and mystery, Rowling actually wrote the first Harry Potter book in much less luxurious surrounding than people may think. A real-life rags to riches story, she went from living on benefits, estranged from her husband (who was rumoured to have abused her), with a baby to care for, all to being named the most highly paid author in the world according to Forbes in 2017. She gives massive amounts of money to several charities, and has also started her own (Lumos, which aims to end the institutionalism of children everywhere and place them in loving homes instead). Rowling acts as a reminder for all that no matter your circumstances, determination can leave you successful.  

Gloria Steinem- Steinem is inspirational because she is a symbol of disrupting the status quo; she is the icon of a 'difficult woman' in all the right ways. Unafraid to fight her corner, she has been synonymous with the women's rights movement since the 1960s- yes, she is still campaigning aged 85! Her journalism background led her to found one of the first feminist magazines, 'Ms.', back in 1971, so we are here writing today partly due to her influence on society! 

Grace Hopper- Another inspirational lady who was going against the establishment and working in a man's world. Hopper was a US Navy Rear Admiral, serving from 1943-1986, as well as a pioneering computer scientist. So she worked not only in the Navy, where diversity can still be a struggle to achieve, but also in the scientific sphere, where women were previously thought not clever enough to go.  

United States Women's Football Team- Yes, this technically is a group of women, but hear me out! On International Women's Day (March 8th) 2019, the team filed a law suit against United States Soccer Federation over the diminished pay they receive compared to their male counterparts (especially given that they have won far more often than their male colleagues since their formation). The law suit being the culmination of their efforts, their captain (Megan Rapinoe) remains sure that they will succeed in their fight for equal pay. If- or rather when- this goal is actualised, it is likely that other sports, other sectors and other countries will see this as a landmark decision marking the beginning of the victory for equal pay. This isn't just a fight for US female footballers; it is symbolic of the fight faced by all women failing to be compensated adequately for the work they do. 
This article is part of the HC Bristol Inspirational Women week.