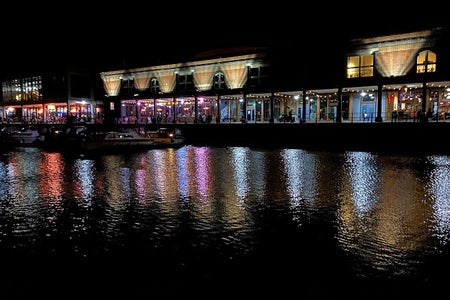 Original photo by Ellie Crabbe
5 Bristol Instagram Accounts You Need to Follow
Whether you've just moved to Bristol, or have lived here for a few years now, a brilliant way to discover new places to see and things to do here is to follow Instagram accounts. As you scroll, you'll see Bristol's food, sites and events and you'll be sure to be inspired to get out and experience the city. There are so many great Bristol-based Instagram accounts, but start with these five and go from there!
For all things indie and off the beaten track, follow Best of Bristol. They call themselves 'Your Independent Guide to Bristol' and share sites, experiences and food that you may not have heard of before. As a University of Bristol student, it is easy to stay in the Clifton/Redland bubble, but following Best of Bristol can inspire you to branch out to the more quirky and unique areas of Bristol. Stokes Croft and the Baltic Wharf feature frequently, and the photography of Bristol food and scenes is gorgeous.
Instagrammers Bristol, or igersbristol for short, is the largest Bristol based photography account in Bristol, and for good reason. Featuring photos from professional photographers and amateurs alike, igersbristol select their favourite photos from the hashtag #igersbristol to feature each day. Their photographs are stunning and have inspired me to visit many of the places I hadn't heard of before. What's more, they aren't focused solely on Bristol, and regularly feature shots of the surrounding countryside and sites such as Keynsham Park and the Pensford Viaduct.
Run by the BBC radio Bristol team, the BBC Bristol Instagram page is a must follow. Their posts are interesting and informative, often containing topical Bristol info in the descriptions. Follow for your instalment of all things current in Bristol, from culture to news to the weather.
Sam Binding is a Bristol based photographer with an active Instagram feed. Having been born in Bristol and growing up in the surrounding area, Sam's knowledge of the photogenic spots of Bristol is unmatched. My particular favourites are his shots of Bristol's beautiful sunrises and sunsets, but if you are partial to a French Bulldog, he also shares images and stories of his dog Barney. Additionally, you can visit his highlights to access beautiful Bristol phone wallpapers.
Last but by no means least, Inside Bristol. If you love all things interiors, this account is a must follow. Like Igers Bristol, they share their favourite shots featured on the hashtag #insidebristol and their daily posts are sure to brighten up your feed and inspire you to tidy your room and visit the gorgeous coffee shops, museums and restaurants featured.
This article is part of a themed content week exploring Bristol and welcoming new students to the city.