Matt James' season of "The Bachelor" just wrapped up. Michelle Young was the runner-up on season 25. Although she did not win Matt's heart, this is not the last we will be seeing of her. Following the finale at the "After the Final Rose" taping, host Emmanuel Acho announced there will be two Bachelorettes for the upcoming seasons. Katie Thurston will be the season 17 Bachelorette and Michelle Young will follow in her footsteps as the lead for season 18. 
Here is everything you need to know about this former Bradley Brave before she takes center stage on ABC's "The Bachelorette" in the fall of 2021.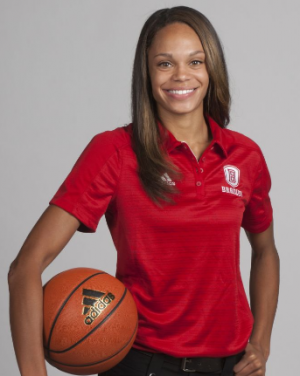 Hometown of Woodbury, Minnesota

Michelle brings Matt back to her hometown to meet her family. The show did not touch on her incredible high school basketball career to which she set all-time season scoring records at Woodbury High School. 

A Bradley Brave

Michelle Young attended Bradley University from 2011 to 2015 majoring in elementary education. She was on the honor roll every semester of college. She received the Bradley Commissioner's Academic Excellence Award twice, was a Scholar-Athlete of the Week four times, and earned the President's Council Academic Award, according to her athletic profile from Bradley University.

Division 1 Star-Athlete

The 5-foot-9 point guard was a star on and off the court. She was the team's top scorer during her senior year and is the 13th highest scorer in Bradley's athletic history with 1,062 points. Michelle scored a Renaissance Coliseum record 497 career points, is tied for sixth in school history with 276 career-made free throws, and is ninth with 189 career steals. She was awarded the Missouri Valley Conference Leadership and Service Award in 2013.

She is a Teacher

The season 18 Bachelorette works as an elementary school teacher in her home state of Minnesota. She teaches fifth grade at Echo Park Elementary School in Burnsville. During her hometown date with Matt, she introduced him to her students via a Zoom call. While "The Bachelor" season aired, Michelle was working in her classroom amid the coronavirus pandemic. Michelle is dedicated to her job and did not want to leave for filming again. Therefore, ABC agreed to delay her season for the fall so she can film while her students are on summer break, according to Reality Steve.

Third Black Bachelorette for the Franchise

This season of "The Bachelor" was the first to ever feature an African American man as the lead. After 25 seasons, Bachelor nation is urging the franchise for more diversity. When Michelle Young takes the role of Bachelorette, she will be only the third Black woman to do so after Rachel Lindsay and Tayshia Adams.