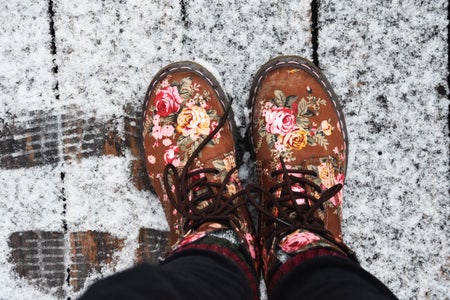 Anna Thetard / Her Campus
            It's February in Bowling Green, meaning winter conditions are bound to happen. There is the off chance we'll have a mild winter, but this is Ohio; you never know what the actual season is. Here are some great tips to help all of you navigate the cold!
            First of all, you need to keep warm. A great way to do so is by wearing a longer coat. The winds will make the temperature feel a lot colder, so a hat to cover your ears and a scarf for your face is a must. Grab a pair of gloves, and if you can, make sure you can use your phone with the gloves on. A huge plus will be wearing boots on those days where freezing rain or snow has fallen in town; you don't want to slip and hurt yourself when it could be icy!
            A fun idea to keep warm is to have a fun drink! You don't have to wait in the Starbucks line before class. When you're home, make yourself hot coffee, tea, or chocolate and give your drink some fun mix-ins. You can add creamer, sugar, marshmallows, or anything you want! Plus, it's a lot cheaper and faster. No more being late because the line was slow!
            Another fun idea for warming up at home would be to use blankets. You can never have too many blankets, so find some that fit your style, curl up, and maybe get that assignment done!
            You'll be feeling warmer in no time by following these tips! Have a great winter!