Looking for tips and tricks to manage the reality behind that time of the month? I think it's an important conversation even if it's your first time or your hundredth. The truth is, periods can be stressful, but you don't have to struggle on your own. Here are some tips for a variety of period concerns.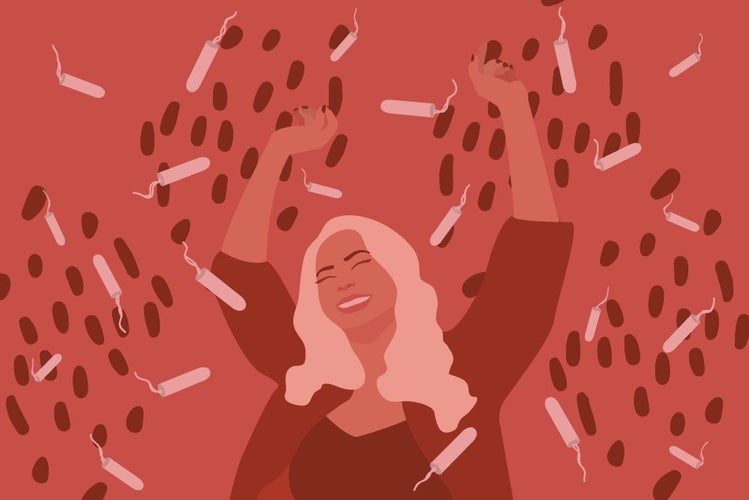 Cramps
Cramps are pesky and sometimes even make you feel like you don't want to get out of bed. We have all been there. I remember the first time I got cramps, I was ready to lay in bed and just cry. My go-to period relief strategy would be the heating pad and Hershey chocolate combo. How could you go wrong with comfort food as well as warmth? In addition, I would recommend taking some Ibuprofen or Acetaminophen, whichever is preferred.
Drinking plenty of water can even reduce your bloating, which, in turn, helps to relieve those sharp cramp pains. You can even eliminate your coffee intake during this time period, and when it is over, feel free to indulge in your caffeine fix. Try a protein shake or smoothie while you are waiting to earn back your Starbucks (Or Dunkin', I won't judge) to gain that refreshing energy boost. Fun fact alert: Vitamin D intake can also help to reduce menstrual pains! Take a deep breath and allow yourself to recognize the way that you are feeling.
Products
Time to talk about period products! Some of us may argue which type of product is "best," but the truth is, they all serve the same purpose, so it just comes down to whatever makes YOU the most comfortable. Pad, tampons, DivaCup, you name it! None of these items are necessarily better than others, which makes it kind of nice to have the choice. Somedays you can even use a blend of different products.
Menstrual hygiene products that are good for the planet and safe for you are a great way to go. Did you know they make organic tampons? They are made with plant-based ingredients and non-GMO cotton. From my experience, I think these organic options are more comfortable for wearing during my flow and tend to help with cramping just a little bit more.
Hormones
Mood swings are also a very real aspect to "Miss Flow." They are inevitable, but there are ways to help you feel less angry with the world and become a more pleasant of a person to be around. Your body releases an egg during this period, causing estrogen and progesterone levels to drop. Trying some calming yoga can help to alleviate your cramps as well as boost your mood! Take a nap and recharge. Sometimes this is the best way to feel better when nothing else seems to be working. Making or receiving a care package of your menstrual cycle essentials is a fun way to keep these under control.
Hopefully with all these tips, you can survive your time of the month! You've got this!