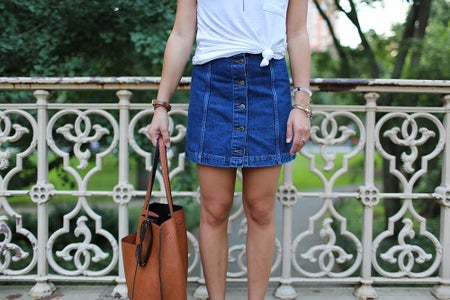 Trend Alert: The Top 4 Styles You Will See on Campus
As a college student, COMFORT is almost every girl's top priority when she is getting ready in the morning. However, comfort is DIFFERENT for everyone! Even being on campus for such a short time, it has become obvious to me what the top four go-to outfits are for every girl:
THE "FITNESS IS EVERYTHING" OUTFIT:
Health and fitness are huge trends going on right now, and everyone is trying to look like they are active members of the community. The most popular brands that can be seen everywhere are Lululemon, Gym Shark, and of course Nike and Adidas. Here is an example of what a general "Fitness is Everything" outfit would look like:
Lululemon Define Jacket ($118)
Lululemon Align Pant 28'' ($98)
THE "COMFORT IS EVERYTHING" OUTFIT:
SWEATSSSS! This is the first thing that everyone thinks of when they think of being comfortable. Whether it's an oversized sweatshirt, baggy sweatpants, or a warm knit sweater, being cozy is always the top priority when going to class for girls wearing a "Comfort is Everything" outfit. Here's an example of what this might look like:
Brandy Melville Erika Honey Sweatshirt ($35)
BDG High-Waisted Mom Jeans ($59)
THE "ALWAYS LOOK MY BEST" OUTFIT:
You always need to be ready for anything! You never know who you are going to meet or where you are going to go. This is the mindset that the girls in this category are always thinking. When am I going to need to network? Here is an example of what this type of outfit might entail: 
Express High Waisted Paperbag Ankle Pant ($69.90)
Lulus Lisa Marie Black Embroidered Top ($32)
Steve Madden Erin Natural Snake ($69.89)
THE "TREND FOLLOWER" OUTFIT:
With so many trends popping up in today's society, it is pretty much impossible to keep up with everything! However, with the overall theme of comfort we are trying to keep in mind, here is what a "Trend Follower" outfit could look like:
Missguided Blush Stripe Print Oversized Exclusive T-Shirt dress ($30)
Fila Women's Disruptor 2 Wedge ($80)
Urban Outfitters Scallop Trim Crew Sock ($12)
Free People Pretty Beaded Clip Set ($16)
As you can see, the style of girls on campus is extremely diverse and comes in a wide range of interpretations with there being so many in-betweens. Not everyone will fall into one of these four categories, but that DOES NOT mean you are considered less stylish! Style is a extremely personal choice, and you can dress however you want! Whatever you choose will look BEAUTIFUL on you!
Images: 1 / 2 / 3 / 4 / 5 / 6 / 7 / 8 / 9 / 10 / 11 / 12 / 13