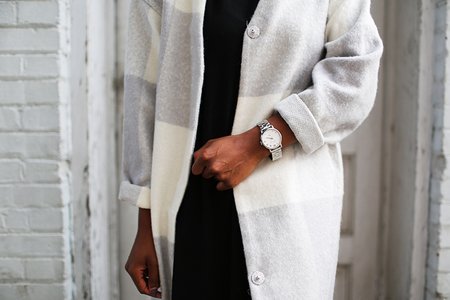 With December right around the corner, it's time to start thinking about the holidays. Most importantly, what you'll wear while celebrating with family and friends this month. Whether you're going out to a fancy restaurant or just relaxing around your house for the holidays, this style guide has you covered. Here are some of my favorite outfits for the holidays with inspiration from Pinterest:
One of my go-to's whenever I have to dress up for the holidays is always a nice skirt. You can't go wrong pairing a plaid, corduroy or leather skirt with tights, knee high boots and a turtle neck sweater. Skirts are really versatile, and always a good investment (since they can be worn again in so many different ways without anyone noticing!)

One way to stay comfy but also look presentable during the holidays is by wearing an oversized sweater dress. You'll be sure to feel cozy all night, but will also get tons of compliments on your outfit. Pair a chunky sweater dress with fun patterned tights and combat boots for a look that you'll go back to every year. 

Patterned and colored pants can be a great way to make a more casual outfit stand out. Some of my favorites this season are plaid pants, and colored corduroy pants. Pair these pants with whatever you like, the possibilities are endless! Check out some inspo below:  

What better way to celebrate the holiday season than with a festive Christmas sweater? My family loves to get new Christmas sweaters to wear each year to wear on Christmas day. Go for a subtler holiday patterned sweater, or make your family and friends laugh with a sweater featuring your favorite meme. You can find a holiday sweater basically anywhere during this time of year, but I've found some of my favorites on Amazon, at Target, and at Marshalls and TJMaxx!

Don't feel like changing on Christmas morning? There are so many cute pajamas for the holiday season that will keep you warm and cozy all day! The holidays are usually filled with lots of food and relaxing with friends and family, so this is a great option for anyone trying to stay comfy and avoid that mid-Christmas dinner outfit change. Forever 21 has really cute pajamas up on their site right now, and have tons of sales right now for cyber monday! Here are links to some of my favorites that wont break the bank: Christmas Dog Pajamas, Candy Cane Pajamas.