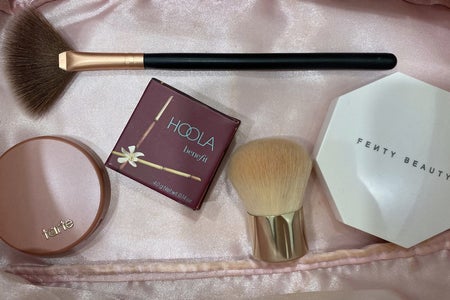 The Best Cruelty Free Brands For Your Makeup Routine
My journey into the cruelty-free realm of makeup started this past year when both my sisters became vegetarian, but my love for Wendy's Spicy Chicken Nuggets and other non-vegetarian products stopped me from jumping on board. Despite not giving up certain aspects of my diet, I wanted to do something to help our furry friends. This led to me doing some googling and realizing how bad my makeup routine was for animals. The transformation didn't happen all at once, as my budget couldn't handle that kind of overhaul; slowly but surely I built a cruelty-free routine.
Anastasia Beverly Hills - Eyebrows 
This was one part of my makeup routine that I could keep as it was. Anastasia Beverly Hills "Dip Brow" is a staple in many people's makeup routines and for good reason. It is extremely pigmented and beginner-friendly as the brush corresponding with the product is easy to use. It allows the user to control the product and create a detailed and beautiful finished product. 
Too Faced - Primer & Foundation 
These two categories are still a bit of a work in progress for me. My old primer was the Benefit Cosmetics' "Porefessional Primer". I first learned of this online from the YouTube community in my early makeup wearing years. Although it got the job done, it had to go, as it would not fit in my new cruelty-free routine. My current primer, although I'm not sure it will have a permanent spot in my routine, is the Too Faced "Hangover Primer". It's light on the skin and doesn't feel like it is clogging up my pores every second that it is on. 
My first foundation was cruelty free, but as my journey continued, the company backtracked and lost their status. NARS "Pure & Radiant Tinted Moisturizer" will always have a special place in my heart, but until the company changes its ethics, it's a no from me. As a result, I discovered the Too Faced "Born This Way" foundation. This was a significant step up for me in terms of coverage; the first time I put it one I forgot to put on concealer! This foundation makes my skin look impossibly smooth and creates a great base for the rest of my application. 
Tarte – Concelar & Blush
Luckily, for the cruelty-free community, the cult-favorite concealer Tarte "Shape Tape" is under the umbrella of acceptable products. One of my main concerns has always been dark circles. Whether it's late nights of studying (or binge watching) or a day after a night out, dark circles have always been my beauty nemesis. The "Shape Tape" concealer has done wonders for my under eyes and is a staple in my makeup bag.  
When it comes to blush, there are many options in the cruelty-free market. I have fallen in love with the Tarte blush line. Specifically, I love the "Amazonian clay 12-hour" blush. The range of colors is astonishing and it lasts just as it claims. My currently go-to favorite is in the shade "paaarty". Unfortunately, it has seen some better days as it's been thrown around in my bag for a while now, but I know I'll get another once it runs out. 
Fenty Beauty – Lips & Highlighters 
I love everything Rihanna: her music, her lingerie, and more. Her makeup line is no exception. Her shade range is impeccable and clearly inspired other brands to step up their game. The products are reasonably priced and the quality is superb. A personal favorite of mine from her line is all of her lip products. I use my Fenty lip-gloss whenever I go out and cannot wait to try more of her lip products.
The highlighters offered in her line are some of the best I've ever used. The duos have the perfect amount of product in each side and deliver a perfect amount of shine to any look. Not to mention there is diverse range of colors offered that could make any look a showstopper. 
Urban Decay – Setting Spray
Urban Decay's setting spray makes my makeup stay on all night long regardless of how much I sweat and dance throughout the night. This spray is lightweight and ensures that how I look when I start the night is the same when I end it. 
Laura Mercier – Setting Powder
If you are a veteran in the beauty community, you have most likely heard of Laura Mercier's iconic setting powder. The good news is, it's cruelty-free! This fundamental translucent powder may cost you a pretty penny, but does wonders for baking and preventing creasing in the under eye area. 
Stila – Eyeliner & Eyeshadow
I was pleasantly surprised to find out that this brand makes it on the cruelty-free list. My eyeliner might look more like distant, maybe third-cousins, but it certainly stays on all night long. It is easy to use, so even I can leave my dorm without looking like a complete disaster. And when in doubt, use tape!
Eyeshadow goes hand-in-hand with eyeliner, and Stila has an amazing liquid eyeshadow. The payoff if impeccable and the sparkle upgrades any look from basic to runway in a matter of seconds. Not to mention that it blends seamlessly into classic powder eyeshadows.                   
Images: 1 / 2 / 3 / 4 / 5 / 6 / 7 / 8 / 9 / 10 / 11