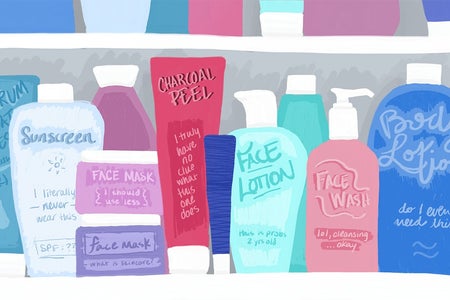 5 Ride-Or-Die Skincare Products Everyone Should Try
Skin can be so weird. Skin varies from person to person, and there are so many factors constantly impacting the appearance, the texture, the sensitivity, and the behavior of skin. My skin is an aspect of my life I have found to be three things: picky, reactive, and high maintenance. I have had allergic reactions left and right from every brand and type of product imaginable, and through all the struggles and experience, I've come to pay strict attention to what I put on my face. That being said, skincare has become an enormous passion of mine. I wholeheartedly enjoy immersing myself in the world of skincare knowledge, whether it's reading information straight off the packaging, browsing reviews for all the latest trending products, or chatting with anyone about skincare for hours on end. As someone with sensitive, acne-prone, seasonal, hormonal, combination (everything-but-the-kitchen-sink) type of skin, I am happy to be living proof that there is hope for those with skin struggles. Here are five products I've found on my skincare journey that I absolutely can't live without:
1. Clinique: Take the Day Off Cleansing Oil - $29
Rubbing oil onto my face was an insane concept to grasp as I struggle with acne and oily skin, but double cleansing has really been a game changer. With the modern world prioritizing convenience, makeup wipes and micellar water and cotton rounds are the go-to. However, they're harsh, bad for the environment, and ineffective. By using oil or balm, oil-based residue and dirt on your face is removed as your makeup and other gross buildup is broken down. This is a crucial step, because how is one really able to cleanse their skin if there's an impenetrable layer of grime? My loyal favorite makeup remover, Clinique's Take the Day Off Cleansing Oil, never fails to leave my skin feeling soft, smooth, and ready for my cleanser. It is allergy tested, fragrance free, and contains the Vitamin E antioxidant tocopherol acetate which extends shelf life. The *almost* seven-ounce bottle lasts forever itself, and it's even noncomedogenic, the word we love because it means it won't clog our pores. Two pumps is enough for your whole face; warm it up between your hands, gently massage onto your face, add a little water to fully emulsify, and then rinse off. 
2. La Roche-Posay: EFFACLAR Medicated Gel Cleanser - $14.99
I wouldn't dare praise double cleansing without dropping an amazing cleanser! La Roche-Posay has become my favorite drugstore skincare brand, and its EFFACLAR Medicated Gel Cleanser is my holy grail. With an unbeatable price, this 2% salicylic acid, 0.05% LHA cleanser is a triple threat. It contains zinc gluconate, an anti-acne agent; menthol, a soothing component that leaves skin awake and refreshed; and glycerin, the queen hydration ingredient. This cleanser also contains a chemical exfoliant, which will help promote cell turnover and leave you with smoother, brighter skin. EFFACLAR was the best sneak attack on my skin, and anyone who has struggled with acne has to give it a chance. For me, it has visibly reduced blemishes, and I've noticed skin flareups are less frequent. I like using a generous amount and creating a lather, lightly massaging upward for at least 45 seconds. If you have a solid lotion, I wouldn't hesitate to start use twice a day. If you have any doubts or particularly dry skin, try it out by using once a day because it can be drying with its acidic and exfoliating properties. 
3. The Ordinary: Hyaluronic Acid 2% + B5 - $6.80
Serums aren't a mandatory part of a skincare routine, but I really do think that hyaluronic acid (HA) makes a visible impact on skin. It is so important to keep skin hydrated, and a lot of problems arise out of lack of hydration. Without a protective moisture barrier, pores often clog, sebum is overproduced and results in acne, and skin tone becomes severely uneven. In my opinion, the goal of skincare is not to make your skin look perfect, but healthy and alive. HA has not only made my skin have a silkier feel to it but has brightened and evened out my skin tone. The Ordinary's Hyaluronic Acid 2% + B5 bottle contains the cross-polymer sodium hyaluronate, which has five times the water capacity of normal hyaluronic acid. What you end up with is this syruplike consistency, which can be a little sticky as well, and a beautiful, thick protective layer primed for moisture. HA works by extracting moisture from its environment and drawing it in, so make sure that the next product used after this step contains some sort of moisture; I would suggest anything with glycerin, a common and crucial ingredient in most lotions and creams. 
4. Drunk Elephant: Protini Polypeptide Cream - $68
Though this product makes a more noticeable dent in my wallet, I think that if there's one step in a skincare routine to spend all your money on, it should be moisturizer. Moisturizing agents just hold so much potential for skin, and there is a range of benefits a moisturizer may focus on providing, so there's a productive moisturizer out there for everyone. For me, Drunk Elephant's Protini Polypeptide Cream goes above and beyond. This is no surprise, however, because this product is PACKING intense hydration with 12 (most moisturizers only have one or two!) emollients and pygmy waterlily, a hydrating agent great for sensitive skin. The cream also contains nine signal peptides, amino acids, and other cell-communicating ingredients that work to build strength in skin and protect skin tone, texture, and firmness. Overall, this entire package carries a solid bang for its buck. As this cream is more on the heavier side, I use it at night as to allow my skin to soak up as much of it as possible without external factors such as pollution and weather disrupting absorption. On dryer days and seasons, I spread a light amount on my face for daytime use as well and am always delighted with how my skin feels.
5. Algenist: Sublime Defense Ultra Lightweight UV Defense Fluid - $28
In respect to the skincare routine order, sunscreen is the final extremely important favor you can do for your skin. Protecting your skin against the sun will not only lower your chances of skin cancer and sunburn, sunscreen also has been shown to have anti-aging properties. Algenist's Sublime Defense Ultra Lightweight UV Defense Fluid is a bunch of beneficial ingredients shoved in a bottle. Its three active ingredients are octinoxate, titanium dioxide, zinc oxide. Octinoxate is a chemical sunscreen that absorbs UVB rays. Titanium dioxide and zinc oxide are both physical sunscreens that absorb waves across both the UVB and UVA spectrums. Zinc oxide in particular is hailed as one of the best options for sun protection, but also reduces inflammation and combats acne. Case in point, this UV defense fluid is a three-in-one punch in a white, lightweight fluid that gives skin a smooth, matte finish. Use an index finger and middle finger to measure two strips of sunscreen for the perfect amount of sunscreen and spread evenly on face. Rub gently to reduce white tint until needed.