SOS- The Jonas Brothers are Back and Fans are Burnin' Up
Unless you've been living under a rock, you know that the Jonas Brothers are BACK and just released a new single. "Sucker" isn't the best song I've ever heard, and it sounds more like Joe's band DNCE than the OG Jonas Brothers, but I am still THRILLED. With all the divisiveness and tragedy going on in America, we need a symbol of unity. And that symbol is the Jonas Brothers. In my opinion, "Sucker" sounds like every other pop song that has come out in the past 3 years, but every other pop song wasn't written by the Jonas Brothers, so it doesn't even matter. The music video is beautiful, the song is a banger, and I'm not going to listen to anything other than the Jonas Brothers for the next month. The only thing that could make my life more complete would be if Big Time Rush got back together (BTR, if you're reading this, this is your invitation to release new music. Thanks)
As much as I love the Jo Bros, I do have to be a little critical. Lately a lot of our media has been piggybacking off of old success rather than coming up with anything new. For example, Disney has been remaking all of their popular animated films as live-action films. Almost everything is a sequel or a remake and I think it's time for something new. There is something to be said for the Jonas Brothers releasing new music with a new style rather than doing what they've always done, but even this new style is cookie-cutter compared to all the other chart-topping pop music. 
That being said, nostalgia is a powerful thing. Life was simpler before the Jonas Brothers broke up, so their reunion is comforting. I'm excited to see what they do next, and I'm so so happy the boys are back. Their return was a much-needed surprise.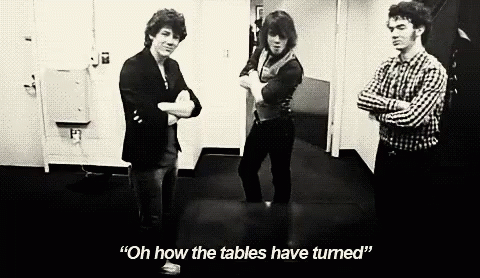 Make sure to like HC Belmont on Facebook, follow us on Twitter, pin with us on Pinterest, and love us on Instagram.