Olá! Bom dia! Today we travel overseas to Portugal to visit its stunning capital city, Lisbon. With hills galore, this city is perfect to amp up the step count on your Fitbit as you explore its winding, brightly colored streets. With mosaic tiles as far as the eye can see, Lisbon is a photographer's dream. Here are some of our top recommendations for a trip to Lisbon.
Explore the Alfama
Walk through the oldest neighborhood of Lisbon and enjoy all of its medieval alleys and quiet streets. Turn off your Google Maps and enjoy a leisurely walk through this beautiful area of Lisbon.
Take a Day Trip to Sintra and Cascais
Board a train out to Sintra to see the remarkable, multicolored Pena Palace. Placed up atop a hill, this palace provides gorgeous views of Portugal and is a must see. Extend your day trip out to Cascais for beautiful beaches and to see the westernmost point of continental Europe (once believed to be the end of the world!).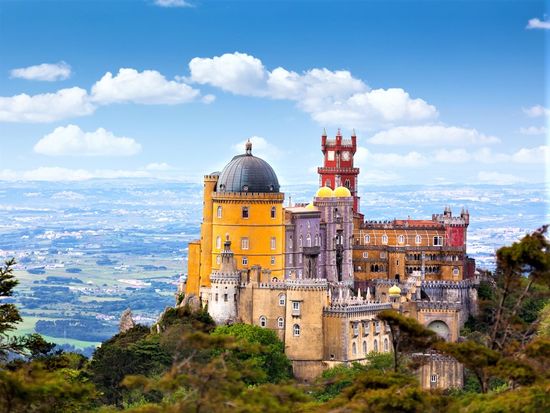 Gain Panoramic Views of the City
With its countless hills, Lisbon has unlimited panoramic viewpoints. You can climb up to São Jorge's Castle or ride up the Elevador Santa Justa and overlook the red rooftops and cobblestone streets.
Check out the Belém Tower
Head out to Belém for many beautiful attractions. The Belém Tower juts out against the bright blue of the Tagus Estuary. This area was the main departure point for European ships during the exploration of the New World and will keep you and your camera very busy!
Devour some Portuguese Pastries
All throughout the city center, you will find pastry shops selling a collection of delightful treats. Be sure to try the famous Pastel de Nata, a small, sweet egg custard. After a day of exploring, review all of your gorgeous pictures over a cup of coffee and a pastry at one of these lovely cafés.
Watch the Sunset by the Water
To cap off a perfect trip in Lisbon, take some time to sit out by the water and watch the sunset over the sailboat filled Tagus. Nothing is better than the cool air coming off of the water, so relax and enjoy the view!
We hope this guide highlights all of the beauty that Lisbon has to offer and that you feel inspired to visit this gorgeous city soon!
Sources:
https://www.discoverwalks.com/blog/wp-content/uploads/2018/06/top5funfactsaboutalfama-816x540.jpg
https://cdn2.veltra.com/ptr/20180723113640_152130836_2668_0.jpg?imwidth=550&impolicy=custom
https://www.livingtours.com/media/catalog/product/cache/2/image/830x545/17f82f742ffe127f42dca9de82fb58b1/s/h/shutterstock_708078322.jpg
http://view.stern.de/de/picture/3837019/lissabon---torre-de-belem-940.jpg
https://media-cdn.tripadvisor.com/media/photo-s/0a/c6/51/8d/pastel-de-nata-custard.jpg
https://www.lisbonlux.com/images/magazine/cais-das-colunas-sunset.jpg