Simple Keys to Looking Sophisticated and Polished at the Office
Spring and summer are around the corner, which means it's about that time of year: internship and summer job season! While the thought of this is enough to make some of us shudder, it can be an exciting process too. For those who are planning on working in an office setting, an important element of your job is to dress to impress. It may seem challenging to simultaneously express yourself and follow your office's dress code, but there are many ways to achieve fashion-forward sophistication. When it comes to looking put-together, a little goes a long way. When dressing for the office, here are a few subtle tricks you can count on to make a difference in your attire.  
1. Don't be afraid of color and prints!
It's very easy to get stuck in a rut of black and navy solids. I amv a huge proponent of the classic black-on-black outfit , yet I can admit that business-casual or business-formal does not necessarily have to restrict your choice in colors to wear. There is a way to incorporate interesting prints and bright colors without appearing ostentatious or tasteless. Layer a printed blouse under your blazer or cardigan, or add a pop of color with your shoes to keep your professional attire bright and interesting.
Printed blouse, Zara ($49.90)
Printed bodysuit with shoulder pads, Zara ($49.90)
2. Invest in an iron and a lint roller
Nothing spoils a classy outfit more than some wrinkles or lint! These faux-pas can communicate a disheveled appearance, but can be resolved with two basic tools: an iron and a lint roller! Small steamers are great for on the go to release wrinkles and it's always helpful to keep a lint roller in your bag or at your desk. While wrinkles and lint may seem like miniscule issues, they can make or break your outfit. Not to worry: they're an easy fix.
3. Wear simple jewelry
For the office, simple and classic jewelry is best. A chunky necklace or funky earrings are great fashion statements, but it's difficult to modify these type of accessories to be office appropriate. By staying minimalistic with your jewelry, your outfit can maintain its style without appearing distracting or flashy. A simple chain necklace, a classic watch, or some medium-sized hoops are all perfect examples of stylish yet basic accessories.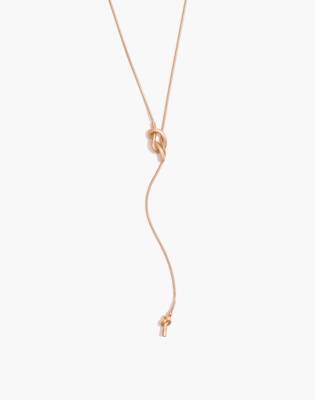 Madewell 'Knotshine' Necklace ($32.00)
Tortoise hoop earrings, J. Crew ($19.50)
4. Aim for sharp lines and structure
In business attire, lines are important - and structure makes a statement. For example, choose a tailored blazer over a baggy jacket. A pair of pleated trousers make almost any outfit look effortlessly neat and classy. As far as accessories: choose a structured bag, whether it be a small purse or a tote over a slouchy one. These details influence your overall look and can make a big difference.  
Handbag, H&M, $49.99 
 Lottie Satchel, Kate Spade ($219.76)            
As a sort of disclaimer, fashion is personal and it is your own opportunity to express yourself: these tips are simply suggestions and recommendations based on my experience! Everyone's office dress code is different, and everyone's style is different. Feel free to experiment - that's the epitome of fashion. Hopefully these tips will act as inspiration for those of you looking to feel confident and stylish as you build your office wardrobe!
Sources:
https://www.zara.com/us/en/printed-blouse-p04043049.html?v1=5402556&v2=719021
https://www.zara.com/us/en/printed-bodysuit-with-shoulder-pads-p05410303.html?v1=5379035&v2=719021
https://www.madewell.com/madewell_category/JEWELRY/necklaces/PRDOVR~A6295/A6295.jsp
https://www.jcrew.com/p/womens_category/jewelry/under40/tortoise-hoop-earrings/G3672
http://www.hm.com/us/product/90508?article=90508-A
https://shop.nordstrom.com/s/kate-spade-new-york-cameron-street-lottie-leather-satchel/4918135