Reflections on the Silence is Still Violence March
On October 20, 2017, thousands of students gathered outside of Mac for what would become the historic Silence is Still Violence march. After a tumultuous week in response to racist incidents on campus being brought to light, the march was a truly unbelievable show of support from many members of the BC and Boston community.
As a black woman on campus, I know that incidences like the ones that occurred two weekends ago aren't new. My freshman year, after the lack of indictment of the police officer who killed Mike Brown, there was a similar tension and sense of heartbreak in the AHANA community. However, what was even more discouraging was the lack of response from the BC administration after our protests. One night when I was walking home from Lower to Upper, a group of drunk white boys tore down a black lives matter poster only to notice me immediately after and look away with guilt. The incident left me questioning whether or not I belonged at BC and knowing that I would not be able to report the incident left me feeling as though I had no voice.
After 3 years at BC, of repeating the same cycle of reacting to a national race-related event, hearing no words of affirmation from the administration, and going back to normal by second semester, it was empowering to see so many faces that recognized my struggle and my experience. I didn't feel voiceless anymore.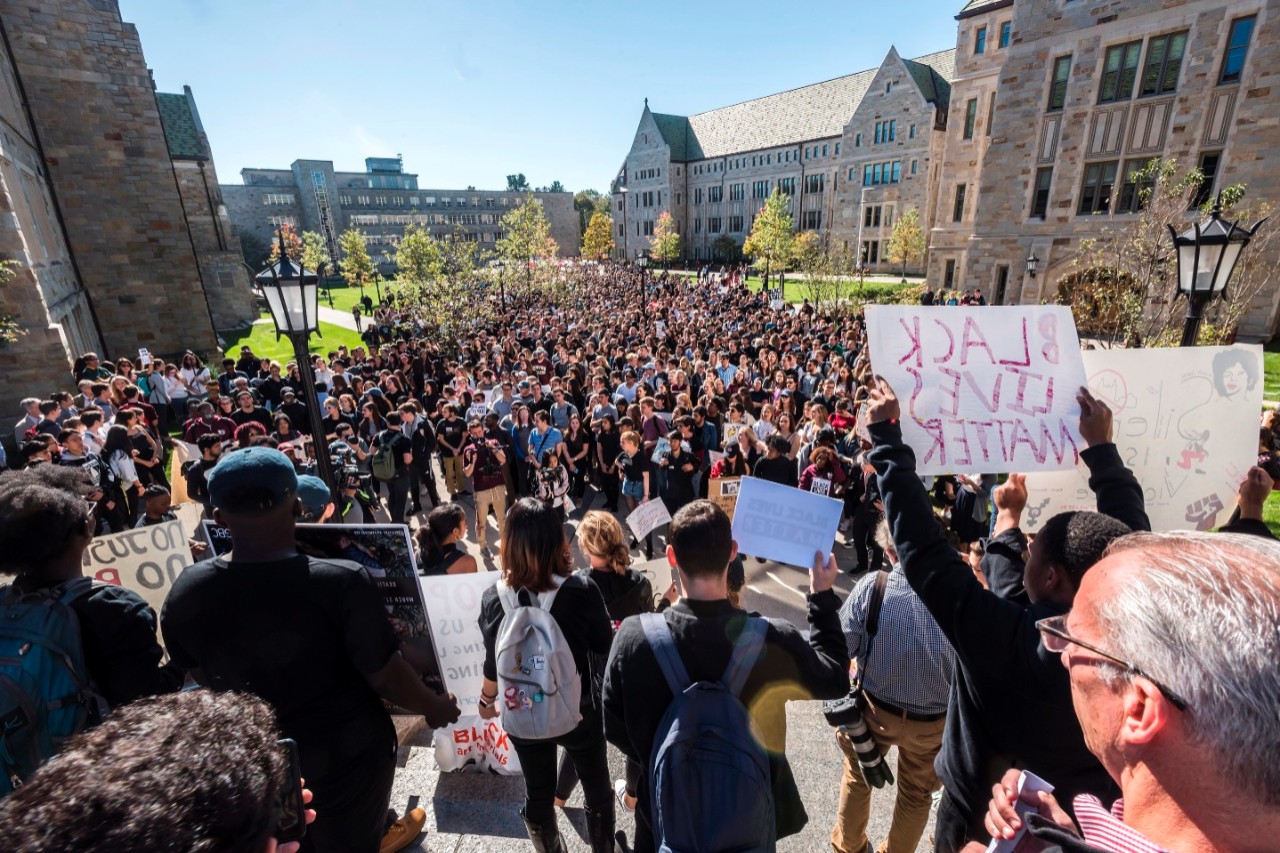 Once everyone in the march reached lower, we heard from student body president Akosua Achampong '18, Dean Mogan, and other students who volunteered to share their experiences. Achampong stressed that it was the responsibility of the university to implement systemic change, not students. The demands set forth by students after the rally on Monday and the walk out on Wednesday included creating a racial competency module similar to alcohol edu that all current and entering students would be required to fill out and increasing the presence of AHANA+ faculty on campus. Dean Mogan also announced that students are now able to report incidences of bias through their Agora Portal, a service that students have been requesting for many years. Although I am grateful for all of the momentum generated by the march, it is important to note that even despite all of the conversations and emotions throughout last week, there were will still students who saw it fit to deface more posters, put up white supremacists posters, and even just a few days ago, write "if you're black, go back" on someone's whiteboard. The march was part of a movement, not just a moment, and we need to continue challenging the culture of ignorance and covert racism that BC allows.
Overall, the march was an incredibly powerful show of what it means to be men and women for others. The BC that I saw come together for the march is the BC that I want to be able to call home and the BC that will truly create eagles that will set the world aflame.
Sources:
https://c.o0bg.com/rf/image_960w/Boston/2011-2020/2017/10/20/BostonGlobe.com/Metro/Images/Walker_102017_11race.college_02721x.jpg
https://www.bc.edu/bc-web/bcnews/campus-community/announcements/solidarity-march1/_jcr_content/bannerImage.img.jpg/1508532811671.jpg
https://i0.wp.com/bcheights.com/wp-content/uploads/2017/10/IMG_5952-e1508525807626.jpg?zoom=1.6500000953674316&resize=678%2C381