Black History Month Spotlight: Michelle Obama
This week kicks off Her Campus BC's celebration of Black History Month. We are highlighting trailblazing African American men and women who have made a difference in the world and serve as role models to all us. To start things off, we are highlighting none other than the one and only, Michelle Obama.
Michelle Obama made her way from the South Side of Chicago to 1600 Pennsylvania Ave.
Ms. Obama, daughter, mother, wife, lawyer, advocate, and first African American First Lady, left her mark in DC during her 8 year tenure. She started the Let's Move! Campaign, inspiring the country to get up and put an end to childhood obesity, while providing families with needed support. Ms. Obama and Jill Biden launched the Joining Force initiative which supported service members and their families with resources such as education, health, and employment opportunities. Ms. Obama also focused on college students and made sure that they have the resources needed to attend college in the Reach Higher Initiative. Lastly, Ms. Obama and President Obama launched Let Girls Learn, an initiative aimed at keeping girls around the world in school. It is safe to say that Ms. Obama put her heart and soul in issues that are close to home to so many of us.
While Ms. Obama may have left the White House, she is still advocating for girls' education, as she just launched a new initiative in October called the Global Girls Alliance. The Global Girls Alliance is aimed at making sure adolescent girls are where they should be: school.
Along with Ms. Obama's inspiring and important work, she has became an idealized role model through not only her work, but through the media. Any interview with Ms. Obama highlights her unique humor and warmth, and makes you want to become her friend. No one can forget a recent moment in which President Bush passed Ms. Obama a piece of candy at the funeral of his father, George H.W. Bush. This moment is so important as it shows that Ms. Obama does not let political divides stop her from having beautiful friendships.
She may have many titles and a law degree to her name, but Ms. Obama is just like many of us. She dreamed high and now she is living her dream: making a difference in the world. Today, she serves as a beacon of hope and as a role model to all the young girls who are also dreaming high.
Here's to the hope that we will see her make the move to 1600 Pennsylvania Ave in the near future (Michelle Obama 2020?).
We love you and miss you.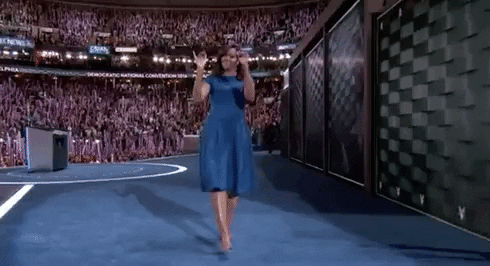 Sources:
https://www.whitehouse.gov/about-the-white-house/first-ladies/michelle-obama/
https://www.gannett-cdn.com/presto/2018/12/11/PMJS/6d6048e3-56f9-46e4-b0...
https://www.obama.org/globalgirlsalliance/
http://time.com/5481370/michelle-obama-george-bush-mint/
https://media.giphy.com/media/3o6Ztcgxz90T5iQmoU/giphy.gif
https://www.essence.com/wp-content/uploads/2018/11/GettyImages-105190071...
https://dod.defense.gov/News/Article/Article/604218/