As summer approaches, what is better than sipping on a nice refreshing cocktail by the pool or on the patio watching the sun go down? Happy hour is the best hour and I have found 5 great, summer cocktail recipes that will cool you down! Also, not over 21? Scroll to the bottom for 2 amazing mocktail recipes. 
Watermelon Margarita 
2 oz tequila 
2 oz lime juice 
1 oz Cointreau 
fresh-squeezed watermelon juice 
Put watermelon in a blender. Combine tequila, lime juice, Cointreau in a shaker with ice. Shake it up! 
Prepare a glass with taking a lime around the rim then dipping into margarita salt. If you want your cocktail on the rocks, add ice then pour the mixture from the shaker into the glass. Top it with your desired amount of watermelon juice from the blender. 
Tip: You can top it with any kind of juice like blood orange or orange. You can also just leave it! 
​2. Aperol Spritz 
3 oz Aperol 
3 oz dry prosecco 
Splash of club soda 
Orange slice 
Put ice in a wine glass and then add the Aperol. Add equal parts prosecco then top with a splash of club soda and garnish with an orange slice!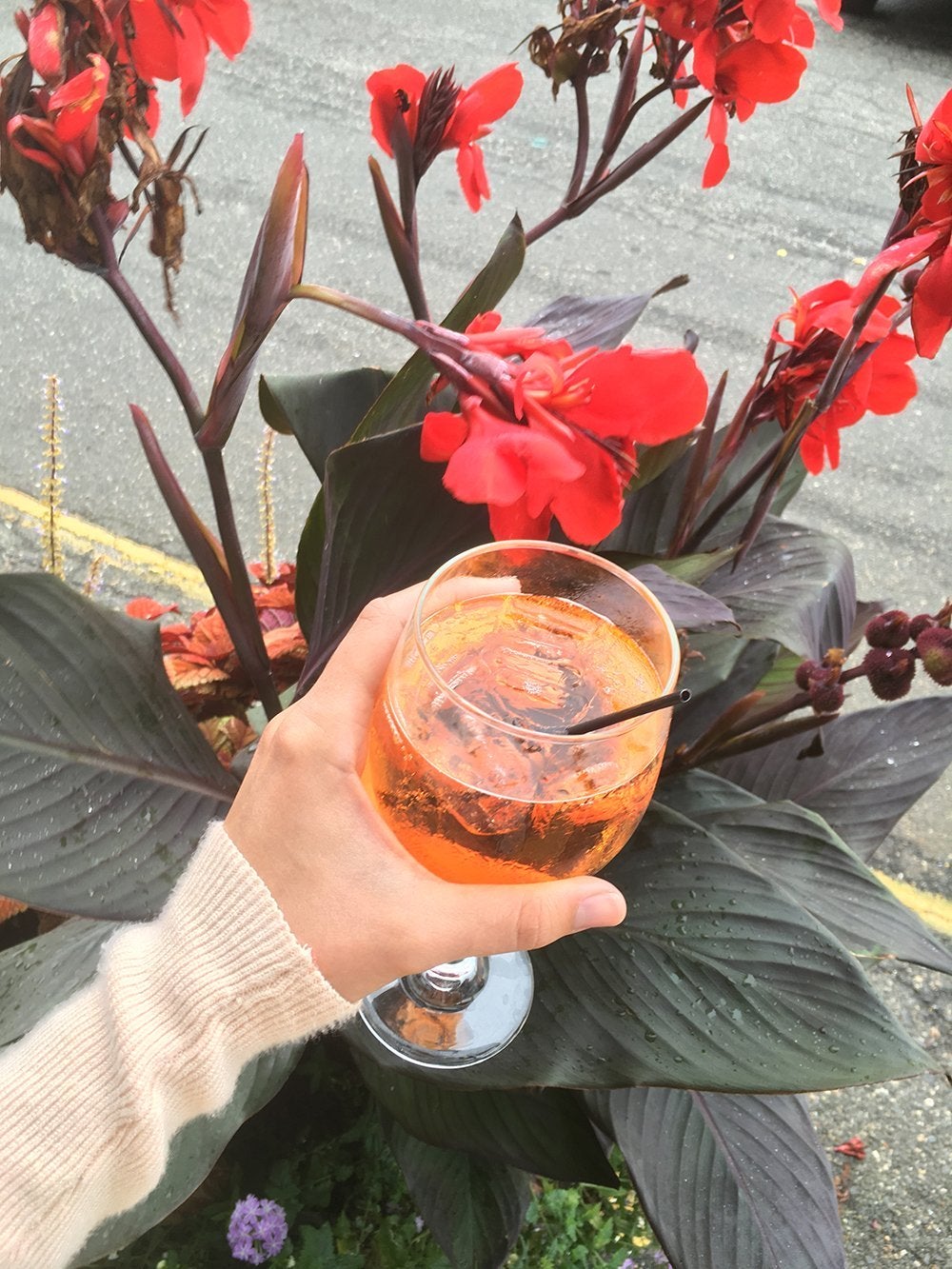 3. Pina Colada 
2 ½ oz of rum 
3 oz of pineapple juice or 3 oz of whole pineapple 
1 oz coconut cream 
Ice 
Pour the rum in the blender, then add the pineapple juice and coconut cream in the blender. Blend with a cup of ice and pour into a glass. If you have you can garnish with a cherry. 
Tip: Can also exclude the rum and make it a virgin pina colada! 
4. Frozen Margarita Sangria 
Margarita Part 
1 can of frozen lime concentrate 
2 oz tequila 
2 cups of ice 
Sangria Part
1 cup of table red wine
Juice of 1 cara cara orange 
Juice of 1 lime 
2 cups of ice
Blend margarita mixture, then put that into the fridge. Rinse your blender and blend the sangria mixture. Combine sugar and salt on a plate and run a lime around the rim of a glass and dip into the mixture. Pour some of the sangria parts into the glass, then the margarita, and keep alternating until the glass is filled.
5. Honey Lemon Gin Drink 
2 oz gin
¾ ounces of lemon juice
½ ounces of honey syrup*
Lemon for garnish 
*Combine ½ cups honey and ½ cups of water in a saucepan over medium heat. Stir until the water and honey are combined. 
Add all the ingredients into a shaker with ice. Strain into a cold glass and garnish with a lemon twist.
Mocktails 
Blackberry Limeade 
½ cups lime juice 
⅓ cup of sugar 
⅓ cup of water 
½ lb of blueberries 
20-30 mint leaves 
2 cups of cold water 
First, make your simple syrup by combining the sugar and water in a saucepan and cover over medium heat for about 7 minutes or until the sugar is completely dissolved. In a large pitcher combine the lime juice, blueberries, mint, water, and simple syrup. Let sit in the refrigerator for a couple of hours then serve over ice! 
Tip: Can also use strawberries or blueberries!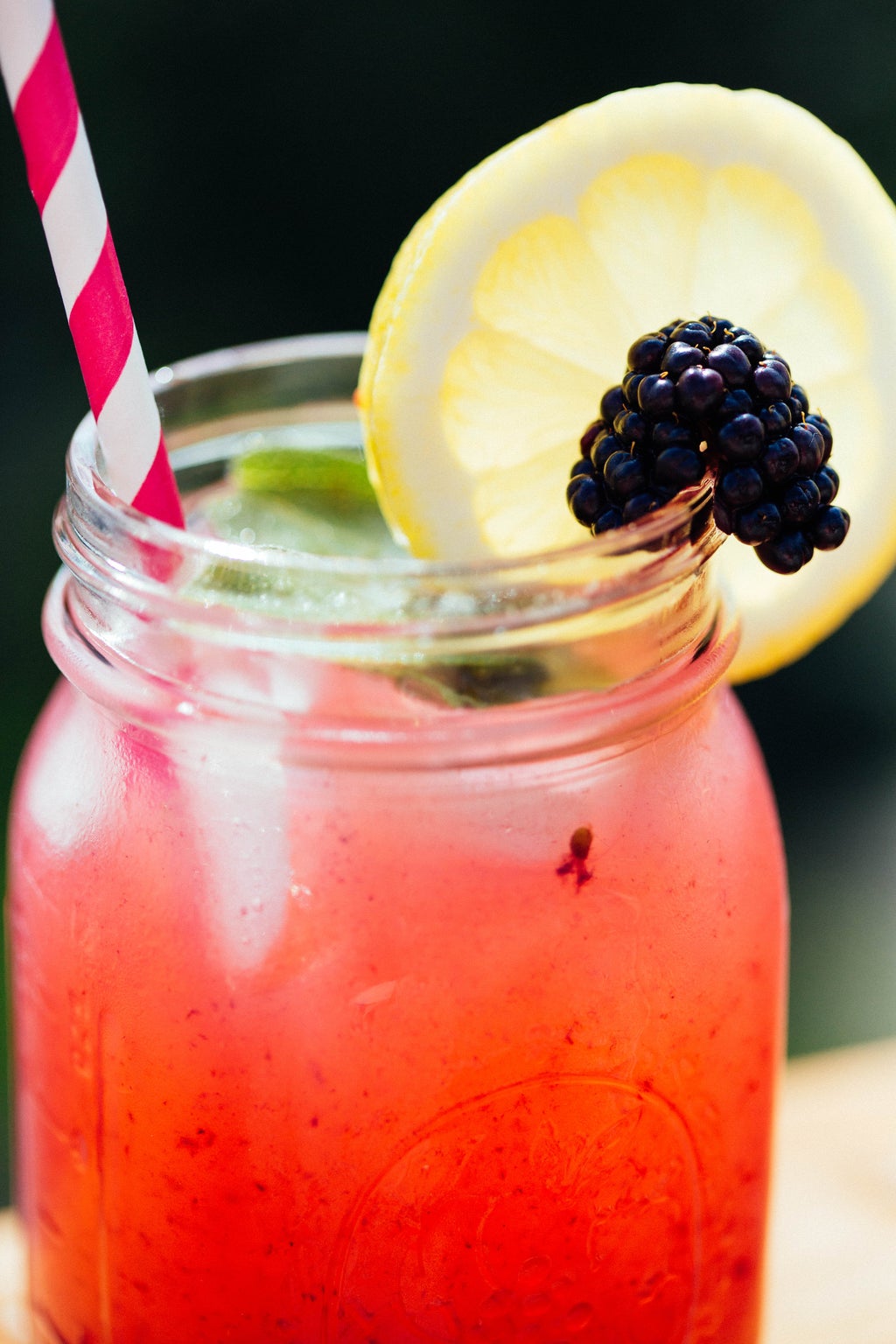 2. Sparkling Raspberry Lemonade
15 mint leaves 
1 oz simple syrup 
2 oz fresh lime juice 
8 oz Dasani sparkling raspberry lemonade 
Muddle the mint leaves in the simple syrup and lime juice in a glass. Add ice to the glass and then pour the sparkling raspberry lemonade into the glass. Garnish with fresh raspberries, mint, and lime.